Frolicking Fairies
Miniature gardens inspire whimsy and imagination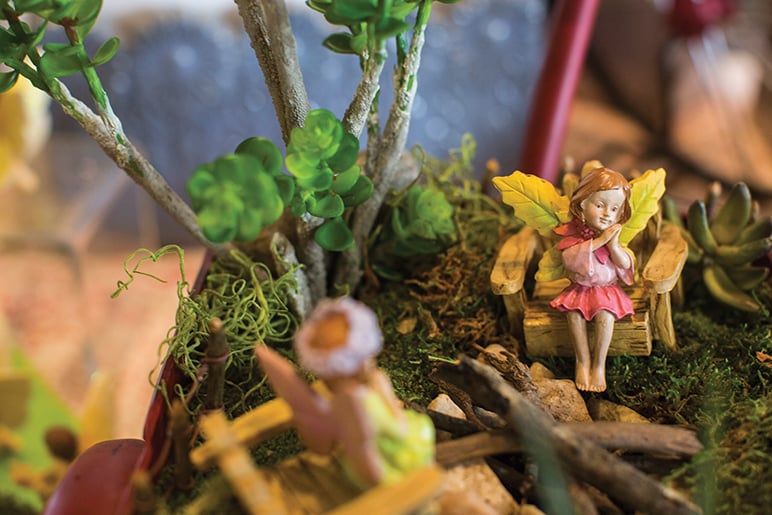 IF KUDZU is taking over the backyard and blight is damaging the tomatoes, angry fairies could be to blame.
When garden fairies don't have their own space to dance, hide, and rest, they cause mischief. The solution: Make the fairies happy by building them a special garden.
If this tale sounds like magical thinking, it's supposed to, says Lara Sweet Barnett, "fairy godmother" at The Royal Gardens shop in Elizabeth.
"It's fun to suspend disbelief and create a whimsical little world in the garden," she says.
The miniature gardens—think dollhouse vignettes in the dirt—are a big trend.
Purchasing houses, plants, and accessories, such as benches, lampposts, and pets, can take a chunk out of the landscape budget. But to some gardeners, creating a fairy garden is about more than adding whimsy. Fairies are supposed to bring good luck—and that's a worthwhile investment.
---
CREATE YOUR OWN MINIATURE GARDEN
Get inspired:
Building a fairy garden doesn't require a degree in landscape architecture or dollhouse interior design. The process is about allowing your imagination to come alive, Barnett says. Sign up for one of the monthly fairy-garden workshops at The Royal Gardens. The Elizabeth shop has several fairy gardens on display to help customers dream up a design.
Location, location, location:
Like all real estate transactions, fairy gardens require proper placement. An existing flower bed or a container, such as a clay pot or birdbath, is a suitable spot to establish a fairy zipcode.
Select materials:
For a container, line the bottom with gravel and fill it with lightweight potting soil, leaving one inch at the top to accommodate plants and accessories. Most fairy gardens include a mix of miniature plants, moss, and rocks. Use found objects or purchase items from a local garden center.
Emphasize amenities:
Fairy gardens require three essential elements: places for the fairies to dance, sleep, and hide. Choose swings, wishing wells, and other accessories to keep the fairies happy and bring a smile to onlookers. The Royal Gardens and Dearness Gardens in Huntersville have large selections of fairy-garden accessories.
The Royal Gardens
1733 E. Seventh St.
704-334-3764
royalgardenscharlotte.blogspot.com
Dearness Gardens
13501 Old Statesville Rd.
Huntersville
704-875-8234
dearnessgardens.net