From 15,000 Miles Away
How following the Panthers' amazing ride in Singapore helped me gain a new appreciation for Charlotte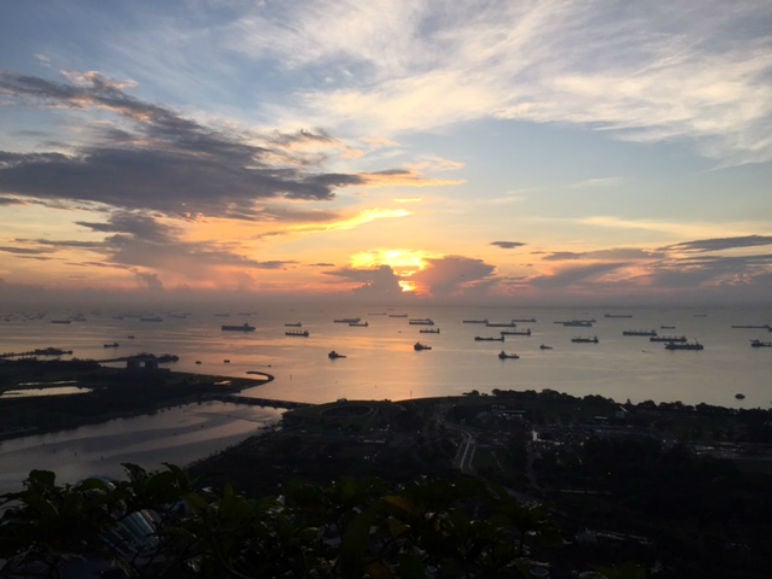 FLASH BACK. Charlotte. A Monday night, late autumn of 2013. We don't have tickets, but it doesn't matter. The game is on TV, and with our balcony doors flung open to the crisp air, my new roommate and I are close enough to hear the buzz from the crowd at B of A. Ears tilted out of our 7th Street apartment in First Ward, we can hear what's happened before our television screen shows it to us. The play is upheld—the interception counts—and that is the game! The fans' voices swell in unison for the roar of a major victory over the Patriots. We rush out onto the small balcony to jump around and add our voices to the celebration. "PANTHERS WIN!"
Flash forward to autumn 2015. Singapore. I live here now, on this Southeast Asian island just below Malaysia. Monday Night Football is on Tuesday morning. I'm sneaking the gamecast on my phone in the office, iMessaging a friend who is awake late back in Charlotte:
-Fg attempt from 42
Made it-
-HE DID IT
Sudden death-
-Luuuuuuuuke!!!!!
6 yard pass. 53-yard attempt coming-
Got it!-
Game over, 7 and 0 kid!-
-I can breathe again
We've won. Silent fist pump at my desk.
***
LATE LAST summer, I moved across the world. My flight landed in Singapore on August 10. The Panthers played their first preseason game August 14. (We won.)
I moved here with my now-fiancé, a North Carolina native but not much of a Panthers fan himself. His loyalties lie with college basketball. A six-month overseas placement with his company brought us here; I clinched a job at a Singapore-based magazine just two weeks before we left the States. The time has flown by as I've experienced living and working in a new country—eating chili crab at the open-air food stalls beside Marina Bay on warm, humid nights; and collecting almost a dozen new stamps on my passport with weekends away to Indonesia, Vietnam, Thailand, and beyond.
I've also missed the dream season.
I can tell you exactly when I became a Panthers fan because it wasn't long ago. It was the first preseason game of that 2013 season—August 9. That was a sticky, hot night in Charlotte—not unlike my everyday weather here in Singapore. I had just graduated from Wake Forest University and was working in marketing. That day, I made the short walk from my new, "grown-up" apartment near the 7th Street Public Market to Bank of America Stadium, weaving through tailgaters with their cornhole boards and hot dog smoke, hearing the city's gameday heartbeat for the first time, all of us beating along with the thump of PurrCussion.
PAN-thers. PAN-thers. PAN-thers.
I was 22, freshly booted from campus with a degree and a college experience that had been exactly the cliché—the best four years of my life. I was desperate to feel that sense of belonging that used to be so easy with a university name on my t-shirt and a shiny sorority pin. Don't we all want to feel like we're a part of something bigger than ourselves? The Panthers were it for me. This was my city now. This was my team.
***
WITH SINGAPORE exactly 12 hours ahead of Charlotte (now 13, with the end of daylight savings time), I spent this season staying up until 1 a.m. or setting an alarm for 4 a.m. to "watch" the game.
No Panther logo face-painted on my cheek; no massive cluster of Cam Newton jerseys to follow up stadium ramps; no long, loud "Luuuuuuuuke" chorus to join. No Bojangles' seasoned fries. Just me, frantically refreshing gamecast on my iPad under the covers in the pitch black. To say I missed Charlotte in those moments is an understatement.
I've coped by reading every article I can find online about the Panthers. My Twitter feed is a collection of NFL commentary and Panthers players. I've learned about the origin of Cam's "Sunday giveaway." About Trai Turner and Andrew Norwell's Thursday wing night tradition. That Tre Boston and I share a favorite taco place (it's RuRu's). About our players' record-breaking accomplishments on the field and their charitable contributions in our community. I learned much more about the game of football.
I learned about other Panthers fans: loyal, spirited Carolinians who gather en masse to greet the team bus, even after a perfect-season-crushing loss. I learned about a community I was proud to be a part of—even from afar.
***
SIX MONTHS almost up, my time in Singapore is coming to a close.
Yes, I've missed the dream season. I wish I had watched the Panthers make history from the stands. But what I've learned about this team—and about Charlotte—makes me that much more proud to cheer for this city. I became a Panthers fan while searching for community, searching to belong to something bigger, something meaningful. From 15,000 miles away, I found it.
I will wake up at 2:05 a.m. on Monday in Singapore and hit refresh over and over. And if all goes well, I'll do it again next Monday.
And hopefully, I'll get to do it again two weeks later for the Super Bowl. Kickoff is scheduled for about 7 a.m. on February 8 here. Two days after that, February 10, I fly home.
Emily Seibel is a writer currently based in Singapore. Originally from Bethesda, Maryland, she moved to North Carolina to attend Wake Forest University, graduating with degrees in English and Journalism. Though she considers Carolina home, her love of experiencing other cultures means she embraces all travel opportunities—including moving to Asia. Send her an email from Charlotte, or wherever you are, at emilymseibel@gmail.com.