From Charlotte's Improv Stage to Reality Show Standout
Geno Walker leaves a big impression on an audience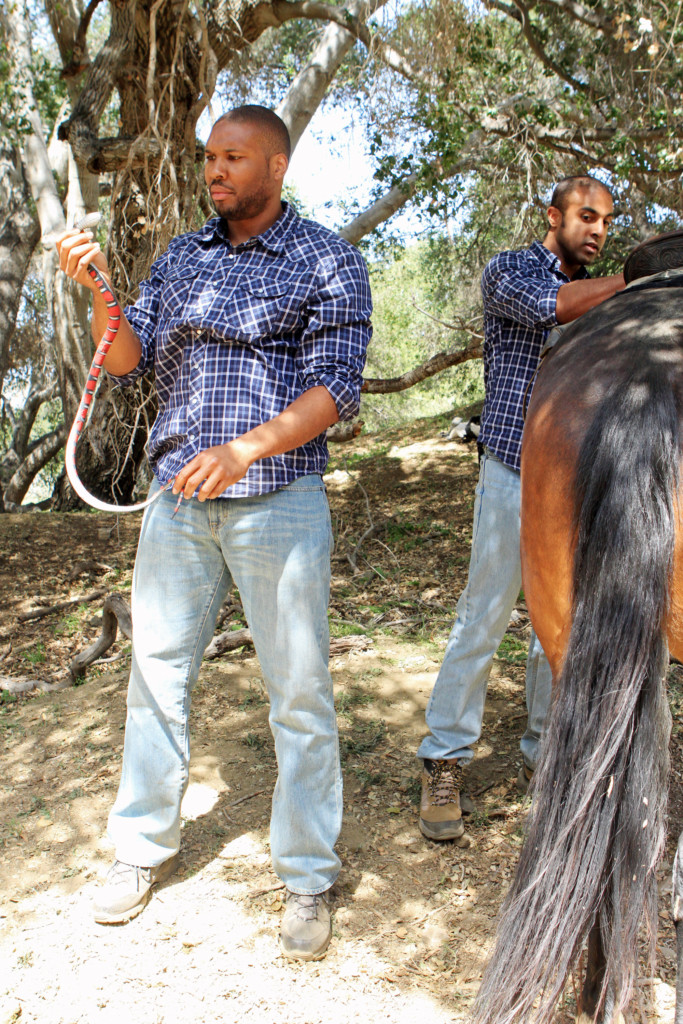 Geno Walker has gained a lot of new fans this summer from his turn as a popular player in ABC's popular reality/murder mystery show Whodunnit?. But a lot of people don't realize is he has deep Charlotte ties. The Chicago bar trivia host spent several years as a beloved improv actor at the Charlotte Comedy Theater where he also took classes to learn the art form.
"Geno took classes back when we were at the Graduate in Plaza Midwood and was one of those students that you knew right away was going to excel," CCT founder Keli Semelberger said. "He never missed a class, asked for notes, and was fearless from the onset, which is usually the hardest thing for a new student: to try anything, to not be afraid to look like a fool. Gino would give 100 percent to everything, no matter how silly or ridiculous the situation that was presented."
That committment and charisma shown through in Whodunnit?. Now, Walker plans to parlay the skills he learned at CCT and his new found celebrity into some big career changes. Read our Q&A below for more on that. Anyone interested in learning more about improv should check out CCT's training schedule.
After seven weeks on Whodunnit? Walker was killed off on Sunday. I have to say, the man takes a gunshot/chandelier like a champion. See how he died and the implications for his fellow players in the video below.
Before his reality show demise, Walker took some time out to speak with us via email about how he ended up on the show, his strategy for winning, and what's next for the 33 year old.
Charlotte Magazine: Can you tell us a little bit about how you ended up on Whodunnit? What drew you to reality television?
Geno: I have been a big reality TV fan all the way back to the original Real World. I was young enough that those were adults living lives that seemed cool and i could look up to. Now I can't imagine watching the current casts of Real World or Jersey Shore or shows like that because I am now older than them and see the level of immaturity. In some ways, I find it exploitative on the part of the producers of those shows. For me, now, the reality television that draws me in and captures my interest are the competition shows such as Survivor, Amazing Race, The Mole when it was on the air. I like the Rock's show, I think it's called The Hero. I think in addition to being great television, they are excellent little sociological experiments. You see people from vastly different walks of life interacting in ways that don't allow them to cloak themselves in the civility that we often do in "real life".
CM: It seems like you guys didn't know what you were getting into when you signed up for Whodunnit?. What was it like in those first few days when you were starting to realize what was going on?
Geno: We had a VERY limited understanding of what we were getting ourselves in to. I mean, "You're going to be in a house with people and try to solve murder mysteries, like Clue." That's all we got going in. We learned the game play on the fly. And being a first of it's kind show, I think all of us, producers/creators included, were figuring it out as we went along. There were a few times when we, the contestants, figured something out and it was obvious that our producers had not expected us to. And as a result thing would change. I think you can see it over the course of the episodes and with each investigation things got a little tighter. Which was good and I think really helps the show, but at the time I would think, "DANG! They just closed up that loophole that I was looking forward to taking advantage of."
CM: Did you ever want to be a cop or detective growing up? Was there anything from your past that could have help you prepare for a game like this?
Geno: I grew up on the South Side of Chicago in the 80's and 90's a cop was not the thing to be. HA! They were not role models where I came from. But I did learn to be very observant and to be aware of details of what is going on around me. That's just a survival instinct that you develop when you don't live in the best part of town. I did however watch a lot of detectives on TV. Matlock, Murder She Wrote, McCloud and Ironside re-runs. I loved TV. Colombo was my favorite. I liked his style. Pretend to be a step behind but really be two steps ahead.
CM: No spoilers here obviously, but can you give us a little bit of insight into your strategy to stay alive in the game?
Geno: Be smart! That was my main strategy. I knew the clues would be there. I just had to find them so I could piece them together.
CM: Your improv friends in Charlotte remember you very fondly. What drew you to improv initially and are you still doing it in Chicago?
Geno: Charlotte Comedy Theater! I love all those guys. It was such a great experience for me being there. When I moved to Charlotte it was a time to do new things. I had always wanted to try improv but had been afraid. One day I said, "No More!" And I signed up to take a class their. From day one it was magic. It all just clicked and I felt at home. I am not currently not doing improv here in Chicago, but I see that changing in the very near future. I miss it and I've got a few projects in the works. Keep an eye out!
CM: What's next for you? What do you hope happens after the show is over?
Geno: Well, as I said, I do miss performing. I am getting back to that. Being on national television has been a fantastic experience and it is opening up some great doors for me. I have been incredibly fortunate that people genuinely seem to like me and respond positively to me on screen. So that is gratifying. I am currently in talks for some hosting/corespondent opportunities. And I have a few projects of my own that I am working on getting off the ground. So it is an exciting time. Once thing is for certain, you have not seen the last of me.