From Drinking to Baking: FuManChuCupCakes
Andy Jackson's cupcakes are spiked with whiskey, beer, and unexpected success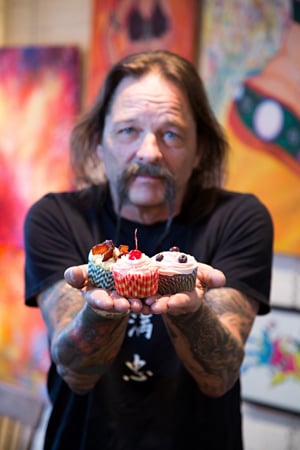 "AS YOU CAN probably tell, we're not your normal cupcake shop," Andy Jackson tells a customer gazing into the refrigerated glass case between them. "We don't do chocolate, vanilla, or," using a word we can't print here, "red velvet."
Jackson opened FuManChuCupCakes on Lamar Avenue in Plaza Midwood last April.
At 56, he certainly doesn't look or sound like the stereotypical bake shop owner. His arms are covered in tattoos, and he sports salt-and-pepper facial hair that inspired the shop's name. He's had the Fu Manchu for six or seven years, he says, but hasn't shaved his mustache since 1979. You could call his style "biker-in-an-apron," if Jackson were the type to wear an apron. Instead, he wears a FuManChuCupCakes T-shirt and jeans that have a light dusting of flour on the thighs.
Jackson is a commercial plumber by trade, and he still works on pipes during the day at the company he's owned for 28 years. In 2011, he and his wife were at an event where they tasted a salted caramel cupcake. It was unlike any cupcake he'd eaten. Soon he decided to experiment in the kitchen—out of curiosity and for a more personal reason.
"I got to the point where I was pretty much drinking continually, always had a beer in my hand," he says. "I figured I'd try baking. You can't drink and bake. You can cook and drink until you fall down, but baking is too much of a science."
For about a year, Jackson made small batches of cupcakes, delivering them for free to friends at bars in NoDa. As his cupcakes improved, demand spiked. He started getting requests for larger orders to serve at weddings and parties. In 2012, he got an order for 500 cupcakes for a Democratic National Convention event. When the Showtime series Homeland filmed in Charlotte, Jackson delivered six dozen cupcakes to the set every week.
On a quiet Sunday evening, typically Jackson's slowest day, he's behind the counter listening to Pink Floyd, taking a break from the weekend chaos of selling 18 or 20 dozen—more than 200—cupcakes in a day. The shop's walls are covered in paintings and photos from local artists. A couple in their early 20s walks in, on a date for the guy's birthday. His eyes widen as Jackson describes one of his best sellers, a dark chocolate cupcake called 1055. "It's a ten-and-a-half percent beer batter made with Oksar Blues Ten FIDY stout and a whiskey-salted caramel icing."
Its name, 1055, is the police radio code for DWI.
The guy orders one of those, plus a few more, and the couple scurries out the door with an "I'm-going-to-eat-this-whole-thing-in-the-car" look that Jackson knows well.
The 1055 is typical of FuManChu's cupcakes, which Jackson says usually involve "hot sauce, bacon, beer, or alcohol." Three of his flavors include a half-shot of liquor after the cupcakes come out of the oven and require the buyer to be at least 21 years old. "I guess if you absolutely don't drink at all, you could probably catch a buzz off of them," Jackson says.
The flavors change, partly based on the availability of ingredients and partly based on Jackson's mood. But he always carries a few standbys—including White Russian, French Toast, and an Old Fashioned, which has the sharpness of bourbon, just like the classic cocktail.
One of his all-time favorites is the John Lee Hooker, named after the blues singer's famous song, "One Bourbon, One Scotch, One Beer." The batter is made with a coffee stout, topped with a bourbon-salted caramel icing, and garnished with dried cranberries that have been soaked in Scotch for a week.
A typical cupcake requires three or four rounds of experimentation before it is perfected. Jackson's sriracha cupcake, with lemongrass frosting, took nine tries. He hired an assistant who comes in at 8 a.m. to bake that day's cupcakes, in batches of eight dozen per flavor, before the shop opens at 4 p.m. "We don't bake just one batch of cupcakes anymore because they're selling so damn quick," Jackson says. "Cupcakes are not quick to make."
Jackson is now busier than ever, taking large event orders on top of the daily batches required for walk-ins at the store. He flips through his records and finds an order for a fancy wedding in Virginia. "I don't even know where it is, but they're coming all the way down here to pick up the cupcakes."
The side effect of all that work—the measuring and the icing and the talking to customers for hours—is that Jackson doesn't have time to drink like he used to.
"It worked." He laughs. "Like I say, you can't bake drunk."
FuManChuCupCakes
826 Lamar Ave.
704-817-4143
Adam Rhew is a native Charlottean and a frequent contributor to this magazine. Reach him at adam.rhew@gmail.com, or on Twitter: @AdamRhew.