From Finance to Smoothies: Green Brothers Juice Co.
Josh Norris left a job in finance to open a juice and smoothie bar uptown, and business is growing fast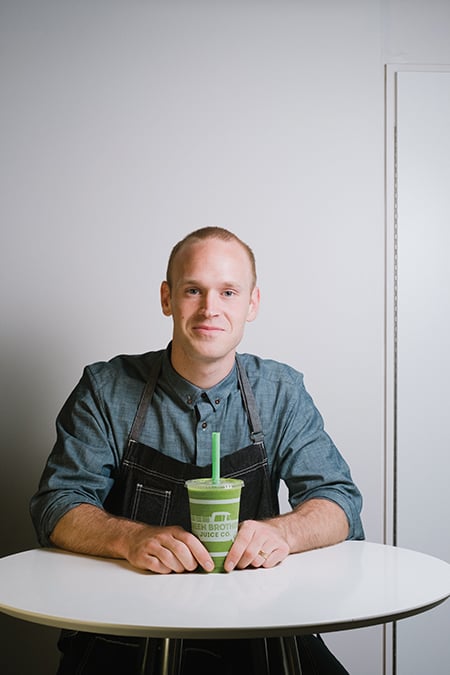 JOSH NORRIS turned heads on Monday mornings. When he walked into the weekly meeting at Northwestern Mutual with his breakfast—a cup full of a muddy green concoction—his coworkers couldn't help but stare.
"What's in there?" they would ask, gawking.
Norris began bringing extra helpings of his morning smoothies—packed with spinach, kale, bananas, blueberries, almond milk, flax oil, chocolate protein—for his coworkers to try. "Ninety-five percent of the time, people thought it was way better than it looked," he says.
Norris, 27, now runs Green Brothers Juice Co. in Bank of America Plaza. He opened the smoothie shop in September 2014 with his two brothers, Jacob and Jason. Although they're all involved with the company, Josh says he's the one who "wears the T-shirt every day."
The Norrises are Charlotte natives, all Providence High School alumni. After graduating in 2011, Josh went to UNC Wilmington to play soccer and grew interested in long-distance running when he met his wife, Stephanie. After college, he and Stephanie trained for their first Ironman triathlon, which consists of a 2.4-mile swim, 112-mile bike ride, and 26.2-mile run. Norris credits Stephanie and his mom, Melonie, for inspiring him—Melonie completed her seventh Ironman this past fall.
Before beginning his training, Norris ate healthy to stay in shape, but says the Ironman experience intensified his focus on nutrition. "It puts a magnifying glass on everything you're putting into your body," he says. He started eliminating processed foods, drinking half a gallon to a gallon of water daily, and drinking two green smoothies a day. "My health skyrocketed," he says. "I was more energetic, slept better, had more mental clarity, was able to work out longer, and recovered quicker."
As he saw the direct effect of nutrition on his body, Norris developed a desire to share that information with others. The curiosity of his Monday morning colleagues proved he might have an audience.
A month before opening Green Brothers, Norris took a job at an international chain of smoothie shops with several locations in Charlotte shopping centers. The only fresh ingredients he saw were bananas. The other ingredients were frozen in syrup.
Everything at Green Brothers is freshly squeezed, pressed, and juiced behind the counter. At the end of each day, a large, plastic container holds pulp and peelings as proof.
The menu lists the ingredients and a separate pamphlet explains their benefits—coconut oil to help burn fat, a blue-green algae called spirulina for increased function of the brain and immune system, and of course kale, for protein and Vitamins A and K. Fresh fruits and vegetables come from nearby farms whenever possible.
"I encourage people to always ask, 'What's going into my food?'" Norris says. "I strongly believe if everyone knew, it would be a different business."
This curiosity has served him well. Green Brothers opened a second location in the Duke Energy Center in March and plans to open a third later this year or early next year in Dilworth.
"The whole reason I started this business is I love transformation," Norris says. "If you eat good, you feel good, and if you feel good, you do good."
---
This article appears in the July 2016 issue of Charlotte Magazine
Did you like what you read here? Subscribe to Charlotte Magazine »
---