From Lowcountry to Little River: A Tour of the South Carolina Coast
Build a hammock, discover history, have a drink, and relax under Spanish moss with this 10-stop trip around the "other" Carolina's seaside towns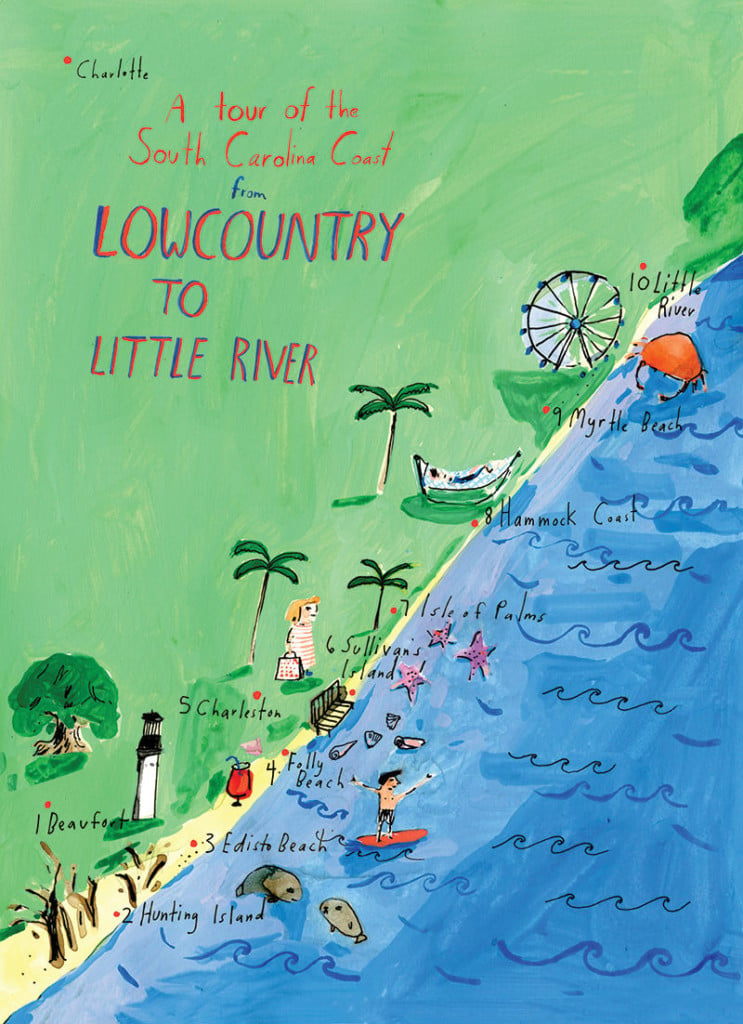 1. BEAUFORT
ON MY FIRST night in Beaufort, the owner of a kazoo factory bought me a glass of bourbon at a place called the Old Bull Tavern and told me all about the most important issues in local politics: parking meters, noise ordinances, just how beautiful they can make the waterfront. He was qualified to speak about these matters, you see, because the owner of the kazoo factory is also a city councilman.
Lowcountry is as much a philosophy as it is a place, and Beaufort is a place you visit as much for serendipity as for scenery. Take Stephen Murray, the kazoo factory owner and city councilman. I wouldn't have met him if I hadn't, just a few hours earlier, met Louise and Dan Hodges. Louise is from Charlotte. "Seven generations," she says. They moved to Beaufort in the late 2000s, and in 2009 they started a business that makes all-natural pest control products. Turns out, Dan the Pest Man also plays drums in a band a couple of nights a week. It was just after the last set when Louise introduced me to Murray.
All this within four hours of arriving in Beaufort. I learned a few other things in that time. Sitting in a carriage being towed by a draft horse named Bob, I learned that Beaufort has been the setting for 17 movies, including Forrest Gump. And I learned that once you learn something like that, you start picturing Tom Hanks everywhere.
Spanish moss and live oaks dangle over most of the streets, creating a canopy that says in an instant, This is the South. The town is proud of that. A few years ago, when a group of folks from Beaufort went to New York to meet with national travel writers, the local vice president of tourism wore a seersucker suit for effect. Whether it worked or not is anybody's guess, but in January, The New York Times put Beaufort 52nd on its list of "52 Places to Go in 2016."
The Times story tells you to come for the setting, but the people—13,000 residents in all—make this town. Somewhere among them is author Pat Conroy, whose books The Prince of Tides and The Great Santini became Oscar-nominated films. Also here is Hank Herring, the owner of SALT art gallery along Bay Street. Herring is a retired United States Marine with 20 years of service who now spends his days in SALT, managing a gallery that includes the work of 42 artists from across all mediums.
And a few buildings down from SALT is NeverMore Books, a new bookstore from locals Lorrie and David Anderson. It's in the basement of an old house that was rebuilt after the Great Fire of 1907, in which three boys and a few cigarettes in a barn started a fire that hopped from building to building. The Andersons opened the bookstore last year, with rare finds lining the shelves of three rooms. One of those rooms is decorated like a cozy den, with soft lighting, a chair in the corner, and shelves full of hundreds of old, vinyl records, also for sale.
It's the only place to buy records in the Lowcountry, the owners say, and it's hidden in the back of a store that's hidden in the bottom of a building that once burned down because of three boys hiding in a barn that was hidden among the Spanish moss and oaks in this tiny waterfront gem of a town where, if you look closely enough, everything's connected. —Michael Graff
WHERE TO STAY: City Loft Hotel. From the outside, it looks like a 1970s-era motel, with two stories forming an L shape around a parking lot. But each room is updated and modern, and around 6 p.m. on most evenings, a turn-down service includes chocolate chip cookies. 301 Carteret St.,
843-379-5638.
WHERE TO EAT: For an upscale experience, go to Saltus River Grill and ask for Table 13. It's the table in the corner closest to the Beaufort River and sunset. Chef Brian Waters is a Beaufort native and is well-regarded throughout the region. Order his daily special, often a locally caught fish, or order a few small plates and share. For a sense of discovery, walk to the Old Bull Tavern, which sits on a narrow street off the main strip. From the outside, it can look like a dive bar. Inside, though, the bartenders wear bow ties and mix the best cocktails in town, and the menu changes every day. Old Bull Tavern: 205 West St., 843-379-2855; Saltus River Grill: 802 Bay St., 843-379-3474.
WHAT TO DO: Kazoobie Kazoos. There are only two kazoo factories in the United States. One is in New York and makes metal kazoos. The other is here, and it makes plastic kazoos. Come, take a tour, make your own kazoo, and always remember that the only way a kazoo makes a sound is if you hum into it, not blow into it. It's harder than you think. 12 John Galt Rd., 843-982-6387.
---
2. HUNTING ISLAND STATE PARK
Past the entrance to the state park, take a left and head toward the lighthouse. Go up, if you wish. It's only $2 for 167 steps that'll put you 132 feet, 6 inches in the sky. But when you come down, walk away from everybody and head toward North Beach. Don't stop until you see the place locals call the "tree cemetery." Here, in a spot of sand that some compare to the redwood forest for the emotional response it generates, the ocean has toppled hundreds of trees. No man comes to pick them up. We just leave them here—oaks and palmettos and pines, waves coming in underneath their branches, waves going out, reminding us again that no matter what, the water's coming back, and it will win. It always wins. Park hours: 6 a.m. to 6 p.m. (extended to 9 p.m. during daylight savings time); $5 for adults, $3.25 for seniors, $3 for children 6-16, free for children 5 and under; huntingisland.com. —Michael Graff
---
3. EDISTO BEACH
A town of 600 in the offseason, Edisto Beach swells to 10,000 in the summer, says Matthew Kizer, owner of Edisto Realty. The locals know how to keep their town quaint, though: Each block has access to the beach, and in the town of Edisto, homes can't rise more than 40 feet above ground level or take up more than 3,650 square feet. The result is a quiet escape where residents drive golf carts around the island. —K.W.
WHERE TO STAY: Rent a beach property with a name such as Margaritaville or Palmetto Paradise. The nearest hotel is in Charleston. Edisto Realty, 1405 Palmetto Blvd., 843-869-2527.
WHERE TO EAT: Whaley's Restaurant for a taste of the local life. Here, "The tea is sweet and the water is bottled," as one friendly server explained. 2801 Myrtle St., 843-869-2161.
WHAT TO PACK: A good book to enjoy on the quiet beaches and a camera to document wildlife, including manatees.
---
4. FOLLY BEACH
If you arrive at the Water's Edge Inn in time for happy hour, the receptionist will greet you with a glass of spiked fruit punch that sets the tone for this laid-back island. Walk a few blocks into town and order a bucket of steamed oysters at the Folly Beach Crab Shack or a frozen screwdriver at Taco Boy. Don't worry about dressing up; in one Folly Beach City Council candidate's campaign poster, he posed wearing a giant fake mustache under the slogan, "Refuse to be ordinary." Back at the inn, you'll wake up to sunlight streaming through the branches of live oak trees. In Old English, "folly" described an area of dense foliage, and this is one of the rare places where the wild greenery remains. —L.R.
WHERE TO STAY: Water's Edge Inn. The main building has large, luxurious rooms with hot tubs and private balconies, many of which face the marsh. Families can stay in three-bedroom villas that surround the main inn. Breakfast (and happy hour) included. 79 W. 2nd St., 843-588-9800.
WHERE TO EAT: For a fresh seafood dinner in a nautical-themed restaurant where kids are welcome and you might find cops and firefighters drinking at the bar, try the Folly Beach Crab Shack. For breakfast or lunch, bring your dog to the place locals swear by: Lost Dog Café. Folly Beach Crab Shack: 26 Center St., 843-588-3080; Lost Dog Café: 106 W. Huron Ave., 843-588-9669.
WHAT TO PACK: Sneakers for biking, flip-flops for kayaking. Rent a bike from the Water's Edge Inn for $10 a day. Kayak the Folly River in a boat from Flipper Finders. 83 Center St., 843-588-0019.
---
5. WHERE TO SHOP ON KING STREET
Locals recommend these longtime favorites in Charleston's fashion district
Croghan's Jewel Box
This is the oldest family-owned jewelry store in town, welcoming customers for more than a century. It sells a jewelry collection named after Edgar Allan Poe's short story "The Gold-Bug," along with gifts such as oyster shell bowls, bread trays shaped like palmetto leaves, and silver-plated decorative labels for decanters, so you can tell your bourbon from your gin. 308 King St. 843-723-3594.
Berlin's Clothing
After immigrating to the United States from Eastern Europe with only $1.38 in his pocket, Henry Berlin opened his men's clothing store on the corner of King and Broad in 1883. Now operated by the fourth generation of the Berlin family, the company sells everything from collared shirts to shoes, and will custom-design clothing from English and Italian fabrics. It has also expanded to include a women's store, which sells designers such as Monique Lhuillier and Joseph Ribkoff. 114 and 116 King St., 843-722-1665.
Blue Bicycle Books
Founded in 1995 and beloved by locals, the small storefront stocks around 50,000 rare, used, and local volumes that range in topics from history to religion, architecture, and literary fiction. Shop owner Jonathan Sanchez and store manager Sara Peck also lead Write of Summer each year, an eight-session creative writing camp for kids. 420 King St., 843-722-2666.
FOLLY BEACH
Ocean Surf Shop
This Folly Beach shop sells surfboards, wetsuits, skim boards, and stand-up paddleboards. New to surfing? Enroll in the shop's surf school. Check out its website for a daily surf report, which includes a live wave cam and "fun factor" to let you know what kind of ride to expect. 31 Center St., Folly Beach, 843-588-9175. —Mariah Giblin
---
6. SULLIVAN'S ISLAND
On the north side of Ben Sawyer Boulevard, just beyond the bridge that connects Mount Pleasant to Sullivan's Island, there's a small plot of land labeled "African American Cemetery."
A cracked concrete cross studded with seashells rests beneath the branches of a live oak tree. Another grave is marked only by a large stone, a small flag, and sections of a fresh orange.
Some of the original residents of the island are buried here. Many of them helped build the historic Fort Moultrie, which was used to repel British ships and troops on the other end of the island during the Revolutionary War. They were "carpenters, cooks, oystermen, laundresses, nursemaids, house keepers, midwives, soldiers, and seamen," the historic plaque that marks the site reads. "People who rested on Sunday and went to church."
The simple cedar crosses that once marked their graves have long since disappeared, and newer residents have been laid to rest here, taking their places in the long and painful history of this island.
Forty percent of the African slaves brought to North America from 1619 to 1808 entered the country through the port of Charleston. Sullivan's Island was the gateway through which many of them passed. During the 18th century, some were quarantined here in "pest houses," so they would not spread diseases before being sold at the slave markets downtown.
Today, 60 percent of African Americans have ancestors who passed through Sullivan's Island. That's more than the percentage of Americans who can trace their ancestry through Ellis Island. Yet until 17 years ago, "When people came here, there was nothing to tell them that," says Michael Allen, a community partnership specialist for the National Park Service who has worked in the Charleston area for 35 years.
In 1999, alumni from African-American high schools in the Charleston area helped erect a plaque beside Fort Moultrie, facing the Atlantic Ocean. "This is Sullivan's Island," it reads. "A place where … Africans were brought to this country under extreme conditions of human bondage and degradation."
But one plaque was not enough for Allen. In 2009, the National Park Service opened the "African Passages" exhibit at the Fort Moultrie Visitor Center. It sits in the back of the center, behind the glass encasements of military uniforms and memorabilia. Maps, artifacts, and vivid illustrations explain how enslaved Africans were transported here. The small exhibit also tells the story of Priscilla, a 10-year-old girl who was captured off the coast of Sierra Leone, shipped to Sullivan's Island, and sold to rice planter Elias Ball II. One of her descendants now works as a speech therapist in North Charleston.
Outside, behind the center's parking lot, there is a bench. It faces the cove where ships once brought men and women in chains to this island. Sitting here, you can hear workers at a neighboring construction site chatting in Spanish as they hammer out the bones of a new house.
This is the Toni Morrison Society's "bench by the road." Installed in 2008, it takes its name from a comment the Nobel laureate once made about the lack of public places to memorialize slaves. "There is no suitable memorial, or plaque or wreath or wall or park or skyscraper lobby," Morrison said. "There's no 300-foot tower. There's no small bench by the road."
Now, on Sullivan's Island, there is one. —L.R.
WHERE TO STAY: There are no hotels or inns on Sullivan's Island. To rent a house, try any of the websites sanctioned by the town. sullivansisland-sc.com/visitors.aspx
WHERE TO EAT: The Obstinate Daughter. Opened in 2014, this sister restaurant to Wild Olive in Charleston specializes in small plates, pasta, and pizza. Try the steamed Prince Edward Island mussels with 'nduja, a house-cured pork sausage, or the orecchiette with lamb Bolognese. 2063 Middle St., 843-416-5020.
WHAT TO PACK: The nonfiction book Slaves in the Family, by historian Edward Ball. It recounts Ball's efforts to find and meet the descendants of the slaves his family once owned in the Charleston area.
---
7. ISLE OF PALMS
At 3 p.m. on a January afternoon, clusters of orange starfish collect in tidal pools along the beach. Their legs wriggle so imperceptibly, it takes a few minutes to realize they're alive. Here on this resort island, with its golf courses and fancy houses and majestic front yards facing the ocean, you can still catch a glimpse of sea creatures doing their thing—hanging out in broad daylight to amaze us. —L.R.
WHERE TO STAY: Wild Dunes Resort occupies 1,600 acres on the island, bounded by the Atlantic Ocean and the Intracoastal Waterway. It has two 18-hole golf courses, tennis courts, spa packages, and its own Sea Island Grill. 1 Sundial Circle, 866-359-5593.
WHERE TO EAT: The upper deck of Morgan Creek Grill has panoramic views of the marina and harbor. Order the crab cake and collards and watch the egrets preen in the water. 80 41st Ave., 843-886-8980.
WHAT TO PACK: Golf clubs, and a bucket for collecting shells.
---
8. THE HAMMOCK COAST
IN A SMALL, white building off Ocean Highway, Marvin Grant makes hammocks. For 23 years, he's been behind a wooden counter here in Pawleys Island, about 40 minutes south of Myrtle Beach. His long fingers pinch and pull pieces of rope—over, under, crissing and crossing—until a hammock takes form. He's the fastest hammock-maker around, but he could make them much faster if it weren't for the visitors who pop in and out of the single-room building where he makes hammocks for The Original Hammock Shop.
Some visit the many shops in little, white buildings that form The Hammock Shops Village, named after the shop Marvin works for, to spend a day away from the beach. Others stop by the village for a bite to eat, and happen to drop in to see how hammocks are made. However they find Marvin, they're always glad they did.
You see that in the postcards that decorate the walls of Marvin's workshop. They're all marked with handwritten thank-you notes from around the world.
Marvin's craft is rare, but he'll tell you it's not difficult. He'll help you make your own piece of hammock to take home. When you're finished, Marvin asks you to sign a piece of paper with his name and the date written on it. He'll tape the paper to your creation so, as he says, you can prove you made it. One little boy and his brother spent most of their vacation with Marvin, learning to make a hammock and finishing it at home. The boys' mom sent a photo album of their efforts.
That's the beauty of the Hammock Coast, which encompasses Pawleys Island, Litchfield Beach, Georgetown, and Murrells Inlet, among other places. There are beaches and golf courses, as well as restaurants. There's also a lot to learn, from how to weave a hammock to some of the state's hard-to-find history.
A few miles to the south on that same road, Ocean Highway, you'll see a sign that points to Hobcaw Barony. This old rice plantation is now a 16,000-acre wildlife preserve, with research centers from Clemson and the University of South Carolina on its grounds. Here, you'll learn the story of Bernard Baruch, a wealthy Wall Street broker who bought the grounds as a winter hunting retreat in 1905. Winston Churchill and Franklin D. Roosevelt spent time here as Baruch's guests, Roosevelt after his doctor recommended some time to relax during his presidency. Some people believe that D-Day was planned at Hobcaw. Belle Baruch, Bernard's daughter, fell in love with the land and eventually purchased it from her father. She lived on the grounds until she died of cancer in 1964, and her partner, Ella Severin, followed through with Belle's wishes to turn the grounds into a sanctuary. You can take a bus through the land and tour Bernard Baruch's home. You can also take guided tours of the property for a more immersive wildlife experience.
A few miles north of the hammock shops along Ocean Highway, you'll find one of the largest sculpture gardens in the United States. Brookgreen Gardens is the result of another couple who had no heir and left their property—and their sculpture collection, all by American artists—to become a public art exhibit, hidden behind the trees along Ocean Highway. —K.W.
WHERE TO STAY: Traveling with the family? Litchfield Beach and Golf Resort has a pool, gym, and restaurant—even a Starbucks, as well as rooms with full kitchens. 14276 Ocean Hwy., Pawleys Island, 843-237-3000.
WHERE TO EAT: Aunny's in Georgetown for down-home Southern cooking and friendly service; Frank's on Pawleys Island for outdoor (and indoor) dining with a high-end menu. Aunny's: 926 Front St., Georgetown, 843-461-4750; Frank's: 10434 Ocean Hwy., Pawleys Island, 843-237-3030.
WHAT TO PACK: Walking shoes for sightseeing, and a cooler to bring home fresh shrimp and fish.
---
9. MYRTLE BEACH
From the top of the SkyWheel, you can look down and see it all happening, and you can almost hear the sounds. The ding of a young girl winning another ticket on the Skee-Ball machine, the sound of a little boy asking for cotton candy. Myrtle Beach is a young place. Or, more accurately, a place for the young. Which makes it all the more obvious when, somewhere in the distance, you hear adults squealing like kids while they bounce up and down on the Sling Shot, a ride in which they're attached to bungee cords dropped from hundreds of feet only to bounce back up when they get close to the ground. And when the big Ferris wheel starts moving again to take you down, you think about those adults squealing and you wonder if you've taken your last thrill ride. Or not. No, definitely not. —Michael Graff
WHERE TO STAY: Myrtle Beach isn't where you go for quiet. Myrtle Beach is where you go to remember something. Find the place where you stayed as a kid, and go there again.
WHERE TO EAT: At Mr. Fish Seafood, pictures and other works from local artists hang from the walls. Looking at them is a nice way to pass the time as you wait for a table—which is, in the end, absolutely worth it, thanks to a menu that includes everything from soft-shell crabs to sushi. The bar also has an assortment of cocktails, something rare in a place known mostly as a Bud or Miller town. 6401 N. Kings Hwy., 843-839-3474.
WHAT TO PACK: Totally your call. But maybe this year, try to avoid being the person who carries his entire house to the beach.
---
10. LITTLE RIVER
The back of a house is never the most attractive part of a house. But don't judge the places in Little River by what you see when you pull up. There's a reason they're like that: They face the Intracoastal Waterway, and the view out there is spectacular. Just south of the state line and just north of Myrtle Beach, this dot on a map is a place where you can watch boats come in with fresh seafood and deliver it straight to the restaurant where you're eating. It's also a place that houses the only two gambling boats in South Carolina. So in a stretch of just a few piers, you can take a cruise and win money, spend those winnings on a relaxed meal by the water, and if there's any left, purchase a cooler full of fresh fish. —Michael Graff
WHERE TO STAY: Little River's options are mostly chain motels. To get away from the Myrtle Beach crowd, head just over the state line and stay in Sunset Beach, North Carolina. There are hundreds of rental options, from houses on the ocean to condos on golf courses, but the beach still feels small and peaceful.
WHERE TO EAT: This stretch of the coast from Wilmington, North Carolina, to Myrtle Beach, South Carolina, is known for frying the heck out of fish and shrimp. Come to Little River and ask them to take off the breading. Crab Catchers On The Waterfront serves fresh fish that you can get blackened, grilled, or fried. Or you can just trust the name on the restaurant and order blue crab bites as an appetizer, then dive into a dozen steamed crabs with a side of corn on the cob. When you're done, the restaurant also sells fresh seafood by the pound out of its cooler. 4474 Waterfront Ave., 843-280-2025.
WHAT TO PACK: Crab knockers and a crab knife. Little River is the home of the Blue Crab Festival, which runs this year from May 14 through 15.
---
This article appears in the March 2016 issue of Charlotte Magazine
Did you like what you read here? Subscribe to Charlotte Magazine »
---