From Myers Park Houseguest to Olympic Medalist
What Katie Meili's bronze-medal performance looked like to the Charlotte family that gave her a home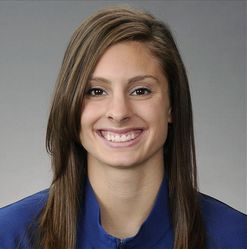 JENNIFER HUGHES WASN'T WATCHING the same race the rest of us were.
She was standing in front of her bedroom TV, on the second floor of her Myers Park home, yelling at the NBC Olympics commentators during the women's 100-meter breaststroke. The announcers were focused on the feud between American Lilly King and Russian Yulia Efimova.
As far as Hughes could tell, they were missing the most important part of the race—the black swim cap pushing through the water in Lane Two, bobbing up and down, surging within an arm's length of the lead. If the swimmer weren't moving so quickly, you could have read her last name, in white block letters, right under the American flag: MEILI.
The announcers talked about King and Efimova. Hughes watched the second lane. Arms moved, water splashed. The announcers got louder. Hughes started to jump around. Maybe a few tears escaped along with the breath she had been holding.
"I just knew she was going to medal before she touched the wall."
***
KATIE MEILI'S OLYMPIC DREAM didn't start in the Hughes' backyard guesthouse—but it grew there.
When Meili moved to Charlotte to train with SwimMAC Carolina's elite squad a few weeks after graduating from Columbia University in 2013, it was a gamble. Meili's collegiate record was good, but not extraordinary. Her stroke was fine, but it needed some work. She was eager, but she had no sponsor paying her bills.
What she did have, though, was the Hughes family.
At the request of SwimMAC coach David Marsh, Jennifer and her husband, Garland, agreed to put Meili up in their guesthouse, just as they had done with two Olympic hopefuls before the 2012 games.
"Here's this cute girl from Columbia who was precious," Jennifer Hughes remembers. "And I could tell she was a little nervous about all this, and that she felt a little out of her league. But she was such a natural fit with our family."
Meili moved her belongings into the house, but she never isolated herself in the private space. "Katie would come up every night and watch TV with us," Hughes said. Meili would eat dinner with Jennifer, Garland, and their three children, then 17, 13, and 10. She tagged along on family beach vacations. She claimed a favorite seat in the living room.
And, of course, Meili trained.
"She was ready to do anything to make it," Hughes says. "She would go to any meet David asked her to. She went to any practice and didn't complain about it."
The Hugheses were there for Meili's ups and downs. Training for something so elusive can be painful for athletes people expect to make the Olympics, not to mention a woman with something less than an outside chance of qualifying. "It's not just renting a room to someone," Jennifer Hughes says. "It goes way beyond that because you are dug in."
As Meili worked harder, her bond with the Hughes family, and especially with the children, deepened. "We love to help out these athletes, but what it ends up being is as meaningful to our family as it is to them," Hughes says. Their eldest daughter, Chapman, went on to swim for Columbia. "It shaped our kids' lives in a huge way to have this kind of role model."
They watched with pride as Meili's times in the 100-meter breaststroke dropped. She found a sponsor. At the beginning of 2015, she moved into an apartment with fellow SwimMAC swimmer Cammile Adams. She set her sights on Rio.
"Once they move out and they need to go and grow, you don't see them as much," Hughes says. But they made a point to get together with Meili for after-practice dinners in Myers Park and the occasional summertime beach trip. The family made the trip to Omaha for the U.S. Olympic Trials this summer. And they were watching as Meili stretched her fingertips toward the timing pad and won a bronze medal.
Tuesday morning, as Hughes snapped pictures of her television when Meili appeared on Today, she looked across the living room at the swimmer's favorite chair and smiled.
"That girl," Hughes says, starting to cry. "She just deserves it. She really does."
Adam Rhew is associate editor of this magazine. Reach him at adam.rhew@charlottemagazine.com or on Twitter @AdamRhew.