From North Carolina to Bangladesh
What happened when the textiles left, and will they ever return?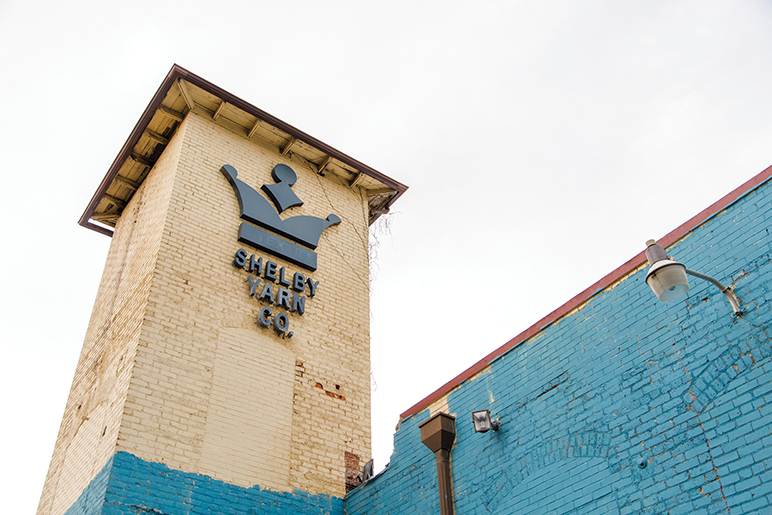 IN BANGLADESH, April is a strange month.
The monsoon season is still a month away, but the rains have begun, offering an uneasy reminder of the deluge ahead. It's hot, in the 90s every day, and the humidity is stifling and never breaks, especially in a city such as Dhaka. More than 10 million people reside here, many packed together in substandard housing, very few with cars, all living and working along dirt streets pocked by mud on the rainy days.
On April 24, 2013, thousands of garment workers, mostly women, were forced to trudge through those dirt streets and report to work at the Rana Plaza building. Some of them carried children, whom they would leave for the day at the building's onsite nurseries while the mothers stitched, sewed, and worked the machinery that made clothing destined for stores in Europe and the United States.
Cracks had recently been found in the eight-story structure's foundation. Stores and a bank on the lower floors were closed that day out of fear the building might collapse.
But the garment factories on Rana Plaza's upper floors remained open, and garment workers were warned they would lose a month's pay, or even their jobs, if they didn't show up. Barely making a subsistent wage, did they feel they had to choose between working and starving? Whatever their reasons, they went, nearly 4,000 of them.
For the parents, what was it like handing an infant over to a caretaker in that broken building, or letting go of a toddler's hand? Waving goodbye, did they know on some level it was the last time? Climbing the stairs to their workstations, did they suspect they were walking to their deaths?
Just before 9 a.m., the Rana Plaza building collapsed. Depending on the report, anywhere from 1,129 to 1,134 died. Most of them were garment factory workers, crushed beneath tons of concrete, glass, and steel from a building that had reportedly been thrown up in a rush to meet hurried demand for cheap textile labor. Some workers were never found, and they're not included in that count. Another 2,515 were rescued alive, many severely injured in the collapse.
Rana Plaza is considered the deadliest garment factory accident in history. The workers who died were making clothes for well-known U.S. stores and brands, including Benetton, Cato Fashions, Mango, Wal-Mart, and others.
Despite being halfway around the world from the tragedy, many people in North Carolina's textile community felt it closely. Not long ago, they say, those clothes would have been made here. And some U.S. industry insiders take it one step further, saying there is a direct link between the demise of textiles here and Rana Plaza.
Most are reluctant to speak openly about it because they don't want to lose their jobs. They see this state's derelict mills, many in the Charlotte metro region, sitting empty—some in a state of collapse—and in private they'll say Rana Plaza could have been prevented.
Others who work in or with the U.S. textile industry caution that this is not, necessarily, a case of direct cause and effect.
Both present strong arguments, and the answer to whether there is a link between North Carolina and Rana Plaza can be found somewhere under the rubble of a building in Dhaka, in the collapse of the textile industry here, and in a trade agreement called NAFTA.
***
TWO DECADES AGO, towns across North Carolina were homes to large textile mills and factories employing hundreds, even thousands, of workers. Those operations provided an economic backbone for their host towns and a comfortable middle-class life for the surrounding communities. The mills and factories generated taxes that built schools and municipal centers, and the dollars that circulated from paychecks supported churches and hospitals and local business.
In January 1994, the North American Free Trade Agreement went into effect. NAFTA eliminated trade barriers between the U.S. and Mexico and Canada, and opened the door for U.S. textile firms to outsource manufacturing of their products. Within a few years, other trade agreements with similar provisions were signed, paving the way for well-known U.S. clothing brands and retailers to leave North Carolina for mills in China, Bangladesh, and other countries around the world.
Since the signing of NAFTA, textile operations across the state have shuttered. At the same time, hundreds of textile workers in countries such as Bangladesh have died making clothes for U.S. and European markets. Most of those workers were women, and until Rana Plaza, most had died in mill fires.
Eric Henry has worked in the North Carolina textile industry for more than 30 years, and he's one of the few to speak openly about Rana Plaza. He and his business partner, Tom Sineath, own TS Designs in Burlington, a once-thriving screen-print operation that served major clothing brands. After NAFTA was signed, his clients, companies such as Tommy Hilfiger and The Gap, began outsourcing their screen printing to countries where labor was abundant and inexpensive.
"The direction of the industry since NAFTA," Henry says, "is to push for cheaper, cheaper, cheaper."
Before 1994, Henry's busy operation employed more than 100 people. His employees made a good living, earning well above the minimum wage, with good health benefits, profit sharing, and a retirement plan. Like its textile industry counterparts in towns such as Shelby, Concord, and Kannapolis, TS Designs was thriving, taking in contracts from major retail brands. After NAFTA, those clients took their business overseas, many to countries such as Bangladesh where the minimum wage is $37 a month, and workweeks are often longer than 40 hours or five days.
Henry was forced to lay off most of his staff—all but a skeleton crew—and he went for two years without a salary to keep TS Designs open. Meanwhile, textile factories throughout the state, including many in the Charlotte region, closed or filed for bankruptcy.
Production of textiles and apparel in North Carolina hit its peak in 1992, according to data from a 2004 Duke University Markets & Management Capstone Course, but the state hemorrhaged jobs in the mid- to late-1990s. In 1999, Burlington Industries let go of 2,000 workers in six plants around the state. By 2000, Shelby Yarn closed three plants in Shelby and Cherryville, eliminating 650 jobs. In 2001, Westpoint Stevens eliminated 1,250 jobs in Roanoke Rapids. By 2003, Kannapolis-based Pillowtex declared bankruptcy and closed five North Carolina plants, eliminating 4,000 jobs.
In 1995, 1,357 textile mills employed more than 176,000 workers in North Carolina. By 2013, the state had lost 80 percent of those jobs, according to data provided by the North Carolina Department of Commerce. Some towns went from having thousands of employed textile workers to none.
Meanwhile, on the other side of the world, Bangladesh experienced a textile boom. In 2013, an estimated 5,000 factories employed four million workers. Most of Bangladesh's textile mills and factories were built within the past 10 to 15 years to meet U.S. and European demand for clothing.
To some, this is progress. But at what price?
***
FIVE MONTHS before the Rana Plaza collapse, on November 24, 2012, 127 workers died in a textile mill fire in Dhaka at what is known as the Tazreen factory. According to multiple reports, stairwells were blocked and doors were locked, preventing workers from escaping the fire. Many died jumping out of the building's top floors. A week before that fire, another Dhaka textile mill fire killed 11 people.
In September of that year, an estimated 100,000 textile factory workers in Bangladesh demonstrated in a key industrial area not far from Dhaka, demanding reduced work hours.
In June 2012, 350 factories in the Ashulia section of Dhaka were shut down during two days of riots after a garment worker was killed. Earlier the same year, a union organizer for textile workers was abducted, tortured, and murdered. And since about 2005, hundreds more textile workers in Bangladesh have died from fires and other building collapses.
Meanwhile, in 2012, despite worker turmoil and deaths, Bangladesh moved into position as the second-largest textile product exporter in the world, trumped only by China.
***
ON A COLD DAY in February 2014, Henry was one of four speakers at Elon University addressing the topic "Innovation into Practice." Onstage, he was flanked by video screens bearing the number "98%."
That number, he explained, "is usually a good thing," but in the case of the state's textile industry it represents massive loss. "We have a broken apparel system," he said. "I remember when the apparel business was 98 percent here." But now, he continued, it's the opposite, after major brands rushed overseas throughout the 1990s.
"Where does that bring us?" he asked, as the screens switched to an aerial photo of Dhaka's Rana Plaza, its middle sections crushed to the ground as though by a giant fist.
"We end up here."
Others see this differently. Avedis Seferian is president and CEO of an organization called WRAP, which stands for Worldwide Responsible Accredited Production. Based in Arlington, Virginia, WRAP inspects apparel production facilities around the world, certifying those that meet a specific set of safety criteria. The organization helps factories improve working conditions and holds training in fire safety. It also tracks textile industry labor problems and labor abuses in developing countries.
"The causality argument is a hard one for me to make," Seferian says. "The nature of how this situation evolved is not a linear one. Let's start with the exodus of the industry from the U.S. It is difficult to imagine that not happening, given the conditions that led up to it."
Societies start off agrarian, Seferian says, then move into lower-level manufacturing of products such as textiles, then move toward more sophisticated manufacturing, then develop into service-based economies. That's happened in the U.S., "and we see that happening in China right now," he says. "This is a natural evolution."
Of the developing countries that have replaced the textile operations in North and South Carolina, he says, "some exhibit challenges, like in Bangladesh." But not all of them do. He cites Sri Lanka as an example of one that has placed what he calls "an exemplary" focus on worker safety.
"The outsourcing model doesn't always result in conditions like Bangladesh," he says. That's especially true if a country has "a more ethical government with greater transparency and rule of law."
That is not the case in Bangladesh. A 2012 report from the U.S. State Department categorizes Bangladesh's government as one of the most corrupt in the world. After the Rana Plaza collapse, there were reports that Bangladesh had an insufficient number of building inspectors to monitor the number of buildings going up to meet the country's textile export boom. But Seferian doesn't believe that was the cause.
"We don't have enough inspectors in the U.S., either," he says. "But we don't have as many problems because this is the case of a more evolved society with regard to [respecting and following] rule of law."
***
FIVE YEARS AGO, in an effort to rebuild his company, Henry began selling T-shirts made from cotton that's grown, ginned, spun, knit, cut, sewn, printed, and dyed in the Carolinas. When he launched the concept, he struggled to find customers, mostly because his shirts cost more than those at the big-box stores. Now, though, demand has exploded to such an extent that he can barely keep up.
Henry believes consumers are beginning to worry about labor violations overseas, as well as poor quality, and he believes these things are contributing to a drive in demand for "Made in America" products. TS Designs' "Cotton of the Carolinas" T-shirt line is an example of a brand that's benefiting from that movement.
Last year, the company was expected to sell about 60,000 T-shirts through its Cotton of the Carolinas brand—all sourced entirely in the region, from soil to final product. That comes out to about 50,000 pounds of cotton clothing, up from 7,000 pounds just five years ago.
"We're all around Charlotte," Henry says. "Our finisher is in Gaffney, our spinner is in Thomasville, and our cotton farmer is in Stanly County."
Meanwhile, he has become a recognized spokesperson for the textile industry's "Made in America" movement. This past summer, he was invited to speak on the subject at one of the world's largest outdoor and sportswear expos, the Outdoor Retailer Summer Market in Salt Lake City. As he was at the speech at Elon, Henry is quickly becoming known as an evangelist for buying products that are homegrown and home-sewn.
***
IN DECEMBER 2013, around the same time that Bangladesh claimed position as China's main competitor for apparel production and exports, a Chinese company named Keer announced it would build a textile plant in Lancaster County, South Carolina.
Construction is now underway there on a 230,000-square-foot facility, expected to open this year, and it could bring as many as 500 textile jobs to the county. Keer has also opened an office in Charlotte.
Bob Berg, senior sales manager of international business for Magic, the largest textile industry sourcing show in the U.S., says he is seeing a significant increase in demand for clothing and other textile products made here. The cost of production in China is beginning to climb, he says, making U.S. production costs more competitive.
"More and more brands are looking for factories in the U.S.," he says. At the same time, he adds, "consumers are looking for ['Made in America' products] for loyalty and for perceived quality."
Berg's job gives him a global perspective on textile industry sourcing and manufacturing trends, and he says there is great interest in bringing some textile manufacturing back to the Carolinas. Some of that is sophisticated and highly mechanized, meaning that plants such as the Keer plant will employ fewer workers than plants of similar size did years ago.
These developments may be indicators of a renaissance, or at least a transition, within North Carolina's textile industry.
All around the Charlotte region and the state, there are other signs of economies recovering from textile losses.
In Shelby, the former Dover Mill, which opened in the 1920s and closed in 2001, is set to become a technology park. Nearby, four other former textile mills have been repurposed since 2007 for use by other industries. In Star, a large former mill that closed after NAFTA is the site of an entrepreneurial incubator called STARworks Center for Creative Enterprise. In Kannapolis, the North Carolina Research Campus has opened on the site of the former Pillowtex manufacturing plant.
Things aren't slowing down overseas, either. In Bangladesh, textile exports continue to grow, despite the Rana Plaza tragedy and concerns that brands using factories there would pull out. Since the collapse, imports to the U.S. have continued to increase, but not at the same rate as in the past. Seferian says imports to the European Union have actually gone up.
"I travel a good deal in my work, and the one place I go to more than any other is Bangladesh," Seferian says. "It has become the center of the social compliance universe for the textile industry [since the collapse]," with major retailers and brands trying to improve working conditions.
He hopes that the hard lessons learned through Rana Plaza will improve textile worker safety in other developing countries, including those in Africa, where the textile industry now appears to be moving because labor is abundant and cheap. Over the past two years, Chinese companies have begun building textile plants there, including in Kenya, where a planned new textile operation could generate as many as 30,000 jobs.
Meanwhile, Berg says demand is starting to grow for traditional cut-and-sew factories based in the Carolinas, where many old plants sit idle but could be revived. Ironically, he adds, the trained labor needed to make the return of North Carolina textiles possible is no longer available, as many of the state's former textile workers have died, retired, or simply moved on.
***
WHAT IS a human life worth?
Depending on the news report, the people who worked in Rana Plaza were worth about $200 to $700 each. That's how much family members were entitled to in compensation, per death, if they could prove a loved one died in the collapse.
For Henry, those figures provide more proof that profit margins based on cheap labor caused the Rana Plaza disaster. "Building collapses and scores of textile workers dying in factory fires, while working long days for pennies an hour?" he says. "[It's] what you get when you only focus on price. It's unfortunate."
Henry doesn't believe the U.S.-based retail chains and clothing brand giants are the only ones responsible, though, despite the fact that outsourcing by those companies nearly shut down his business. He believes the problem is broader than that. In a free market, he says, business must follow demand.
"We can blame the industry. We can blame the regulations," he adds. "But at the end of the day, consumers are responsible for this."
One way to fix it, he says, is for U.S. consumers to demand products made at home. Henry—who survived his way through a passage that shuttered most of North Carolina's textile industry—believes a growing number of consumers are returning to the idea of buying for quality.
"Not all are coming back," he says, "but some are. They're interested in the environmental impact, and the social impact, and [buying] 'Made in America' because we have an EPA and an OSHA and some protection [for workers] that you don't have in the Third World."
He's banking his company's future on the idea that consumers are beginning to want home-sewn garments.
Whether U.S. consumers are willing to trade price for quality, or will want "Made in America" products on a larger scale, can't be predicted. The lure of the lowest price is difficult to resist in a culture driven by consumption.
As factories are rebuilt in places such as Bangladesh and U.S. markets remain flooded with inexpensive apparel, it's hard to know whether consumers will make the connection between the clothes they buy and the lives of the people who make them, or whether they even care.
Still, Henry remains optimistic. "If we are going to bring jobs back here, it starts with you," he says. "It starts with knowing."
Glenna Bassett Musante is an award-winning journalist who has written extensively about the textile and fashion industries. She is the former features editor for the American Association of Textile Chemists and Colorists, a former staff writer for McClatchy newspapers, and the former consumer issues columnist for The Connecticut Post in Bridgeport, Connecticut. She can be reached at glenna@musantecommunications.com.
---
To hear Eric Henry's TEDx talk on the North Carolina textile industry's connection to Bangladesh at Elon University, visit ted.com/tedx/events/9839.