From the Editor: Institutionalize Us. Please
Notes from the editor, Richard Thurmond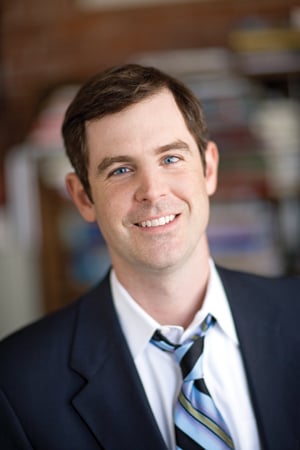 The word institution is a funny one. Its definition is somewhat fluid, depending on who is doing the defining. Some hear the word and picture Jack Nicholson in One Flew Over the Cuckoo's Nest. Others see a particular shade of green that is most often associated with the walls of schools and hospitals.
We write a lot about institutions here at the magazine, but they are of the community variety. In this issue, we cover several iterations of the term. Taken together, I think it's a fascinating look at a contemporary city.
Frank Barrows profiles Tom Sorensen, the inimitable sports columnist for The Charlotte Observer (page 40). Barrows makes the case that in Sorensen's thirty-two-year career at the O, Sorensen—who was named 2011 North Carolina Sportswriter of the Year by the National Sportscasters and Sportswriters Association—has become a valuable community institution. (Sorensen would hate everything about that sentence, by the way.) I agree. Since I started reading the local paper in 1990, his column usually has been my first stop. And as the paper has shrunk and shed some distinct voices, Sorensen's wit and refusal to write the easy, obvious piece stands out even more.
Charlotte loves to celebrate another type of community institution—corporate headquarters. It was a blow to our civic self-esteem when Wells Fargo gobbled up an ailing Wachovia, and business leaders continue to fret privately that Bank of America might forsake Tryon Street for Wall Street. So Chiquita's announcement last year that it would move its headquarters from Cincinnati to Charlotte was met with great fanfare. But Leigh Dyer's story "Is Charlotte Going Bananas?" (page 46) should give us all pause. She writes about a new documentary that details how Chiquita and fellow tropical foods behemoth Dole Food Company have in the past bullied reporters and media outlets that printed stories about some ethically dubious (to put it kindly) practices. There's no reason to think that the companies are run the same way today. But we've seen another of our beloved uptown institutions—BofA, I'm looking at you—generate plenty of discomfiting headlines lately. Let's hope there are not more to come.
Finally, since 1999, we've devoted the May issue to what we call the BOB Awards. Short for Best of the Best, the awards celebrate the best this city has to offer. We like to think it has become something of an institution. (Maybe that's because the staff feels like it should be institutionalized after wrapping up the issue each year, but I digress.) I think this is our best BOBs issue yet. Our panel of writers and editors kept an eye out all year for potential BOBs, and then we debated the choices until we either agreed or the lone dissenter was argued into submission. (OK, so it wasn't that ornery of a process. Every year I hope for at least one knock-down, drag-out fight over a BOB, and every year the staff is able to be civil about it. I guess we'll never get that reality show.) The result is twenty-eight pages of Charlotte's top spots to eat, drink, shop, play, and be pampered (page 52). You got a say, too. We ran an online poll, and the results are up at www.charlottemagazine.com. Go let us know what you think. And I hope we'll see you at our big BOBs bash on May 17 at NC Music Factory.