From the Editor: Leadership Happens
Notes from the editor, Richard Thurmond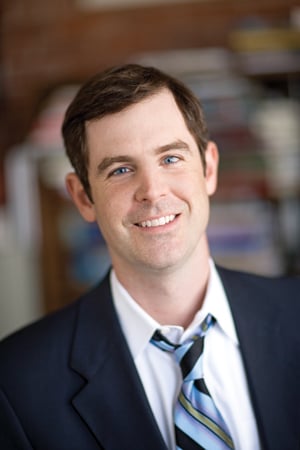 For as long as I've been at this magazine—which is longer than I care to admit, but I'll share that when I started here, "First Union," "NationsBank," and "Charlotte Hornets" were not anachronisms—there has been a running conversation in this city about the next generation of leaders. Specifically, who will they be? Personally, I've always found this discussion a bit silly. Leaders, at least in cities that are neither Chicago nor Pyongyang, aren't anointed. They happen.
But that is a rabbit hole of a discussion I will avoid for the moment, because I only have so much space. Instead, I will point out that this issue is full of stories about people who either are leaders now in Charlotte or who might be in the future. And they may be names you are not familiar with.
Journalist Brad Broders interviews Ericka Ellis-Stewart. Only thirty-seven, the rookie politician has the unenviable task of chairing the local school board. The board has long been known more for discord than consensus. It started to show more unity under previous chair Eric Davis, who remains on the board, but tensions flared during the last year of former Superintendent Peter Gorman's tenure. Now, Ellis's board has to hire a new superintendent while navigating a murky future (To test or not to test? Where will the money come from?). Ellis-Stewart's leadership style is unclear at this point. She says she values dialogue, but her flexibility is yet to be determined.
Rhiannon Fionn profiles the Occupy Charlotte movement and one of its most visible members, Michael Zytkow. He is an entrepreneur, but Occupy has awakened his inner activism. To me, this is one of the more fascinating elements of our little Occupy outpost. Who knows if the protests are really accomplishing anything? But the gathering is providing opportunities for people like Zytkow to become engaged with the city. Zytkow is even contemplating joining the machine—he's pondering a run for Charlotte City Council.
Tony Zeiss is better known than either Ellis-Stewart or Zytkow, but the CPCC prez is not readily thought of as being among the pantheon of Charlotte leaders. But have you ever seen him in action? As I've written before, the man is a force of nature. The main campus of CPCC is more impressive than many colleges and universities I've visited. Without his advocacy, I doubt the Little Sugar Creek Greenway would have happened. The Trail of History—a series of statues of historic figures along the greenway—surely would not have. Writer Michelle Boudin spent some time with him—including an episode in the men's room at a local retirement community—for her profile.
Finally, brothers Mark and Brian Wilson are responsible for The Rat's Nest, a vintage shop in NoDa, and The Thirsty Beaver Saloon, a honky-tonk bar in Plaza Midwood. Writer Courtney Devores tells their story. Without setting out to, the Wilson brothers have fostered a community around their two places, each of which is among the most authentic in Charlotte. They weren't anointed as any sort of leaders. They just happened.