From Ukraine to Charlotte: Swimmer Rostyslav Fedyna's Journey
One member of Queens University's swim team is competing for more than a national title. He's trying to avoid a war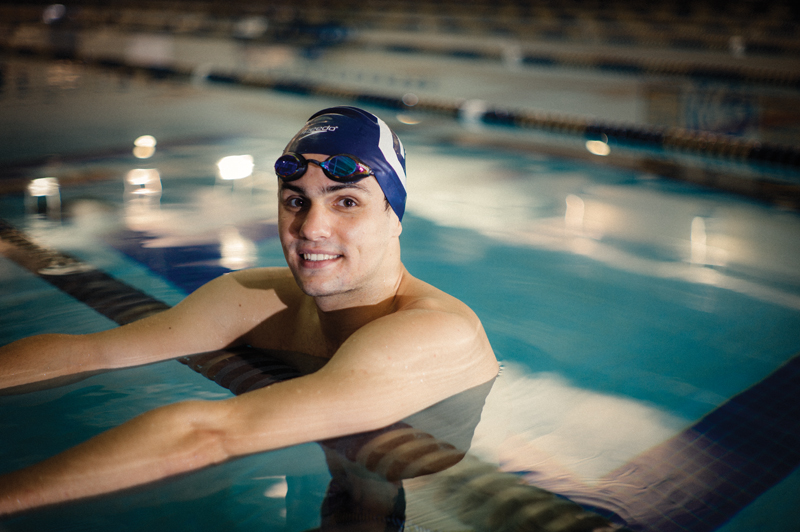 AFTER EVERY SWIM practice Rostyslav Fedyna has attended at Queens University, after more than a year of early morning workouts and punishing physical exhaustion, he thanks his coaches.
Sometimes he will shake their hands. Sometimes he will clasp his own hand to his heart and bow while he grins and says, "Thank you."
"Without fail, after every workout," Queens coach Jeff Dugdale says.
A few months ago, after a particularly grueling session, Fedyna simply left, and Dugdale was dumbfounded.
"Rost didn't say, 'Thank you,' " he told his assistant coaches in disbelief.
As if on cue, from across the pool deck, a voice suddenly bellowed, "Thank you, coaches!"
Dugdale remembers chuckling. "Oh, my goodness," he thought. "He doesn't forget a day. He doesn't forget a day how fun this is."
Fun is a big deal for Fedyna; it's not something the 23-year-old can afford to take for granted. If he weren't in Charlotte training to help Queens win another NCAA Division II title, he could be back in his native Ukraine, staying mostly indoors and hoping that no one finds him. He could be praying that Army officials do not send another draft summons to his mother, ordering him to fight.
***
HOME USED TO BE something Fedyna took for granted. Like many of us, he grew up thinking he could always return to the people he loved the most. but he was also searching for something better, something he could not find in Ukraine.
He was destined to be a great athlete. His mother, Iryna, was a hurdler; his father, Mikhail, was a decathlete. Both grew up in what is now Ukraine, and his mom competed at the national level for the Soviet Union.
When Fedyna was seven, his grandfather decided it was time that he and his older brother, Alex, learn how to swim. Neither of the boys' parents could swim very well, and Fedyna's grandfather wanted to make sure his grandsons didn't have the same problem.
He took the two brothers to a lake near the city of Odessa. "I was screaming and I did not want to go into the water; I was afraid of it," Fedyna remembers.
But within a few days, he had to be coaxed out of the lake.
"C'mon," his grandfather would say. "Let's go home."
"Nah," Fedyna would reply when he came up for air. "You can go. I know the way back."
After a few years, he was swimming so well that he decided to train at a sports school in Kiev, about 335 miles east of the town where his family lives in Western Ukraine.
In Ukraine, Fedyna says, water to fill the pools is a luxury. It wasn't uncommon for all of the water in his city, Lviv, to be turned off until evening. Between the hours of 6 and 9 p.m., he and his family filled buckets with the water they would use the next day. the indoor pool he swam in was open only three months each year. Attending a school dedicated to supporting his blossoming talent was the only way he could develop.
He was homesick at first. Just 10 years old when he arrived, he missed his mother, most of all, and his older brother, who suddenly had lost his sight due to what was determined to be macular degeneration.
Teachers at his school regularly used corporal punishment, and Fedyna developed a reputation as a student who would protect his weaker peers. But he also learned how to live on his own for the first time. His swimming advanced.
By the time he was 16, Fedyna had moved to train in Donetsk, a city in Eastern Ukraine more than 760 miles from his hometown. In 2012, when he was 19, he failed to qualify for the London Olympics because his breaststroke time was not one of the top two in Ukraine. He began to ponder his future.
If he stayed in Ukraine, he could continue studying for his finance degree and take his chances at attempting to qualify for the 2016 Olympics. He thought about his mother, whose job as a doctor brought home less than $100 a month. He thought about his life in Donetsk, a city he deemed so violent that he often carried a screwdriver for protection when he strolled the streets.
Then he thought about the alternative: He could learn English and swim for a school in the United States.
***
PHILLIP DAVIS first heard about Fedyna from one of fedyna's former classmates at the sports school in Kiev. Davis's swimming program at the University of the Incarnate Word in San Antonio has developed a bit of a pipeline from the Slavic country, with six athletes on his current team hailing from Ukraine, and three more expected to join next year.
Davis said he verified Fedyna's swim times, exchanged some platitudes with him, and in January 2013, had a new swimmer at his school.
In his first year, Fedyna reached the NCAA Division II nationals, finishing seventh in the 100-yard breaststroke and ninth in the 200-yard breaststroke. When he came to the United States, he was considered a transfer student because he had been attending a university in Ukraine. Further complicating his eligibility status was that Incarnate Word was moving up to Division I after years of competing at the Division II level. in his second year at the school, Fedyna swam at the Division I level and exhausted his Division I eligibility. However, based on NCAA regulations, he would still have eligibility if he swam at the Division II level.
It was 2014. as Fedyna began investigating transfer opportunities, fighting in Ukraine between pro-Russian separatists in the east and Ukrainian nationalists intensified.
Since it gained independence in 1991, Ukraine has been divided between European-leaning citizens based primarily in the western and central areas of the country, and pro-Russian Ukrainians who are predominant in the east (Fedyna is from northwest Ukraine, near the border with Poland). Last year, Russia aligned President Viktor Yanukovych fled to Moscow amid protests after he refused to sign an economic agreement with the European Union. He was replaced by pro-European President Petro Poroshenko. Meanwhile, Russia annexed Crimea—gaining control over vast oil and gas reserves—and has been accused of fostering rebellion in eastern regions and cities such as Donetsk.
"[My swimmers] know people who are going through rough stuff right now," Davis says. "They've sent me pictures of people walking their kids to school with guns. It's bad. "
Amid this upheaval, Fedyna says his mother received a notification that he had been drafted to fight in the conflict. But the summons is not considered an official draft order unless he is served in person.
That's why his family repeated the same message again and again: "Don't come. Don't visit. It's better if we come to visit you. But you cannot just come to Ukraine."
***
WITH HIS FAMILY URGING him not to return, Fedyna filled out a questionnaire for prospective student athletes on the Queens website. Dugdale got in touch with him, and he soon found a new home in Charlotte.
Dugdale is amazed by Fedyna's upbeat attitude, his pure joy at swimming. If Fedyna isn't dancing on the sidelines of the pool, he's underwater taking photos with his beloved GoPro camera.
"There's a consistent thing about swimming athletes at a high level: it's their love and feel for the water," Dugdale says. "You can see this 10 minutes after practice. Every time, there are people who start to do things like dolphins would like to do. When you do that, that's a relationship with the water. He loves the water."
In Charlotte, Fedyna's swimming has improved. Now standing 6-feet-6, he's lithe and chiseled from what he says is a renewed dedication to the sport. It's paid off: For the first time in four years, Fedyna shaved time off his 100-meter breaststroke, going from 1:04.0 to 1:02.3 in a meet in May.
"In swimming, if you improve, you improve half of a second," says his teammate and roommate Enzo Pazos. "One second is a lot in 100. And he improved almost two seconds."
There's a chance, a slight one, that he could qualify for the 2016 Olympics in Rio. But to swim for Ukraine? "It's kind of a gray area," says Davis, the Incarnate Word coach. "If they're training somewhere else but have a chance to represent their country on that level, I think the country is probably like, 'OK, we understand.' But they have a lot of great athletes who aren't Olympians. How do you distinguish which ones are worth waiving their military requirements for and which ones aren't, when they're trying to hold onto a country?"
***
ABOUT 39,000 UKRAINIANS ARE known to have dodged military service during the first two months of 2015, according to USA Today. More than 8,000 have been killed since fighting began in eastern Ukraine in April 2014.
"He barely talks about it unless other people talk about it to him," says Fedyna's Queens teammate and former roommate Dion Dreesens. "He said he changed a lot from the person he used to be, from the Ukraine coming to America. He can open up over here, be a different person; he doesn't have to look behind his back every time."
Ask Fedyna about the war, and he will offer only the slightest hint about why he refuses to fight in it. "I don't believe in [the] official point of it," Fedyna says. "I believe that it's because people are making good money on weapons, that's the only reason we have war.
"Have you ever shoot from AK[-47]? You can shoot all bullets in five seconds. And imagine, they're fighting every day, all the time, every night, many guns, many bullets. Some guns [are] destroyed, so we need new [ones]. So, money, money, money, money. That's what I believe."
Fedyna tells stories of friends who have been drafted to fight for Ukraine and others who have dodged service. One friend of a friend was killed in the conflict, and there are bombed-out buildings in Donetsk where stray dogs scavenge among the dead.
But the swimmer says his family lives peacefully in Western Ukraine because the fighting is generally limited to the eastern part of the country. He sent them the money he earned from his summer internship in the Queens admissions office and dreams of bringing them to live in the United States when he graduates. By the end this school year, he'll have one semester left to swim. He plans to finish his bachelor's degree in business this month and begin work next semester on a master's degree in media design. Then, Dugdale says, he will withdraw from Queens in the fall of 2016 and re-enroll for his final semester of swim eligibility in the second semester of 2017. That will allow him to pursue a Division II national title in the breaststroke.
By the spring of 2017, Fedyna also hopes to have finished his master's degree. "People are asking me, even if they're not interested about war, they're asking me, 'What are you going to do after graduation?' " Feyna says. "And I'm saying the same thing that I always say—that I'm going to stay out of the Ukraine and Russia. I'm not sure about North Carolina, or even United States, this continent, or this half of the planet. Just out of that part of the world."
***
WHEN HE'S NOT SWIMMING, Fedyna has found a new hobby. Friends say he carries his GoPro wherever he travels, taking it high atop Grandfather Mountain to snap panoramic images and deep into the water to capture life beneath the surface.
A few months ago, in a rare turning of the tables, someone directed the video camera on Fedyna.
His mood was serious at first, as he sat on a bench alongside the pool before a meet. But when the chorus of the Maroon 5 song "Sugar" blasted over the loudspeakers, Fedyna stood, shaking his hips back and forth to the rhythm of the music.
Theatrically, emphatically, he began to mouth the words of the song. When the music declared he was "right here," Fedyna pointed to the ground forcefully, shaking his hips. When he mouthed, "I need little love," he drew the outline of a heart in the air.
Teammates gathered around him, doubled over with laughter. Finally, he broke character and grinned at his own joke.
He doesn't forget for a day how much fun this is.
Jodie Valade is a freelance journalist who recently moved to Charlotte from Cleveland, where she lived for 12 years. Follow her on Twitter at @JodieValade, or contact her at jovalade@gmail.com.
---
This article appears in the December 2015 issue of Charlotte Magazine
Did you like what you read here? Subscribe to Charlotte Magazine »
---