Fulfilling Food
Fran Scibelli's Dilworth restaurant offers flavorful comfort food in a charming, neighborhood atmosphere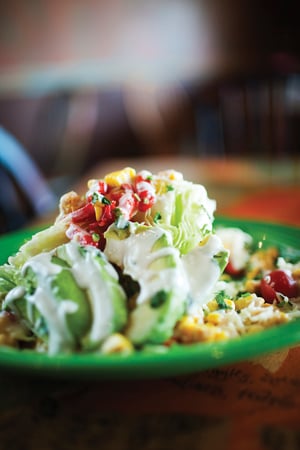 The Staff at Fran's Filling Station flutters about like crazed butterflies. On the backs of some of their T-shirts is printed the phrase, "Note to Fran: RELAX." It is meant to be a tongue-in-cheek reminder to owner Fran Scibelli, who is notoriously intense, as if reading it 1,000 times a day might help. I'm guessing it won't, as the Filling Station is sort of a culinary dominion. Fran's rotors whirl loudly, and the staff conforms with equal passion and aplomb. In the long run, this probably bodes well for this little bistro-style restaurant, which runs smoothly indeed, with assorted comfort food being delivered by smiling, knowledgeable servers. No, Fran has not yet relaxed. Thankfully, neither have her standards.
Lunch features sandwiches and salads with myriad options to customize both. The turkey and roast beef are roasted daily, chicken is grilled to order, and meatloaf and chicken salad are prepared fresh. They arrive on hot baked crusty rolls and breads (Fran, the former proprietor of the famed Metropolitan Bakery, bakes these herself off-site) with flavorful condiments like pickled onions, lemon aioli, and jalapeño vinegar slaw. The sandwiches are well thought out, with bright flavors and textures. The croque monsieur is decadent and delicious with shaved ham and Gruyère glazed in a warm béchamel. A niçoise salad is beautifully plated and satisfying with a colorful mix of hard-boiled eggs, sliced potatoes, haricots verts, and seared sushi-grade tuna resting on a feathery spring mix and topped with a sharp, lemony vinaigrette.
At night, things change dramatically. Located in a quiet strip center next to RuSans and Fiamma, Fran's is right on the southern edge of Dilworth, just off Park Road. This neighborhood seems to be ever widening, with clusters of new Craftsman homes popping up amid the aging architecture. This should bode well for Fran's — judging by the lively crowd, the young, affluent families in these homes are exactly its demographic. There are tables outside and a charming, candlelit dining room, with fifteen small tables and eight to twelve seats at the bar. Disappointingly, there are limited choices for spirits, and just a few wine selections, all bunched up around the $30 mark. And while you can find something workable to drink with this Southern comfort food, Fran's needs to improve in this area.
The dinner menu breaks into several sections. On the lighter side, there are "Noshes and Nibbles," a dozen or so entrées and a few sandwiches. The first to be "noshed" are the oven-roasted tomatoes, with good olive oil and country bread ($5.95). We also order a few of the deviled eggs, which are prepared a different way each day, along with their classic version. And, at a buck apiece, they may be the best deal in town. But most unique and essential is the Vidalia Onion Dip ($6.50). At once smooth and pungent, the dip offers a sweet onion tang that could only be realized by freshly sliced and cooked Vidalia onions. Each of these selections is so simple and low key that you might cook them for guests at your home before a dinner party. This is a conspicuous and endearing hallmark of Fran's — simple, affordable comfort food with no pretense. Take the bacon-wrapped, maple-glazed tater tots ($5.75), for example. These could easily be prepared by any common stoner in a college dorm room after midnight, yet here we are, devouring them hungrily. And, dude, they are so freaking rad! Six other "Crispy" selections are available ($4.95-$8.95), such as blue-cornmeal-dusted calamari, onion rings, and fried pickles.
Easily the strongest of the entrées are the seafood offerings. Spicy and perfectly cooked sweet mussels are steamed in beer, bacon, garlic, and white wine. Appropriately spicy and balanced, the mussels can be served moules et frites style with fries and aioli for $11.95. Shrimp two ways also shines with a smoked paprika, lime, and cilantro treatment, pan seared with deep Latin flavors. The menu also features family-style "meat and two" dishes ($6.75-$12.95), with familiar plates from mama's kitchen like mac and cheese, eggplant Parmesan, meatloaf, and meatballs with marinara. The slow-roasted beef is tender and rich and goes well with sides like mashed potatoes, vegetables du jour, and a flavorful cauliflower dish. The latter is roasted in a fast oven with good olive oil and emerges with a deep, nutty char. A couple of desserts are prepared daily, and are well worth it, if you have room. On one visit, the overwhelming favorite is the citrus shortcake. Dripping in citrus syrup, fresh whipped cream, and strawberries, the shortcake abides.
Admittedly, Fran's in not one of those places to celebrate an anniversary, a fortieth birthday, or any other event that would warrant a "special" evening. It's a quirky neighborhood joint—one that I suspect, given recent visits, which were very busy, will draw from both Dilworth and beyond. It's the kind of place to meet neighbors, family, and friends who want to gather for a good bite. Which, I guess, in retrospect, is very special indeed.
E-mail: editor@charlottemagazine.com. All of Jon Luther's visits are anonymous. Read past reviews at www.charlottemagazine.com.