Full Swing: Middle C Jazz Gains Momentum in Uptown
A look inside the city's new home for the genre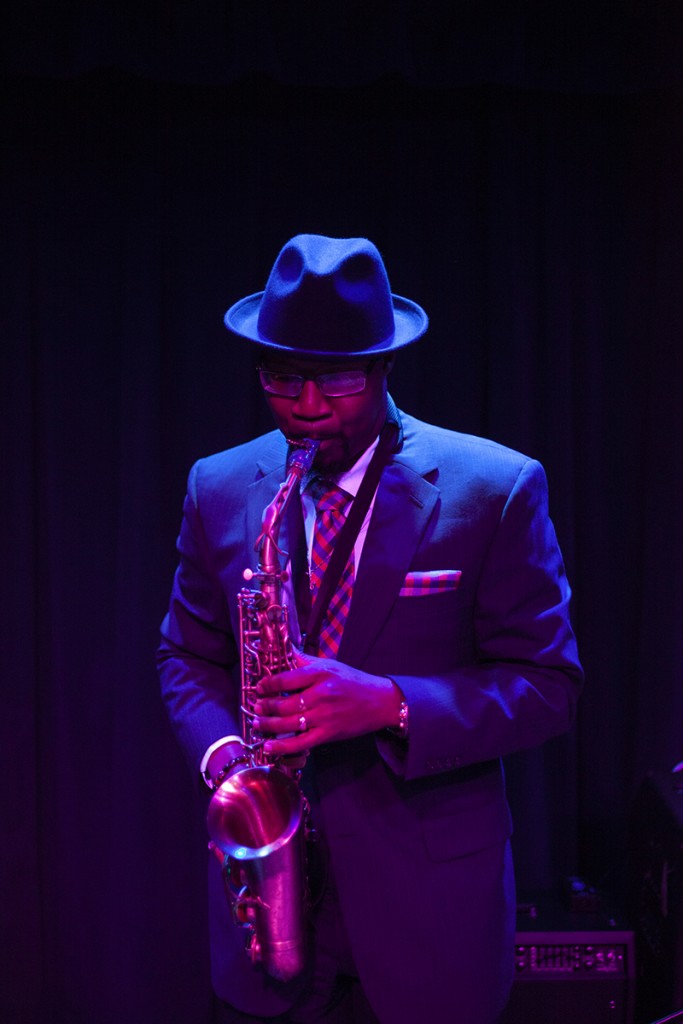 AS YOU HEAD NORTH IN UPTOWN, the checkered stretch of road near the NASCAR Hall of Fame now transitions into a different black-and-white motif: the swirling piano keys inside Middle C Jazz's prominent logo, which hangs at the base of the tower at 300 South Brevard Street. It's at this front entrance where staffer Michael Garcia greets visitors on a brisk Thursday evening in January as he guides them to the action of Customer Appreciation Night. Tonight's the third month of operation for the jazz club, but Garcia meets visitors in the foyer with the warmth and familiarity of a longtime friends. "What I've found, from this vantage point," Garcia says, "was that Charlotte was hungry for this type of venue. We offer a little bit of everything, so everyone can find their place in the jazz world."
Middle C, named for the note at the center of a keyboard, is Larry Farber's "baby"—a metaphor he extends to describe all stages of the club's life. The 68-year-old senior managing partner at EastCoast Entertainment and pianist since childhood says Middle C was a dream for 30 or 40 years and entered its actual "gestational period" about a decade ago. He and his human offspring, commercial real estate pro Adam, co-founded the venue "with the greatest wishes for its future and its health, to give people a safe place to have fun and enjoy jazz." After they secured the real estate, they hired Jonathan Gell­man to manage the club; Gellman owned Jonathan's Jazz Cellar, a jazz spot located at North Tryon and 7th streets that closed in the early 1990s.
Uptown, of course, was a different place then. In the Charlotte of 2020, music venues mostly make headlines when they're closing. Despite that—and an initial run of articles that posed the skeptical question, "Can jazz work in uptown?"—he still believed in his baby: "We're going to continue to figure this out and get better, but I have been so overwhelmed by the support of this diverse community. We are far outpacing our projections."
During Customer Appreciation Night, Farber and Gellman mingle across the packed room between sets by Middle C's "family band" of staffers and friends. But as the opening beat of Stevie Wonder's "Superstition" kicks in, the crowd finds Farber behind the piano, a rare treat for members who have gotten to know him over the past few months. These visitors are in one of two groups Farber has identified as Middle C attendees: The first are the attendees who look for the trusted names they love on the venue's schedule, whether it's an international act or a recurring local musician; the others come for the broader vibe, the new cultural home in unlikely uptown. "They know that live music is alive and well in Charlotte again," Farber says. "This is place where you'll feel good, like your favorite restaurant. You may not know the special that day, but you know it'll be good."
By January, many of the shows at Middle C were sellouts. The list of members in Middle C's Baby Grand club grew to 400, which is double the amount of seats in the venue. Membership gets you four ticket vouchers for the year, as well as regular discounts, merch, and for those who like the front row, early seating to every show for $300 a year. (A more affordable option, with fewer perks, was in the works during the writing of this story.)
Among those members are married couple Bridget B. Sullivan and Melvin Nix, who have always had a "tendency of going where the music is," Sullivan says. Over the past several years, they've been fans of Ziad Jazz Quartet's shows at the Bechtler Museum of Modern Art and Jazz Arts Initiatives' Stage Door Theater sets. What was missing from Charlotte was a place made for and dedicated to jazz. Even if the club's main space is an antidote to the splashy expectations of the Instagram era, Nix notes that the sound is "crystal clear, no matter where you're sitting," so priorities are in order.
If it weren't for the lack of cigarette smoke, a filmmaker could use the backdrop of Middle C as a jazz room set for any era. A cocktail list pays homage to jazz clubs across the world with monikers like "The Alleycat," named for the famed D.C. club Blues Alley. On this night, it's even missing the glow of iPhones that permeates most public settings nowadays, at attendees' discretion. "You don't want to miss anything," Sullivan says between sets, with a chuckle. "More often than not, if you're into jazz, you're just going to listen to the music. You want to be open to it and constantly wondering, 'What direction are they going to take me in?'"
This is, after all, the form that forged an improvisational genius like Thelonious Monk, who once said, "The piano ain't got no wrong notes." And even if opening a jazz club in the uptown of 2020 may surprise us, it doesn't mean it isn't right.