Furniss's Children
By teaching violin at a Title I school, Rosemary Furniss is brightening the futures of both the students and the Charlotte Symphony Orchestra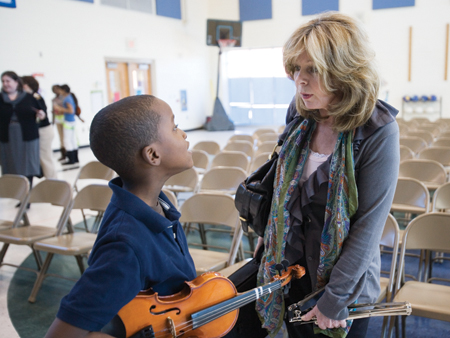 T
he world-renowned violinist Yehudi Menuhin is in a place that, in his advancing years, has become as familiar and vital to him as any concert hall—a classroom. It's the late 1990s, and Menuhin is on camera, explaining his teaching methods to a female colleague wearing a coat and scarf. She's a longtime student of his, and a teacher herself.
"Some catch on a little better than others," Menuhin says, his hands bowing an imaginary violin.
"Of course, yeah," the woman responds, nodding vigorously.
"But I hope they will all catch on."
The 2000 BBC2 documentary Menuhin's Children cuts to another scene. The camera focuses on a line of students in the classroom. A young boy in a blue sweater chins his violin. He's learning to play pizzicato, plucking rather than bowing the strings. Menuhin's not there. The woman is, but you don't see her. You hear her voice—lilting, melodious, distinctly upper-class English. "Make the sound nice and ringing now." The boy ascends the scale. "Like that." One last, chiming note. "Much better," she says. "Lovely!"
It's eleven years later. On a crisp afternoon in early February, the woman—tall, blonde, as erect and graceful as an egret—emerges from a station wagon in front of Winterfield Elementary School in east Charlotte. She collects her violin case, greets an adult volunteer with a smile, and marches inside.
Her name is Rosemary Furniss. At fifty-four, she's an artistic director and concertmaster for the London Chamber Orchestra, a well-established violin teacher, and one of the most respected violinists in the world. She began studying with Menuhin when she was seven, then at the Royal Academy of Music in her teens and the exclusive Curtis Institute of Music in Philadelphia as a young adult. Over a three-decade career as a professional violinist and teacher in England, Furniss has performed as a soloist with the Royal Philharmonic and Philharmonia orchestras, played on the soundtracks to numerous films, and taught students at the Yehudi Menuhin School and the Royal College of Music.
Yet here she is, in Charlotte, teaching violin at a Title I school. The federal government directs extra funding to public schools where 40 percent or more of the student body is eligible for the free and reduced-price lunch program designated for the poor. At Winterfield, nine of every ten students qualifies. Many of them know symphonic music only through movies, if at all. It's where she wants to be.
"They're really fabulous, wonderful children," she says. "When the music is there, there just isn't any thought of [economic] class or anything like that. You just see very warm children who want to learn."
Furniss arrived here with her husband, Christopher Warren-Green, hired in 2009 from the London Chamber Orchestra to direct and conduct the Charlotte Symphony Orchestra. He's the CSO's first resident conductor in nearly twenty years, and he was brought in not just to work on music but also to reignite the orchestra's flagging influence in Charlotte through educational and other outreach programs.
Warren-Green and other symphony staff see the violin program at Winterfield, which began in 2007, as a model for how the CSO can capture the interest of a fresh audience. The symphony began supporting the program with money and instruments before his arrival, and now that he's here, Warren-Green fully supports the idea of expanding it to other schools. That his wife is a brilliant violinist—one who happens to share her mentor Menuhin's passion for teaching violin to underprivileged kids—was an unexpected gift.
Warren-Green, Furniss, and their eleven-year-old son moved in late May 2010, exchanging a 600-year-old cottage outside London for a south Charlotte colonial built in 1978. Furniss began working with the Winterfield students in the fall, coming by to teach them once every week or two and helping coordinate a joint concert with the CSO in January.
"I'm still amazed at the whole story," she says, brightening into a broad grin that makes the lines around her eyes and mouth crinkle. "I really wasn't looking for it at all. It kind of came out of the blue."
Of course, the CSO isn't supporting the Winterfield students for purely altruistic reasons. It's trying to survive.
Symphonies fight a persistent current. With each passing decade, people stockpile entertainment options that keep them at home. Why go hear the symphony when you can conduct your own orchestra on a Wii? Over the last quarter century, the percentage of the U.S. population that attends classical music events has declined, the sharpest drop coming between 2002 and 2008, according to recent studies by the National Endowment for the Arts and League of American Orchestras. Plus, American orchestras aren't like their state-funded European counterparts. Recessions turn flowing streams of cash donations into trickles. The Charlotte Symphony was struggling financially even before another recent blow: budget cuts that gutted public school music education programs that paid for field trips to hear the symphony.
It's clear that the symphony can't simply play concerts and expect people to show up with their checkbooks. So the CSO—like its counterparts in cities throughout the nation—is aggressively going where the people are, especially young people in fast-growing minority populations whose children may never have heard symphonic music before. The symphony is "not a place just for certain kinds of people," Warren-Green says. "It's for everyone." Involvement with programs like Winterfield's, he adds, is part of his goal to "change the face of the orchestra." It's the future. It's where American symphony orchestras are going.
And it's where Rosemary Furniss is headed now. Tonight, Winterfield's violin students will perform in the school gym with Furniss and Alan Black, the Charlotte Symphony's principal cellist. Furniss has come to Winterfield this afternoon for a dress rehearsal. She marches toward the music classroom, and one of the violin students, ten-year-old Allayah Parris, greets her in the hall.
"Hi, Ms. Rosemary!" Hug. Allayah starts telling a classmate about the film scores Furniss has contributed to. "She played on Twilight, The Dark Knight—it's crazy!" Allayah turns back to Furniss. "I've been bragging about you!"
"I've been bragging about you as well!" Furniss replies. "I've been bragging about you a lot."
And so they rehearse.
The kids are in second through fifth grades, and several are Limited English Proficiency (LEP) students, so the rehearsal hits a few pockets of turbulence. A few of the older kids, like Allayah, handle their instruments with confidence and sure hands; some of the younger ones glance around confusedly as they bow their violins out of rhythm. One student drops hers and gasps. She and it survive.
"OK, do you remember what we're doing?" Furniss calls out. It's a simple tune titled "Cheeky Monkey." The students run through it. It's rough. Some of the instruments are out of tune.
"OK, everyone has to remember that the first finger and second finger are not friends," she says. The tune needs to be crisper, too, sprightlier; it's dragging. "He's a cheeky monkey. He's not a miserable old monkey." The group runs through it again. The performance this time is tighter, with a momentum the earlier try lacked. "Well done," Furniss says, smiling. "Much, much better."
She corrects, she encourages, she crouches before her half-size students and tunes their half-size violins. "It's like painting a bridge," she says. "You start at one end, and by the time you get to the opposite end, it's out of tune again." One thing she does not do is lose her patience. Furniss has grown surely into her life as a teacher, especially of the young and underprivileged.
It started with Menuhin, of course; she began teaching at the Menuhin School, her alma mater, in 1986. In 1998 she returned to help her mentor with a new project, "A Chance to Play," a violin program for poor children in England that continues to this day. (Menuhin's Children focuses on the program's first class.) She founded a similar program after joining the London Chamber Orchestra in 1997.
These kinds of outreach programs are beginning to flourish around the world. The model for most is a thirty-six-year-old Venezuelan program called El Sistema, which has taught hundreds of thousands of children from all economic backgrounds to play and appreciate classical music. The Charlotte Symphony's support of Winterfield's violin program stems from its desire to support a local El Sistema–like project, says Meg Whalen, the CSO's director of public relations and community engagement.
"We're not just trying to teach these kids music. We're in a way trying to give these kids a lifeline," Whalen says. "I know it sounds like Mr. Holland's Opus, but it really is true. It really does give them something they can feel proud of."
As it approaches its eastern terminus at Albemarle Road, Central Avenue cuts through the Sheffield Park neighborhood and a mile or so of apartment complexes, body shops, tiny grocery stores, and ethnic restaurants and bars with names like El Pulgarcito de América ("the Little Finger of America," a nickname for El Salvador) and El Gavilan ("the Hawk") Sports Bar. This is the heart of Charlotte's fastest-growing demographic, its Latino population, and a few blocks off Central sits Winterfield Elementary, where these families' children go to school.
In spring 2007, just before the end of the school year, teacher Courtney Hollenbeck brought her violin into her second-grade classroom to illustrate sonic concepts like tone and pitch to her science class, which included a shy girl named Maria Rojas. The next day, her mother came to school and told Hollenbeck, My daughter said your violin sounded like angels.
Hollenbeck decided to start a violin program at Winterfield. Music education in CMS doesn't start until middle school. So Hollenbeck ordered three kid-size violins off eBay and paid for them herself. She had about ten students that fall. At practice, they'd pass the instruments around like bowls of vegetables at dinner.
It's three and a half years later, and Hollenbeck, twenty-eight, is downing Pizza Hut pizza in the Winterfield cafeteria just after the February 8 concert, a smashing success. About 100 people showed up, most of them parents and neighbors of the eighteen violin students. The concert and pizza afterward is part of a CSO community outreach program called Connecting Families through Music. The students borrow the violins, paid for through donations and a pair of grants, and return them at the end of the year. Today, a new shipment has arrived: four cellos, the program's first venture beyond the violin.
"I never in my wildest dreams imagined this happening," Hollenbeck says. "I'm just amazed by the progress they've made."
Nearly everyone is. Allayah Parris, not so much. All the experts say one of the things music education builds in children is self-esteem. In Allayah's case, it appears to have worked. So, Allayah, how long have you been playing violin? "A year and a half," she says. "And I'm really good."
To prove it, she starts playing the national anthem. She stumbles a couple of times, especially toward the end, but she recovers and finishes to applause. Allayah, born in Lumberton, lives with her mother in the neighborhood. She didn't know much about the violin before she started playing it as an alternative to chess. Now she wants to be a violinist. Of course, she also wants to be an actor, model, singer, and doctor.
But working with Ms. Rosemary, she says, has made her love music in general and the violin in particular. "I've learned a lot ever since she came. I kind of know how to do vibrato—kind of. She taught me how," Allayah says, letting a little humility slip. "I heard her play, and she was really, really good. Then I looked her up and I saw that she had played in a bunch of movies. One of my teachers played in movies! Pretty cool." This is significant, she says, because it means "I could be famous."
Her classmate Jelani Jones, also ten, has a more age-appropriate reason for liking Ms. Rosemary: "She's always nice and stuff. She doesn't yell at us." Jelani's parents, Roger and Kim Jones, urged him and his younger sister, Nia, to take violin when they learned about the program at Winterfield. And it's a good thing, too, "considering this is a 'Title I school,' " Kim Jones says, forming quotation marks with her fingers. "It allows children who aren't as privileged to play and get the same opportunities as other kids. … He's a straight-A student, and he needs to experience as much as he can until he decides what it is he wants to do."
Jelani has that all figured out. "I want to be three things: an engineer, a wrestler, and a violinist," he explains. "If I have time."
Ms. Rosemary herself started violin at age four. When she was seven, her father saw a newspaper advertisement for a music school Yehudi Menuhin was starting in London. It was a boarding school, but Furniss's father decided he wanted to take her. "We decided if I hated it, I could come home," she says. "But I loved it." She stayed at the Menuhin School for ten years.
Later, at the Curtis Institute in Philadelphia, she studied under the late Ivan Galamian, one of the most influential violin teachers of the twentieth century—his list of students includes Pinchas Zukerman and Itzhak Perlman—and worked as Galamian's assistant for three summers at his prestigious Meadowmount School of Music in Upstate New York.
So it's no surprise that, in the manner of her mentor, teaching may be the one thing Furniss cares more about than performing. Furniss, while quick to smile and unfailingly polite, is reserved in a characteristically English way; Warren-Green observes that neither of them enjoy talking about themselves. But ask about her students, or music education in general, and the reticence evaporates.
"It's something I'm personally very, very interested in, how music can change the lives of children. It's just a very crucial part of communicating and educating," she says. "I think a few bars of music is always more important than words. … It's really sad when there are budget cuts, because [music] always seems to be the first thing they look for. I firmly believe it should be the very last place."
The Charlotte Symphony began performing daytime concerts for public school students in 1954. Until spring 2009, CMS and the CSO chipped in to pay for twelve concerts per year, plus transportation costs, for every fourth- and fifth-grader in the school system to hear the Symphony at Ovens Auditorium.
Then the cuts came. CMS, facing an increasingly tight budget, stopped contributing money for the symphony trips. The CSO still performs for students—but only twice a year, and each student has to provide a $5 to $7 field-trip fee and a $3 fee to cover transportation costs. It doesn't sound like much, but a poor family or single parent trying to save in a recession ends up thinking along the same lines as a school system in a budget crisis.
"Just the magnitude, the amount of kids we lost the opportunity to reach …" says Chris Stonnell, the CSO's thirty-three-year-old education programs manager. In the 2008-09 school year, about 24,000 CMS students heard the CSO through the concerts. In 2009-10, that number was down to about 2,400. This year, it's about 2,650—the number of students attending two morning concerts today, February 16, as Stonnell listens from the Ovens lobby.
"You talk to a lot of kids, this is the first time they've ever heard a live orchestra, the first time they've ever been to Ovens," Stonnell says.
"You think about the Winterfield project and the effect it's having on those students, and that's just one school. All these other schools, maybe they would get hooked by hearing the symphony, too." Behind him, through the doors to the auditorium, Assistant Conductor Jacomo Rafael Bairos charms the kids with his joking introduction to Mozart's famous serenade. "I'm sorry, I've got something caught in my throat," Bairos teases. "Eine kleine Nacccchhhtmusik." The students howl.
A few minutes later, the first concert ends. Students start filing in for the second one at 11:20—and look who's here, guests of the Charlotte Symphony: The Winterfield kids. Not just the violin students, but everybody in grades two through five, save a few absentees—about 465 of the school's 535 students.
From the back, first-year Principal Regina Boyd watches her kids flood into the empty auditorium. "In my dream," she says, "I would've brought the whole school."
The CSO may extend its support for programs like Winterfield's to other schools; it's already helping a similar program at Shamrock Gardens Elementary. But in no way are the programs meant to supplant regular CMS music classes, Whalen says: "That's a key thing we feel is absolutely fundamental to any child's education."
Whatever the symphony decides to do, Furniss says, is OK with her. She'll help however she can, even as she travels back to England periodically to perform with the London Chamber Orchestra, including this April for the royal wedding. Working with the Winterfield kids has been too satisfying for her to give up.
One of the best things about it, she says, is that "children are learning because they asked for it themselves. It's not like the symphony said, 'Well, we have this wonderful program, where should we go with it?' This grew out of a very organic source. It was a child pleading for a violin, which I think is very touching."
The child, Maria, has moved on to middle school, but her younger sister, Julia, is taking violin at Winterfield. She cradles a pink violin in the gym during the rehearsal before the family concert. The group has finished with "Cheeky Monkey." They've moved on to a Handel piece for violin and cello, arranged by the Norwegian violinist Johan Halvorsen. Furniss and CSO cellist Alan Black will do the heavy lifting, but the kids will join in, harmonizing with a five-note pattern played first by bowing, then plucking.
The group runs through it. As before, it's rough. But they keep at it, and they finally get it right. "Brilliant!" Furniss exclaims, and Allayah Parris, at center stage, self-esteem soaring, soaks it up. "Thank you, thank you," she says, and takes a bow.
Greg Lacour is a freelance writer in Charlotte.
Click on any photo to begin the slideshow.