Gain perspective at 1,625 feet.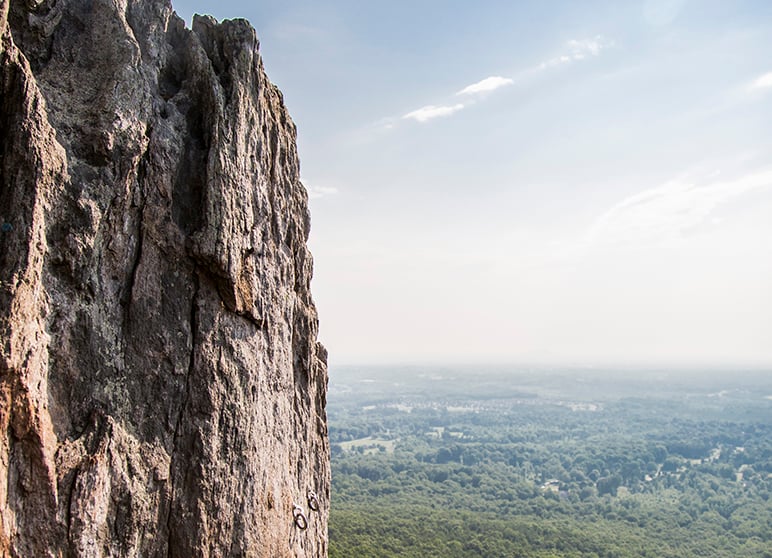 When I was in high school and college, I worked a summer job installing siding and windows with my dad. One day, I stood on a scaffold about four feet off the ground and tried to remove a window. As I tugged on it, I fell backward into a bush. The branches were strong enough to support me but not so strong that I could push off of them. I couldn't reach the ground or the scaffold or the stepladders.
I hung there for a minute, relaxed, unseen branches holding me like a fly in a spider's web. I wanted to hover for hours. But I knew I should get back to work, so I crossed my arms over my chest and rolled back and forth until I fell out. It's been 20 years, but I still remember the peace I felt resting softly atop those branches. I couldn't easily get out and didn't want to. That feeling comes back to me every time I hike Crowders Mountain State Park.
***
Located in Gaston county, a 45-minute drive from uptown Charlotte, Crowders Mountain State Park covers 5,126 acres and has more than 20 miles of trails. It is my favorite place in North Carolina. But I don't say that because of the view from the top of the mountain. I say that because of the trail that leads there.
I always go to the top anyway, because not doing so would be silly. It's 1,625 feet high, and it confirms I accomplished something. The top is a place for bragging, for looking more than 25 miles into the distance, seeing Charlotte's skyline, and wondering about the people chained to cubicles contained therein. The top is being glad I live there because living there allows me to hike here.
But the top is ugly. There, I emerge from communing with a 400- or 500-million-year-old mountain only to find a giant TV antenna enclosed by a chain-link fence. The top also stresses me out. To get there, I either have to ascend 336 wooden steps to end an already strenuous hike, or I have to crawl over rocks for an hour. Either way, I huff and puff when I finish. (Technically, there is a third way to the top, because one could scale the straight-up vertical rock face of the mountain, too, but I couldn't. I fell off the scaffold, remember?) Whether I arrive via the steps or the rocks, my legs feel like jelly, and they shake when I tell them what to do.
It's not dangerous, but if I don't feel like I can walk, standing a few feet from a 60- to 80-foot cliff, on an uneven rock shelf, off of which if I fell I'd die, isn't exactly relaxing. Rather than stand at the top and peer over the edge, I sit, wolf down a peanut butter and jelly sandwich, gulp a bottle of water, and think about the people in those chains in those cubicles in those buildings in the distance, looking out their windows, out toward Crowders, eating their own lunches.
I know mine tastes better.
***
Crowders reminds me of Charlotte. Charlotte is a big city, but it's not a metropolis. Crowders is a mountain, and while it's tall enough to be the highest peak in eight other states, it's not a huge one.
I first climbed Crowders on a whim three years ago. My wife and kids were out of town, and a wide-open day unfolded for me. Soon I found myself unbound in disconnected peace like I did that day in the bush. My life hasn't been the same since.
Now, several days a week, I strap on my backpack and hike around my neighborhood, the local golf course, Latta Plantation, wherever. I've done interviews and pitched stories from forests, from parks, from greenways, and, of course, from Crowders. I have squeezed in time to hike while on assignments in Florida, Arkansas, Indiana, Tennessee, Georgia, and California, and I have climbed a half dozen mountains in North Carolina, all in vain pursuit of a place that calms me like Crowders Mountain.
The trail that does it for me is Crowders Trail. It runs along the backside of the mountain, and it seems more isolated than it really is. I can't hear or see the highway or other buildings like I can at the top and on other trails. The silence swallows me.
Low-growth foliage is sparse, so all I see are chestnut oaks shooting straight up. The canopy they create blocks the sun. The light that filters through is soft, faded, gentle.
Step after step, for two miles, time stands still. I feel suspended, just like I did in the bush, in a place where no matter which way I turn, nothing changes. I can see up the mountain, but not to the top; down the mountain, but not to the bottom; forward, but not to the end; and back, but not to the beginning. It's like the forest is all there is.
I can't get out and I don't want to.
By the time I get to the end, I can't tell you if the hike took 40 seconds or 40 minutes. However long it takes, getting to the end of Crowders Trail always makes me want to turn around and walk it again. —M.C.