Garden Party
Bridal Showcase at Daniel Stowe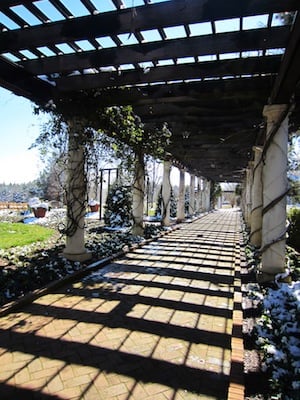 A trick turn of weather brought a dusting of snow to Belmont that left a winter wonderland setting for the wedding showcase sponsored by Best Impressions Caterers in Daniel Stowe Botanical Garden yesterday. Vintage Rolls-Royce beauties lined the front drive and a number of garden staffers eager to share in the nuptial excitement awaited brides in the atrium entrance with plentiful brochures (and stacks of the latest Wedding issue). Captivated immediately by the venue itself, I was excited to, once again, make the rounds with blushing brides to-be and take note of vendor masterpieces. And believe me, there was no shortage of such. If you missed the event, read on for some stunning highlights of the day.
Sweet Ride
The Royal Rides certainly made for a fairytale feel with a fleet of vintage rides in regal white and midnight blue. Can we say photo op?
Carolina Girl
A true labor of love, this ACC-themed creation by Wow Factor takes the cake in detail. (And a white chocolate raspberry morsel I simply had to sample won my heart!)
Print Master
Simple white china gets a splash of color with medallion print linens and single orchids in this tablescape ideal for a summer soiree.
Sunny Disposition
What better color than yellow for your happily-ever-after florals? With blue and white accent holders, the result is classically beautiful.
La Vie En Rose
Ombre has never looked so good. The individual petals, the flower topper… Positively perfect.
The Lattice Effect
This graphic print feels romantic and sweet in light blue and white. Stemware and centerpieces done in glass keep it clean and simple.
Southern Influence
Burlap and birchwood gives dainty flowers a rustic update.
White Out
This whimsical white three-tier cake with pearl-like detailing and an oversized flower feels so romantic.