Gardening in the City
Robin Cochran has turned the terrace of her Fourth Ward condo into a space for serenity.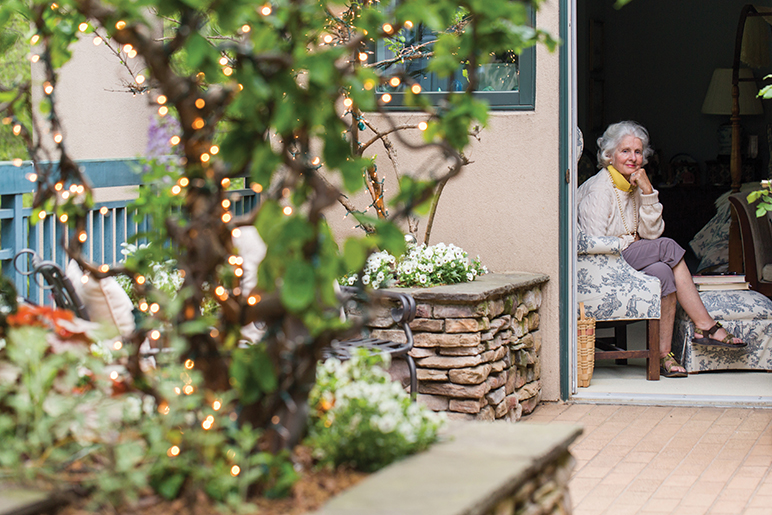 WHEN ROBIN COCHRAN decided to downsize from her house in Fourth Ward, she had two requirements: She wanted to stay in the neighborhood, and she wanted to be able to garden. She and her late husband had lived in Fourth Ward since 1978.
"It feels like living in a small town," she says.
In 2003, they moved into a condo in Settlers Place, at the corner of Sixth and Church streets. They found a home with a large terrace, measuring 40 feet by 12 feet, overlooking Settler's Cemetery. The terrace wasn't yet complete when they purchased the place, so Cochran worked with garden designer John Byrd to outfit the space.
Cochran liked the look of the stone wall bordering Settler's Cemetery along Church Street, so she asked Byrd to incorporate it into the design. With that direction, he used artificial stone to build planters on the terrace and topped them with slate. He also incorporated an irrigation system, installed by The Royal Gardens.
"It has electricity, lights, and water," Cochran says of the space. "You can't garden on the top of a building without those things."
She planted antique roses and Confederate jasmine to make use of vertical space. They climb trellises Byrd designed for the walls. A beautyberry bush and passion vine provide pops of color, while a walking stick tree adds sculptural appeal in the winter.
"You have to consider what they look like all the time," Cochran says. "The walking stick tree is really pretty in the winter. I don't particularly care for it in the summer, but I put up with that."
She mixes permanent plantings with annuals, and prefers species with silver and white blooms and leaves. The white contrasts with the green of the trees, giving the space the restful feeling she hoped to achieve.
Cochran has a second smaller terrace outside of her kitchen. She uses that space to grow herbs in potted containers. She draws inspiration for new projects and plants to try from participating in the Charlotte Garden Club.
"There are wonderful gardeners in that club," she says. "I enjoy being around people and learning from them."
---
The N.C. Cooperative Extension, an organization that works with state universities to provide information on agriculture and the environment to the public, recently started programs to educate city residents about how to garden in small spaces. Here are a few recommendations from the organization.
1. Make sure the plants have good drainage. Many types of containers will work as planting vessels, but whatever you choose should have holes for excess water to escape. Do not use soil from your yard or garden to fill the container, because some soils, such as the red clay common in the North Carolina Piedmont, don't drain well.
2. Leave room for the roots of the plant to grow. If the container is a snug fit for a brand-new plant, its roots will be restricted.
3. If a container has multiple plants, the plants should have the same water, light, and nutrient requirements. Research the needs of the plants beforehand and group similar ones together.
4. Consider edible plants when filling your containers. Many herbs, fruits, and vegetables can thrive in containers and give you the benefit of a fresh food source.
5. Choose plants that appeal to multiple senses. Herbs satisfy smell and taste. Flowering plants are pleasing to the eye, as are wispy fronds and textured leaves. Water features and wind chimes add calming sounds to a space.
6. Think of the mood you want to achieve while selecting your plants. A mixture of blue, green, and pastel suggests peace and tranquility, while bright red, yellow, and orange inspire energy and excitement. The container also lends itself to the overall setting. A pot with a shiny finish will reflect sunlight and brighten the area, but wood or muted clay will create a more subdued space.