Gerald Henderson: Staying in Style
Charlotte Bobcats shooting guard Gerald Henderson recently signed a three-year, $18 million contract to stay on with the soon-to-be-renamed Charlotte Hornets. He dishes about his decision to stay; his pharaoh hound, Chase; and keeping it simple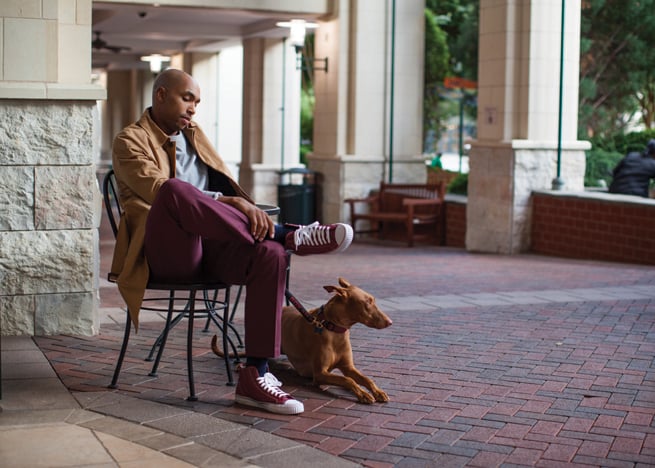 Virginia Brown: Charlotte is full of transplants from other cities—you're a part of that. What made you want to stay?
Gerald Henderson: Charlotte's a great city to start out. It's in transition. It's small, but it's a place a lot of people are coming to. It's expanding. I like that. And I love our team.
[Cues reggae music]
Leather yoke vest, $398, Brooks Brothers Phillips Place; Mini check club button-down, $175, Abbeydale 704-737-4274; Raleigh Denim "Alexander" jeans, $250, Silverfly, 980-819-7216; Silvano aviators, $120, Silverfly; Silvano mahogany watch with rubber wrist, $85, Silverfly
VB: So, you're a reggae fan?
GH: I don't really like reggae. This is a Pandora station. I have the cheap Pandora with the old-school commercials still on it. [laughs]
VB: You're 25. The Charlotte Hornets were admitted into the NBA the year you were born. Next season, that name returns. What does that mean to you?
GH: When I was younger, I don't know if I was a Hornets fan. I was definitely a Sixers fan, being from right outside Philly. But everybody used to wear the puffy Starter jackets, and my sister had the Hornets one—she liked the colors. I used to steal hers all the time. I hope [the Hornets] keep those colors … and the pin stripes.
VB: The Alexander Julian purple and teal? But you went to Duke. You know he's a Chapel Hill designer?
GH: I don't really pay attention to those guys over in Chapel Hill.
VB: See, I take offense to that. I went to UNC.
GH: You're probably still a good person.
Grey sport coat, $995, Abbeydale; Check dress shirt, $175, Abbeydale; Knit tie, $125, Abbeydale; Medallion print pocket square, $40, Brooks Brothers Phillips Place; Blue solid dress pants, $995 for 3-piece suit, Abbeydale
VB: I like to think so. Has UNC grad Michael Jordan been a big influence in your life?
GH: I signed on with Jordan Brand last summer. Michael Jordan's been a great owner and just a great ambassador of the game. Obviously, he's someone I looked up to as I was growing up. So it's an honor to represent his brand.
VB: You play basketball all over the country. Do you consider Charlotte a stylish place?
GH: Charlotte's got its own style. You go to different cities and you see some outlandish things. I think Charlotte's more like the style that I am: simple. It's a little more conservative down south. People don't dress outside of the box as much here. Even the young crowd, I feel like they keep it simple.
VB: Who has most influenced your personal style?
GH: My mom and my sister are very fashionable women. They wear a lot of black. I think they've influenced me. I'll wear colors, but I don't get crazy. I'm usually not going to wear hot pink.
Penguin cable knit zip sweater, $165, Silverfly; Grey t-shirt, Gerald's own; Raleigh Denim "Alexander" jeans, $250, Silverfly; CAT "Warren" boots in brown, $147, Silverfly
VB: I took a peek at your Instagram. What's up with the pedicures?
GH: I've gotten a couple in my lifetime. My feet are so jacked up, a pedicure can't even really help.
VB: What does that tell me about your personality?
GH: I'm willing to try new things.
VB: So where can people find you when you're not playing basketball?
GH: On the golf course. I play a lot of golf. I play Longview, Ballantyne. I'm not too picky about the course. I just like to go out with my friends and have a good time.
VB: Wait, are you making a peanut-butter-and-jelly sandwich?
GH: I'm starving. Want one?
VB: I'm good. But I did notice the Aunt Jemima bottle on your dining table. You like waffles?
GH: I didn't have a chance to finish my breakfast! I had to get up really early and run some errands.
Joe's Jeans chambray button-down, $148, Silverfly; Raleigh Denim "Alexander" jeans, $250, Silverfly; Silvano mahogany watch with rubber wrist, $85, Silverfly
VB: So, you are starting a basketball camp in Philadelphia. Any plans to work with local charities?
GH: The camp is in the works, and we haven't decided if it's going to be in Philadelphia or Charlotte. But I'm working on a golf tournament to benefit A Child's Place that will help homeless children. I think it's a great organization, focused on kids who don't have homes, clothes, school supplies … making it easier for them.
VB: You're going back to Duke during the off-season to finish your degree. What are you studying?
GH: Psychology. I know what you're thinking.
VB: What's one thing about you that you think will surprise people?
GH: I know how to juggle.
VB: Juggle? How many at a time?
GH: Three. Don't push it. I had to learn it for a high school acting class. We had to juggle while reciting a poem.
VB: What poem?
GH: Oh, I have no idea. Something Shakespeare, I think.
Virginia Brown is an associate editor at this magazine. Despite her affection for UNC, she enjoyed talking to Henderson. And yes, she's a good person. Email: virginia.brown@charlottemagazine.com, or follow her on Twitter at @virginiarbrown.