Get Fresh With Spring Radishes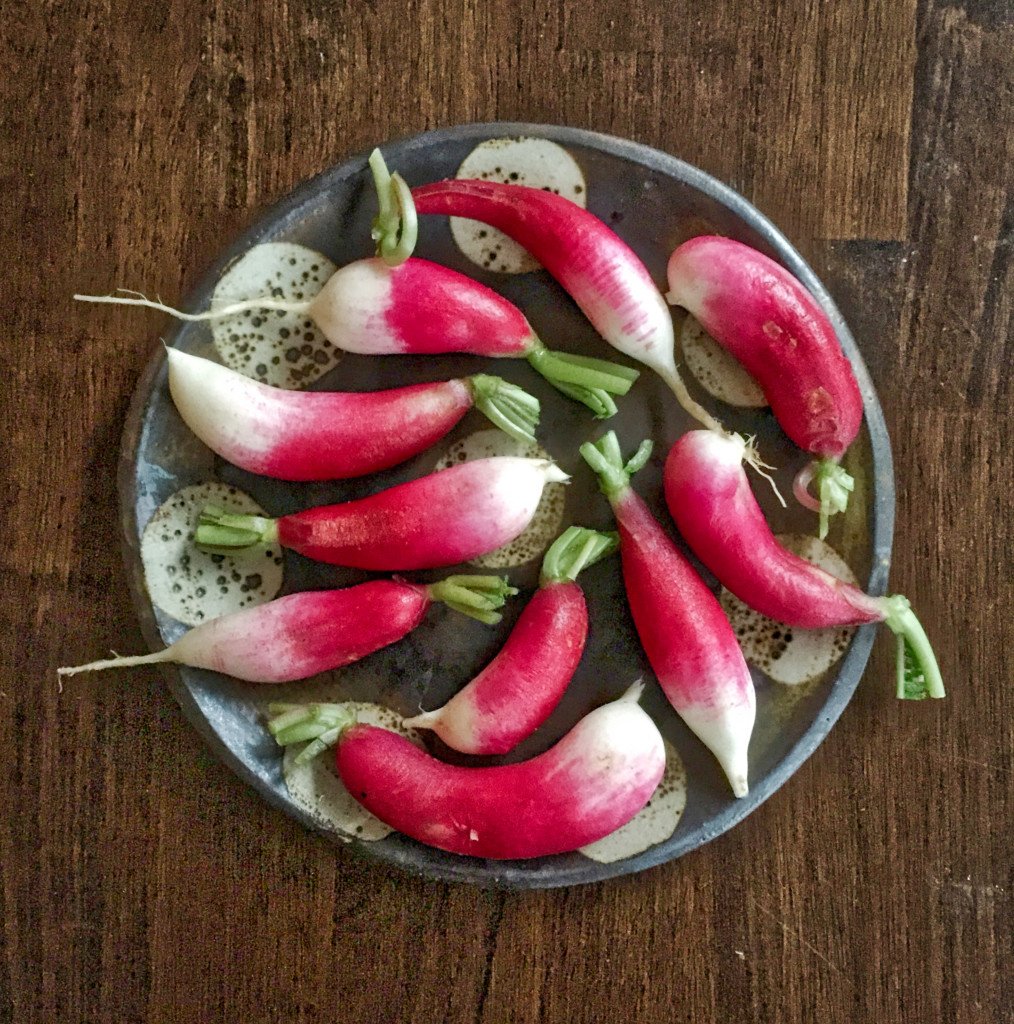 A plate of French breakfast radishes accompanied by sea salt and butter is one of those simple pleasures that can set my world right for a few minutes. A slightly more complex version (that it still very easy to pull off) replaces the butter with fresh ricotta from local cheese maker Uno Alla Volta. In this take on one of my favorite snacks, whipped ricotta becomes the base for a radish salad topped with a simple vinaigrette and fresh herbs.
If the pungent snap of a raw radishes isn't your favorite, know this: radishes mellow when roasted. (They're also really good for you.) Toss a few in when roasting carrots, turnips, or other spring vegetables. Or make a whole meal out of it by roasting a mix of spring root vegetables with a whole chicken, some shallot or onion, and some herbs.
Radish and Whipped Ricotta Salad
While most any radish will work, brightly colored varieties like French breakfast, Easter egg, watermelon, or scarlet globe provide a nice contrast to the ricotta. Turn this into a quick appetizer by serving with toasted pita wedges. If you use long radishes, slice the radishes on the bias to give you oblong slices instead of small disks that can be hard to chase around with the fork.
1–2 bunches radishes, depending on size
​1 cup Uno Alla Volta ricotta cheese
1/4 cup plus 1 tablespoon high quality, extra virgin olive oil (divided)
1 tablespoon champagne vinegar or white balsamic vinegar
Pinch of sugar
Flaky sea salt
Freshly ground black pepper
Pea shoots, chopped chives, mint, tarragon or other fresh herbs for garnish
Clean radishes and trim roots. Thinly slice the radishes and place into a bowl (use a mandolin to make the task quick and the radish slices uniform). Set aside.
Place the ricotta cheese, 2 tablespoons of the olive oil, and a pinch of sea salt into a food processor. Whip the ricotta mixture until light and fluffy, about 30 seconds, scraping down the sides if needed to ensure the texture is evenly smooth. (For added flavor, add lemon zest during this step.)
In a small bowl, whisk together the vinegar, the remaining 3 tablespoons of olive oil, and a small pinch of sugar.
Spread the whipped ricotta mixture onto a serving plate, leaving a spot in the center. Place the radishes in the center, then top them with the garnish. Drizzle the entire plate with the dressing, then sprinkle with flaky sea salt and freshly cracked pepper just before serving.