Get in the Game
Seeing a shrink is so ten years ago. Today, life coaches are the new must-have mental health guru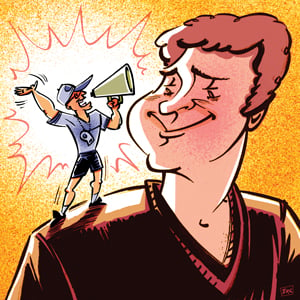 We are only a few minutes into my session, but already I have managed to perplex the life coach.
"Well," Faith Glasgow says, "what do you want?"
I've come to Glasgow's cozy Plaza Midwood office, which is decorated with motivational slogans ("The only journey is the journey within"), to write about life coaching. To better understand the growing trend –the International Coach Federation now lists more than fifty personal and business coaches in Charlotte –I had proposed that we go through a sample session.
As it turns out, though, I have little clue what a life coach does. At first, I assumed Glasgow would arrive at my house first thing in the morning, ensure I eat a healthful breakfast, and drive me through a productive day. When I learned that sessions typically take place in her office, I guessed instead that I'd sit on a couch and discuss my personal problems.
"I'm not a therapist," Glasgow says, then offers her version of what seems to be a widely used maxim in the loosely organized field: "Therapy is about going backward. Coaching is about going forward."
Glasgow says that therapy focuses on problems from the past that limit a per- son in the present. (She says she has directed prospective clients to therapy if that's what they needed.) Life coaching, on the other hand, focuses on the future — on setting goals and achieving them. Glasgow compares herself to a track or football coach, there to provide direction, structure, and accountability.
"What I'm going to help you do is create a plan for the future," she says. Sessions are an hour, and a client typically needs anywhere from three to eight, at up to $125 an hour. Glasgow says she has helped people lose weight, improve marriages, and start businesses, and that the financial crisis has sent her former bankers in search of a career change. She helps people remove negative stimuli from their lives (the junk food in the fridge), identify what to improve, and find the courage and game plan to reinvent themselves. A former property management professional, Glasgow says her own life coach helped her do the same a few years back.
"I felt like I had been looking through foggy glasses my entire life and I was finally able to take them off," she says.
Perhaps the key to achieving the future you want is being able to see it clearly. Glasgow is big on visualization. She gives the example of someone who wants a Lexus. Visualize yourself inside it. Hell, go and give it a test drive, whether you can afford it or not. She's not saying to buy the car on credit, only that the process supplies motivation and allows you to see yourself getting what you want.
Which brings us back to the central question of my session: what do I want?
"Well I'd like to try and –" Glasgow interrupts me. "Trying," she says. "I love the word 'trying.' Try to pick up your hat." A dirty orange baseball cap rests on my knee. I look at the hat, visualize myself picking it up, and then do so. "You either pick it up successfully or unsuccessfully," Glasgow says. Maybe we're making progress.