Get Outside by Exploring a Public Garden
This weather calls for a stroll. Use the N.C. Cooperative Extension's map to find a proper place nearby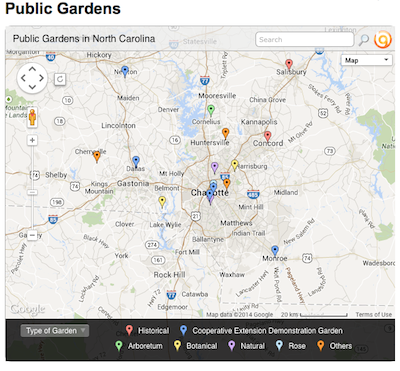 Last week, we talked about where to find a community garden for those of us who want to dig in the dirt and grow something. But sometimes, we want somewhere to relax, to explore someone else's garden space, to learn from others' ideas.
The N.C. Cooperative Extension, known for its educational work in communities, has an interactive map plotting public gardens across the state. The map designates gardens by type, including historical, arboretum, botanical, natural, and rose. It also includes demonstration gardens located at cooperative extension centers. These gardens are specifically designed to give you ideas to implement in your home garden.
For example, the Freedom Park Demonstration Garden on Cumberland Avenue exhibits sustainable gardening practices. The plants have tags that identify their names and growing information. The garden makes use of sunny and shady areas to show visitors how to maximize plant performance in any light. Extension Master Gardeners maintain the site.
Northeast of uptown, the McGill Rose Garden contains more than 1,000 roses, plants, and herbs. The garden's location, on North Davidson Street just outside of the Brookshire Freeway, and unassuming entranceway may cause it to be overlooked by people who pass it every day. If you take time to step inside, you'll find an oasis of garden art and plants waiting to be discovered.
Wing Haven Gardens and Bird Sanctuary is another place people may pass daily along their commute. Located in the heart of Myers Park, the property includes two personal gardens now overseen by the Wing Haven Foundation. The gardens begin spring hours on March 20th, which run on Friday and Saturday from 10 a.m. to 5 p.m. The gardens also offer numerous events throughout the year, including tours, plant sales, and lectures.
If you're looking for a journey outside the city, the Teaching Garden at Union County Agricultural Center in Monroe showcases plants and trees that grow well in the local area. The garden is also designated as a Certified Wildlife Habitat by the National Wildlife Federation. The Metrolina Greenhouses in Huntersville offer the largest single-site, heated greenhouse in the country with 162 acres under roof. Tour the greenhouse to find out how spring bedding plants, summer annuals, fall mums, and winter poinsettias get their start. Take a trip up to the campus of Davidson College, and you'll be surrounded by a public garden. The 450-acre campus has been a national arboretum since 1982.
Every garden has a purpose, whether to fulfill someone's hobby, to nourish someone, or to teach someone. Public gardens are there for us, the public, to explore. Go visit one and see what's waiting for you.