Get Ready, Charlotte, For The Dixie Diva
Victoria Livengood dials down the Southern charm for Opera Carolina's "Eugene Onegin"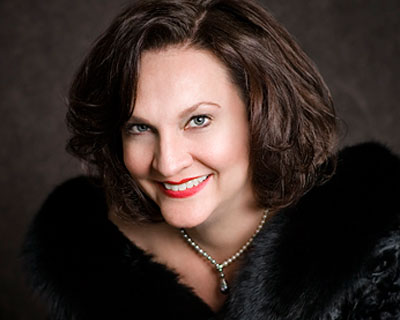 Victoria Livengood is known on New York stages and in opera houses all over the world. The New York Times has described her as "naturally seductive and vocally alluring." The Boston Phoenix magazine compared her acting to Joan Crawford and her singing to Maria Callas, and the Buenos Aires Herald named her "one of the leading singer-actresses of her generation."
But around these parts, folks just call her the "Dixie Diva."
The Thomasville native (and Mint Hill resident) was a winner of the Metropolitan Opera National Council auditions in 1985 and went on to make her Metropolitan Opera debut in 1991 as Laura in Luisa Miller. She's played more than 100 performances with the country's most prestigious opera house. You don't have to travel to New York to see her, though. Her next role is on the stage closest to her home. She'll be in Opera Carolina's Eugene Onegin March 17, 22, and 25.
Revue: I had no idea we had a world-renowned opera diva right here in our own backyard. You've performed on stages all over the world. What keeps you living in Mint Hill? Have you ever entertained the notion of moving to New York?
VL: I did live in New York in the beginning of my career when I was having to do lots of auditions to get my career off of the ground, but once it was up and running smoothly, I relocated back to my North Carolina roots. I was actually born and raised in Thomasville, and my parents currently live in High Point. Most of my family is in that area of the state. My husband and I moved to Mint Hill to be closer to the Charlotte airport but also closer to our family that lives in North Carolina and of course, the barbecue and the sweet tea cannot be left out of the equation.
Revue: Have you performed Eugene Onegin before? What drew you to the play and to the role?
VL: I did perform in Eugene Onegin at the Metropolitan Opera a few years back, and it was actually on an international radio broadcast of the opera. But I sang a different role. I sang the role of the Mother, Madame Larina. When [Opera Carolina Maestro] James Meena called to ask if I was free to join this cast for Opera Carolina, I asked him to give me the role of Filipevna, the nurse, which for me seemed to be a bit more challenging dramatically and interesting vocally as well. So this is a new role for me in this opera.
Revue: Opera Carolina has performed two other operas this season — one that had a plot with so many twists and it was tough (for some of us!) to follow (Il Trovatore) and one that was beautiful in its simplicity (Madama Butterfly) — both its set and storyline. Where does Eugene Onegin fall on the easy-to-follow meter?
VL: Having sung Trovatore numerous times, I can honestly say that Onegin will be much simpler to follow in terms of the plot … I can promise an opera full of romance and passion. It has everything any good piece of drama requires: friendship, love, rejection, heartbreak, and even a good old-fashioned duel. Plus the sweeping and romantic music of Tchaikovsky, known more for his famous ballets like Swan Lake and The Nutcracker than for his operas. But this opera has that same melodic, romantic sweep that grabs hold of the listener and won't let go.
Revue: You play the nurse, Filipevna. What part does she play in the action?
VL: Let's just say that as the confidant to the leading lady, one gets much of the story and plot by what Tatiana tells me in our scenes together — like revealing her true feelings for Onegin. I love how deeply I am devoted to her and the loving loyalty I demonstrate throughout the opera.
Revue: What should people who've never seen Eugene Onegin or aren't familiar with Tchaikovsky know about either before they come to the performance?
VL: [There will be] great story telling involved. It's an intense, romantic drama [with] the beautiful and passionate score of Tchaikovsky. It's romantic opera at its best, not to mention this is the first performance of a Russian opera by Opera Carolina, so it is a rare opportunity for those who attend to experience this rare jewel of an opera.
Revue: Have you performed with Opera Carolina before? How do they compare to the other opera companies you've performed with?
VL: Yes, I have actually performed the title role of Carmen with Opera Carolina for two separate productions — in 1995 and again in 2003. This will be my third production with my home company. What I love most about this company is that they produce the most innovative and quality productions while maintaining a sense of family for those of us in the casts, and they are great at making the operas accessible to one and all.
Revue: How do you like Blumenthal's stage and theater? How does it compare to others you've performed on?
VL: I love singing in the Blumenthal and find its acoustics very generous for the singer. I remember how easy it was to sing Carmen in there and that, albeit a large theater, one still gets a sense of intimacy in the performances. I have been blessed to sing in some of the world's greatest theaters but always love singing back here at home.
Revue: What's your favorite role you've ever performed?
VL: I have to say Carmen, having sung the role over 250 times worldwide, including a performance opposite the great Placido Domingo. But, now I am singing the more dramatic mezzo repertoire and I guess Azucena in Trovatore is my favorite role at this time in my life and career. Fortunately, there is a plethora of great, dramatic, and character roles for mezzos as they mature. I look forward to learning five new roles this year alone.
Revue: What will you be doing next?
VL: I fly to Boston the day after we finish the last Onegin performance and will be singing in a new opera there called The Inspector. Then I make my Santa Fe Opera debut this summer with Arabella by Strauss followed by my Lyric Opera of Chicago debut in Elektra in the fall. I finish out next season with returns to Taipei, Taiwan and to Hawaii Opera Theater.
Revue: Since you live in the Charlotte area, I have to ask: What's the perfect (local) night out for you?
VL: Dinner at one of our many favorite restaurants in the surrounding area, followed by a stroll through SouthPark Mall, ending up at one of our favorite movie theaters.
Revue: Last question — should I refer to you as "Victoria" or "Vickie"?
VL: Actually, both. I am Victoria or the "Dixie Diva" to most of the opera world, Vickie to my friends and family, and Miss Vickie to my students. I wear many hats. I love hats!