Get ready for Charlotte Oktoberfest with a pre-Oktoberfest party at Salud Beer Shop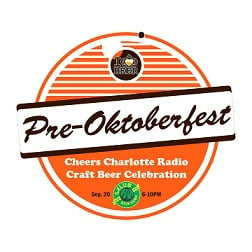 A beer festival is always a fun time, especially when it involves local craft offerings. But a pre-party a week before the festival? Now you're talking.
What better way to celebrate one of Charlotte's longest-running festivals than by gathering with the local craft community this Saturday, as the second annual Official Charlotte Oktoberfest pre-party takes place at Salud Beer Shop from 6 p.m. to 10 p.m, hosted by Cheers Charlotte.
This pre-party was first organized last year as a chance for everyone to get together before the festival, and included a bottle share along with food. This year, Salud is upping the ante with an impressive taplist. Scheduled to be released are:
Heavy Seas Bourbon Barrel Aged Greater Pumpkin
Allagash Bourbon Barrel Aged Black
Stone Reason Be Damned Abbey Ale (aged in wine barrels)
Founders Devil Dancer
NoDa Olde Voyager Barleywine
NoDa Hop, Drop 'n Roll
Others will be announced leading up to Saturday's festivities. This event is free to attend, but Salud is asking people to RSVP so the shop can get an idea of the number of attendees. Also, the fine folks at local beer podcast Cheers Charlotte will also have T-shirts and hats available.
Since heavy construction has torn up a lot of the area around Salud, you'll have to park on limited spots on the street, while parking is also available behind Smelly Cat Coffee.
As for the big festival itself? A select number of tickets remain for next Saturday's Charlotte Oktoberfest, but I'd buy sooner rather than later. It looks like this is going to be another sellout event. Also, watch for an Oktoberfest preview early next week in On Tap.