Get the Inside Scoop on the Democratic National Convention at these Events
Plus, the public can sign up for community credentials to attend President Obama's acceptance speech on Sept. 6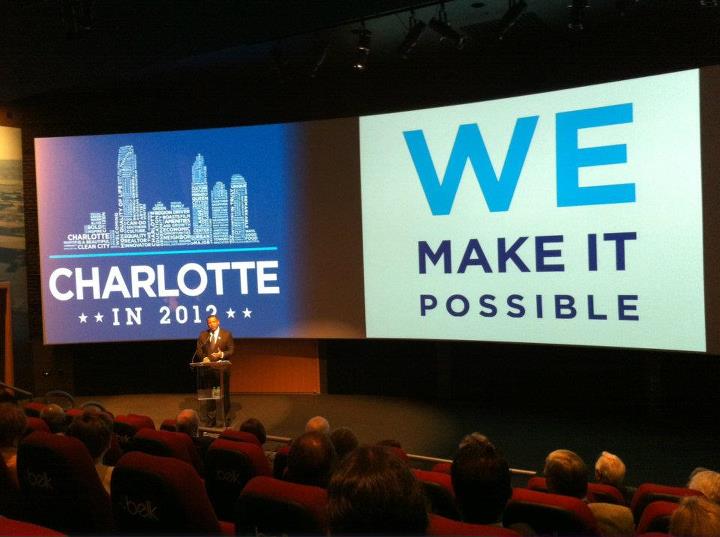 It's 24 days until CarolinaFest 2012 kicks off on Labor Day in Uptown, ushering in the start of the Democratic National Convention and all of its surrounding activities and events. If you want some inside scoops on DNC Week action (aside from regularly reading this blog), here are a few events taking place next week in which Democratic Party and/or DNC officials will be in the mix.
Mecklenburg County Democratic Party Tweetup
Monday, August 13
MCDP is keeping it social, where you can come out, meet and greet… and tweet (@MeckDems). Some local candidates and party officials will be in attendance. Plus, there'll be food from Napolitano's Food Truck, and plenty of drink specials. 5:30-7:30 p.m. Free. Dilworth Billiards, 300 E. Tremont Ave., mecklenburgdemocrat.org, Facebook invite.
Democratic National Convention Update
Tuesday, August 14
The Charlotte in 2012 Convention Host Committee is coordinating this info session for venues that will be involved with the DNC (closed to the media). Details will be presented by the Host Committee, Visit Charlotte, Charlotte-Mecklenburg Police Department, U.S. Secret Service, Alcohol Beverage Commission, Food and Drug Administration, Charlotte-Mecklenburg Fire Department, and Mecklenburg County Health Department. 8:30-9 a.m. registration; 9-11 a.m. meeting; 11-11:30 a.m. additional questions. Free; RSVP here: dncupdate.eventbrite.com. Charlotte Convention Center, 501 S. College St., Room 203.
Engage Charlotte Luncheon with Mayor Foxx
Wednesday, August 15
Engage Charlotte, the young professionals arm of the Charlotte Chamber, presents this luncheon with Mayor Anthony Foxx, co-chair of the Charlotte in 2012 Convention Host Committee. The mayor will offer an update on DNC planning as the efforts approach the homestretch. 11 a.m.-1 p.m. $15; register here before it sells out. Mez and EpiCentre Theaters, 210 E. Trade St.
Attend President Obama's Acceptance Speech
The delegates, media, and campaign volunteers have been given their opportunities to sign up, register, or apply to attend the Democratic National Convention. Now, the general public can sign up for what are being called community credentials, through a process announced this week by the DNCC and Obama for America. You'll have the opportunity to see President Obama and Vice President Biden's acceptance speeches in person on Thursday, September 6, the final night of the convention, at Bank of America Stadium. Visit barackobama.com/community-credentials.