Get the Olympic Look at Sun & Ski Sports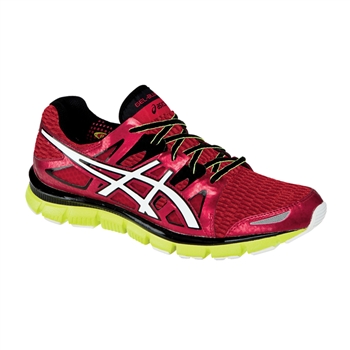 I have to be honest; being the fashion-minded editor that I am, for me, the Olympics always conjures up images of Béla Károlyi in his tack-tastic wind suits, or of bite-sized gymnasts gallivanting in bedazzled leotards. But here in 2012, the USA's pretty much upped the ante on the cool factor of its official gear, and for that, I'm grateful.
Want to get the Games' look here, in the city? Well, Charlotteans, you're in luck! Promenade on Providence's recent (as of late June) transplant, Sun & Ski Sports, which got its start in North Carolina at Concord Mills in 1999, stocks it all. That includes the official ASICS Gel Blur 33.20 shoe worn by the athletes in London this year (though they will wear a version of the shoe specially tailored to the team).
The athletes will also be sporting well-known and durable brands, like Mizuno, TYR, and Brooks, which you'll find readily available on Sun & Ski Sports' shelves.
Sharing the brands that sponsor it is one way to support the team, but, when in doubt about how to rep the States in the everyday, drape yourself in red, white, and blue (and pop Springsteen's "Born in the USA" on your iPod). With red and blue shoes by TOMS, American flag swim caps by TYR, and red, white, and blue accessories by Life is Good, Sun & Ski makes going patriotic pretty simple.
And since the shop covers all the major sports—which they divide into 5 overarching categories: water sports, snow sports, cycling, running, and camping/hiking—there's something for everyone. You'll find specialized running shoes and gear, bikes and cycling apparel, ski and snowboard essentials, accessories by the likes of Under Armour, Marmot, Columbia, Liquid Force, Spyder, and plenty more.
Bonus: the staff is comprised of sports aficionados, so they're actually interested in and knowledgeable about the goods. In fact, they call themselves "Counselors" rather than associates. They're equipped to offer shoppers customized fittings on running shoes (via gate and foot stroke analyses). Plus, the S&S S boasts a bike technician and a certified boot fitter, and it hosts regular outdoor activity clinics.
*Don't forget to glue yourself in front of the tube starting tonight. And cheer on our very own Charlotte native, Ricky Berens, who won the gold for the 4×200 relay in 2008's games and will swim the 200-meter freestyle, along with team relays, this time around! (I went to high school with this stud).
5341 Ballantyne Commons Parkway