Get to Know: Indaco's Chef Matthew Hoang
Hoang will serve as executive chef at the Charleston-based Italian restaurant coming to Atherton Mill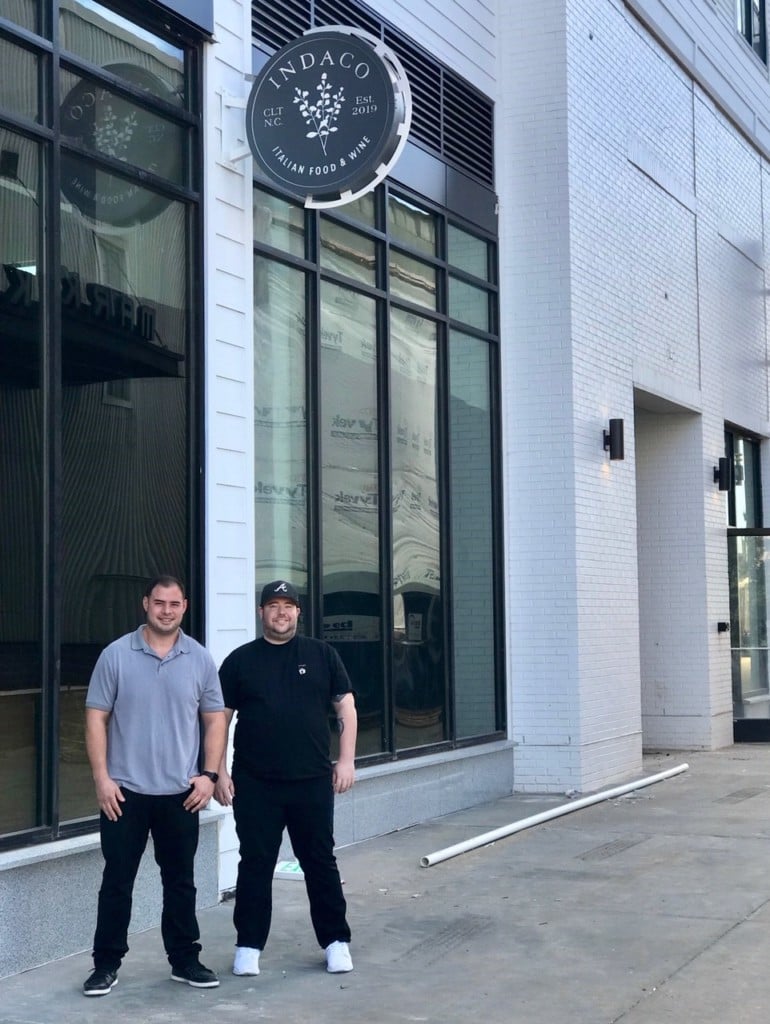 Indaco is opening in South End later this fall, and Matthew Hoang has been named executive chef of the rustic Italian eatery. The restaurant, part of the Indigo Road hospitality group that includes O-Ku and Oak Steakhouse, is known for its wood-fired pizzas and handmade pastas. The 3,100-square foot space will have an open kitchen with seating for 80, plus 40 more on the outdoor patio.
As construction on the new space wraps up, Hoang is hard at work finalizing the menu and mastering recipes alongside chef Michael Holler, executive chef at Indaco in Charleston. Charlotte magazine sat down with the two chefs ahead of the November opening to get a preview of the menu and meet Charlotte's newest culinary talent.
You may know him from: Hoang is the former chef de cuisine at the Ballantyne Hotel, and worked as a sous chef for Kimpton Hotels.
Age: 31
Relationship status: Taken
Hometown: Philadelphia
Currently lives: Waxhaw
Currently reading: American Sfoglino: A Master Class in Handmade Pasta by Evan Funke
Approach to cooking: Careful and attentive. I love using local ingredients, and playing with flavors to make it all work.
What single ingredient do you always have on hand? Fresh herbs—basil is one of my favorites. You can't cook Italian without basil.
What do you like to do outside the kitchen? My family has a farm in Waxhaw, so I love going there to plant vegetables and have appreciation for where produce comes from.
What's one recipe you nail every time? Pho. My mother is Sicilian and my father is Vietnamese. I always say I have the carbohydrate kiss of death. For Italian food, it's meatballs. Chef Holler's meatball recipe is just how my grandma makes it.
What's your favorite restaurant, other than your own? Artisanal in Banner Elk is one of my favorite restaurants lately. It's the same couple behind Peppervine, Bill and Anita Greene.
What would be your last meal? Spaghetti and meatballs, and Pho. I'll go down with the carbohydrates.
Tell me how you'll put your stamp on the menu. Right now, I'm just knocking the rust off. I took a break from working in kitchens for about nine months. Chef Holler has been a mentor, teaching me for last month. My stamp is to bring in local ingredients, and utilize the farmers around us. I want to capture what this region has and use it in our dishes.
Any new or original dishes we can expect from you at Indaco? We'll offer a roasted chicken done cacciatore-style, and smoke the tomato-based sauce. We'll also have a vegetable plate with farro, pesto, and local veggies.
Now, the hard-hitting questions:
Chocolate or cheese? Cheese
Coffee or tea? Coffee
Beer or wine? Wine
Ketchup or mustard? Mustard, spicy brown
Cake or pie? Chocolate cake
Dog or cat? Dog
Comedy or drama? Drama
Reality or fiction? Reality
Facebook or Instagram? Instagram
Get a look at the in-progress interior below.