Get to Know: Interior Designer Lauren Clement
The award-winning designer and owner of Lauren Nicole Designs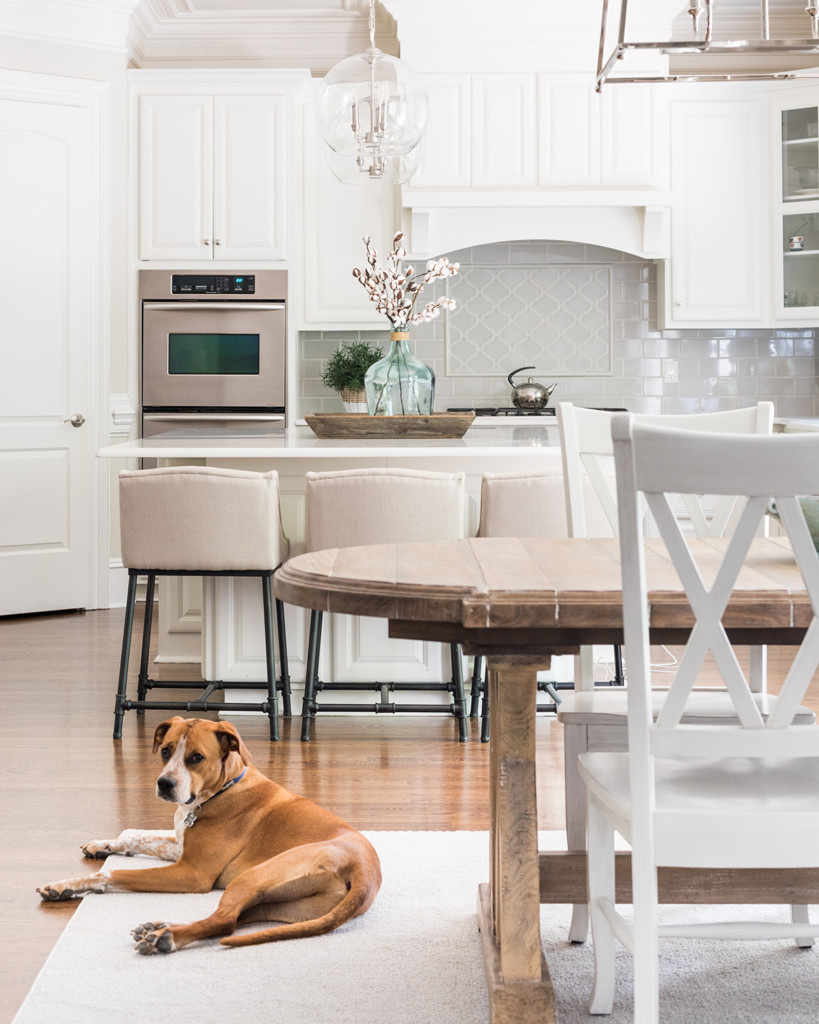 SHE'S WON an Best of Houzz award in the design category for seven years running, she's been a featured designer at the Charlotte Southern Ideal Home Show, and Charlotte magazine named her Best of the Best for home accessories in 2016. Over the past decade, Lauren Clement has steadily built a reputation in the industry for creating comfortable, stylish, and functional spaces. We caught up with the talented designer and owner of Lauren Nicole Designs to get to know the woman behind the work, and find out what's ahead for her in 2019.
Name: Lauren Clement
Age: 36
Relationship status: Married, two children
Hometown: Clemmons, NC
Currently lives: Waxhaw, NC
Favorite sports team: Panthers
Currently reading: Instagram
She can design a kitchen—but she doesn't often use one. "I literally cannot cook to save my life," she says with a laugh.
Interior design is a family business. Clement grew up watching her interior designer mother, Linda Riddiough. She was in graduate school for clinical psychology when she felt a pull toward the field of design. "I had the drive to start my own business, and, of course, I had the best teacher anyone could ask for," she says.
She likes some bling. "Lighting—or the jewelry of any space—is my absolute favorite element in a room," she says.
Green is her current vibe. "I love green in paint, greenery, fabrics, and art work," she says. "I just love all shades of green and plan to use even more of it in 2019."
Paint is her latest pursuit. Clement recently collaborated with Magnolia Paint Company in South End to create three custom colors with Benjamin Moore: Stoney Knoll, Sugar Cube, and Fresh Fennel. "I wanted to create colors that I couldn't find and I could incorporate into my daily designs," she says. "Smart, sharp neutrals, and rich and exciting pops of color that can be used on walls, trim, and even furniture." (The colors are all available on the shop page of her website.)
If she's not working, she's probably riding. Clement grew up riding horses, which she credits for her love of equestrian style. These days, she shares this hobby with her two young daughters. "I love spending the afternoon at the barn watching my girls ride…and maybe going on a trail ride on one of their ponies if they let me," she says.
She's got big plans for High Point Market this April. By now she knows her way around the largest furnishings industry trade show in the world, and this spring Clement is designing a tabletop setting with Replacements LTD in the Alden Parks showroom, and collaborating with Fabricut as one of their first brand ambassadors.
Her next stop is New York. Clement was the only designer from North Carolina invited to design a space for Design on a Dime, a charitable event held in New York City this spring. The fundraiser supports Housing Works, an organization that raises money to end AIDS and homelessness, and challenges designers to create one-of-a-kind room vignettes using donated merchandise from well-known home décor brands.