Get to Know: Melissa Lee and Brenna Morgan of New South Home
Interior designers work with clients from Myers Park to Waxhaw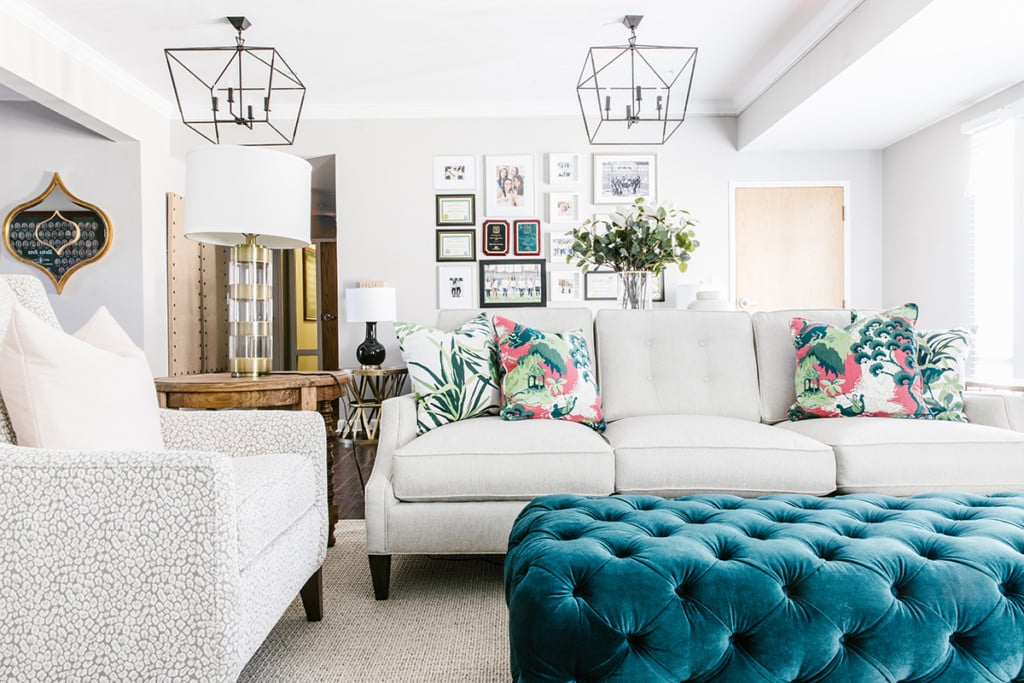 WHEN DESIGNER Melissa Lee launched New South Home eight years ago, she ran the business out of her house. But with two small children, it became too much to manage on her own. So she reached out to local blogger and designer Brenna Morgan to help run the business. Today they have a design studio in downtown Matthews with two additional employees, and they work with clients from Myers Park to Waxhaw. Here are seven more things to know about these interior designers.
On this year's projects: They've got a mix of projects in the works, from small room updates to full home remodels. Morgan is working overtime on a kitchen and master bath renovation in a 10,000-square foot home in Concord that needs to be complete by October, when the client's son is getting married on the property. Lee recently partnered with Jack Joyce of Joyce Building Co. to decorate and furnish one of his custom homes in Matthews, which hosted Design for a Cure, a fundraising event in May. All furnishings and accessories featured in the home were available for purchase at designer discount prices, and 100 percent of the proceeds went to The Leukemia & Lymphoma Society.
On working with new clients: They're not mind readers, but they can get an accurate read on a client's style based on their Pintrest boards and Houzz idea books. "It eliminates a lot of guess work," Lee says. "It's difficult for people to put into words what they like. Saying you like blue could mean anything—cerulean or navy—but seeing pictures lets us know where to begin from a color and style standpoint."
On making a big impact: They once put a 600-pound live edge console table cut from a tree root in Malaysia in a client's living room. "The next time I saw our delivery guys, they were like, 'Girl, we gotta talk,'" Morgan recalls. "But I would do it again in a minute and buy them a gift certificate for a massage after. It looked so good."
On the HGTV effect: Both are fans of Chip and Joanna and credit HGTV for driving the interior design business in recent years, but "I have two beefs with HGTV," Morgan says. "The timeline, because people think it can happen overnight. And the budget, because so many vendors and advertisers kick in money that these budgets are completely skewed. Add 50 percent to what it costs on TV, because those contractors are doing it for free."
On design trends to watch: Lee says natural elements will be on trend, but instead of ornate carved pieces, think cane back details. Morgan predicts black will be back in a big way—black walls, black ceilings, black furniture. "Black mixed with natural cane is amazing," Lee adds. They also say gray is on its way out. "It's no longer gray on greige on beige," Lee says. "Add some big, bold florals on your gray. We're seeing this modern, mid-century boho trend with rich pops of color."
On their real-life mom squad: Lee and Morgan each have two kids, so they know how to design rooms—not museums. "It is possible to have a pretty house with kids," Lee says. "We go for performance fabrics and upholstery to make it comfortable and approachable. We're gonna show up in jeans—not a CHANEL suit—for our consultations, so we're not exactly intimidating either. If you saw my house right now, it looks like a bomb went off."
On what's next: In April 2020, The Interior Design Society of Charlotte will feature three show homes in Davidson, and New South Home will design the playroom in one of them. Lee and Morgan are already putting together design plans for that project.
New South Home is located at 148E East Charles Street in Matthews. For more information, visit www.newsouthhome.com