Get To Know: Windy O'Connor of Windy O'Connor Art & Home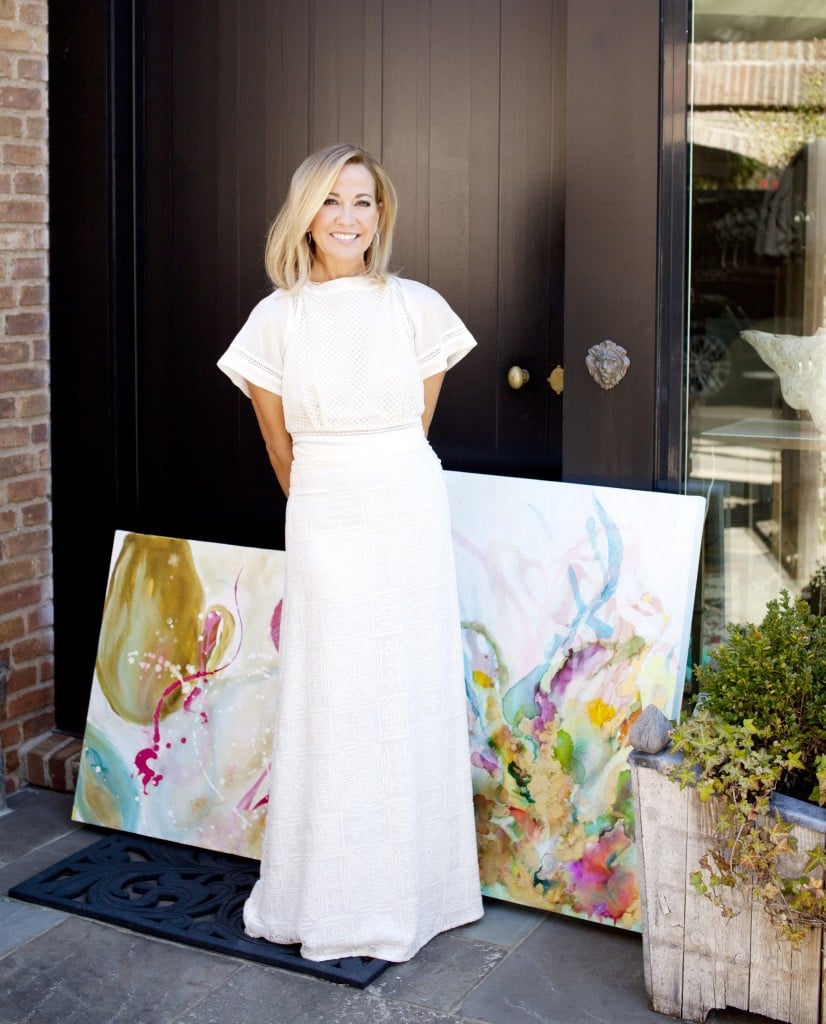 Windy O'Connor is a Charlotte-based fine artist and founder of Windy O'Connor Art & Home. She's known for her colorful oil paintings that incorporate materials like wax, string, and graphite, and her "Chica" series, which are now available as made-to-order home accents. We caught up with the mother of two to chat about art, furniture, and her foray into fashion.
Age: 51
Relationship status: Married for 27 years with two children: a 20-year-old daughter at UGA and an 18-year-old son at Myers Park High School
Hometown: Fayetteville, NC
Currently lives: South Park
Currently reading: Cook Beautiful by Athena Calderone
Favorite sports team: Georgia Bulldogs
Tell me about the evolution of Windy O'Connor Art and Home. When I saw someone doing digital printing, I tried it with one of my designs just to see what it would look like. About six years ago I took it to High Point Furniture Market—I'd started with hand-painted silk pillows, but decided to do digital printing, and it took off. Now I do a lot of collaborations with designers. I'm doing some stuff with Couture Lamps with Mastercraft Furniture. (Mastercraft) uses my wallpaper in their showroom.
So were you always artistic? I actually grew up singing and doing musical theatre, all the way into college. My mother paints, my sister is a great artist, and my dad had a band, so I definitely have an artsy family. They've always been super supportive. 
Where did the inspiration for your "Chica" series come from? I painted the first one for a designer as a commission. I was inspired by Carmen Miranda—I grew up watching old musicals, and I would sing and dance to them. I took it to Market, and I got a ton of commissions off that one painting. All of the women in my life inspire me, and there is so much beauty in every single woman I've ever met.
Does painting energize or exhaust you? There aren't enough hours in a day! (laughs) I could paint all day, every day. My body will get tired and I have to put it away, but it energizes me so much, and I think that's the thing people respond to in my work. It is energy. It's a full on exchange of energy in that experience.
What are your thoughts on the HGTV effect? Has it helped or hurt the interior design industry? From my point of view, it's sparked creativity in the everyday person, and how amazing is that? It inspires people to DIY, hone their eye, and cultivate their taste and their own design aesthetic.
What's the most surprising thing about you? I grew up singing and doing musical theatre, all the way into college.
What's your guiltiest pleasure? The Real Housewives of New York City.
What's your favorite restaurant in Charlotte? Barrington's.
What's your favorite adult beverage? It's a cocktail I make. I really love tequila—I make one with tequila, lime juice, fresca, and cilantro, so it's sugar free.
Do you try to instill an appreciation for art in your children? Absolutely—I just took my daughter to London, and we spent almost a week just in galleries. I think that's one of the best gifts you can give children, to encourage them to follow a passion, or find something they'd do for free. That's what I want for my children, to find that thing that you'd work on all night. It could be any kind of art…music, theatre, culinary arts…all of those things create such joy and pleasure and beauty in the world—there just can't be enough of it.
What's your favorite gallery or museum in Charlotte? I'm afraid to say because I have friends who own galleries (laughs), but I really love the McColl Center.
What are three things you can't live without? Music, creating, and running shoes.
What's next for Windy O'Connor Art and Home? I have a clothing line I'm working on, and I'm starting with pajamas. There's another line I'm working on—we don't have a name yet—but it will be more affordable (not custom) pillows. I'm hoping for late summer 2020 for the clothing line, and I'll officially launch it at High Point in October.
Now, the hard-hitting questions:
Chocolate or cheese?  Cheese.
Coffee or tea? Coffee.
Beer or wine? Tequila.
Ketchup or mustard? Mustard.
Cake or pie? Cake.
Dog or cat? Dog.
More sleep or more free time? Free time.
Halloween or Christmas? Christmas.
Uptown Girl or Uptown Funk? Uptown Funk, for sure. I do cardio funk for fun, and I love to dance.
Carowinds or Whitewater Center? Whitewater.
Facebook or Instagram? Instagram.