Getting Down to Sea Level
An update on 5th Street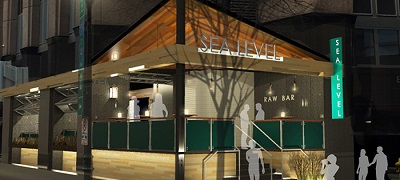 Anew seafood restaurant called Sea Level could potentially open by December in the spot where City Tavern in Hearst Tower once was.
Sea Level will focus on Carolina seafood and will also offer a raw bar. The restaurant group, Damian Dining, behind the venture also brought the Queen City Crepe Cellar Kitchen & Pub as well as Growlers Pourhouse.
The 4,200 square foot eatery's construction should be starting any day now, dependent upon when permits as approved. In addition to the large space which will seat 125 inside and 25 outside, plans for Sea Level include an entrance off of 5th Street.
Paul Manley, a partner at Damian Dining, has been in the restaurant business for eight years and plans to focus much of his efforts at Sea Level on oysters, for which he's long worked to create a local supply chain. With RockSalt near the SouthPark area and Lure Oyster Bar down in Ballantyne, the presence of a new seafood and oyster-focused restaurant would be a welcome addition to Charlotte. "All of our seafood for the restaurant will be sustainable," says Manley. "We want to stay close to the Carolinas if we can … but we also have a lobsterman in Maine, so we're sourcing from the best spots."
A sneak peak at the working version of the menu has us excited. Along with the large oyster selection, Manley pointed out several dishes like a lion fish fritter – making use of the fish which has actually done major damage in the Caribbean and, now, off the Carolina coast. "But they're delicious," says Manley. There's also a shrimp sausage steamed bun done banh mi style for a more shareable plate; a Mahi tacone – which Manley says is "sort of like a bigger taco;" and a New England lobster roll in a classic split top bun with chive mayo. Larger plates include North Carolina Striped Bass and a North Carolina blackened catfish with chow chow.
Manley also says the feel of the restaurant will incorporate the raw bar and bar/social feel, but "there will be conventional seating, too, for those who want to come in and have a regular dinner."