Getting Inside the 'Narrow Daylight'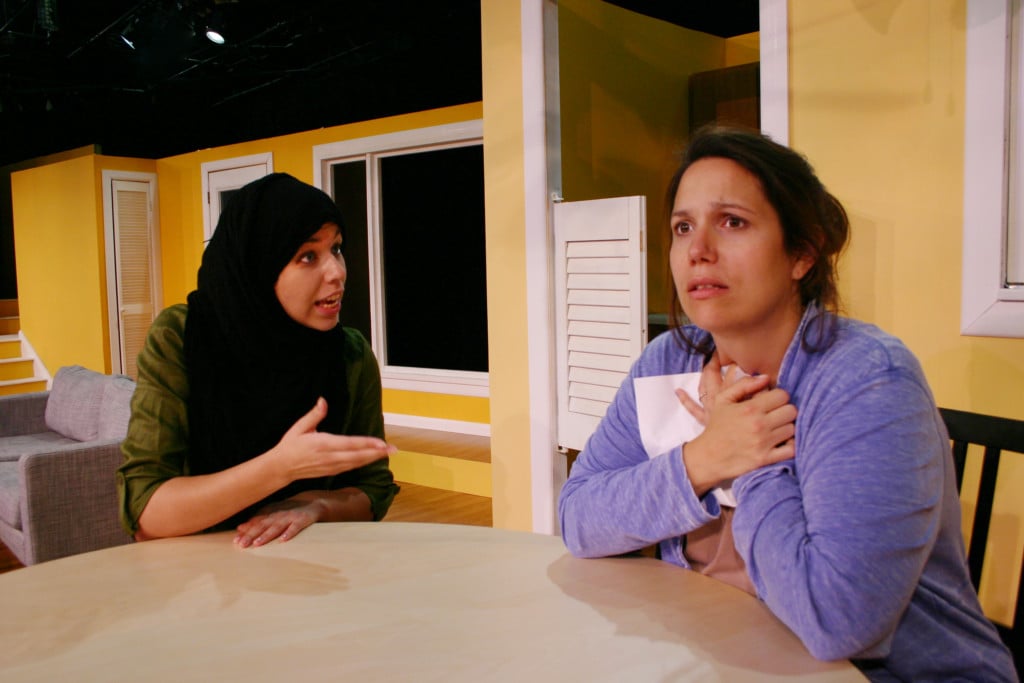 Actor's Theatre of Charlotte's production of Narrow Daylight is shaping up to be one of the most interesting plays of the summer. Written by New York playwright Sevan Kaloustian Greene, the play is a complex, deep, and at times funny exploration of family and loss.
The drama was chosen as one of the winning submissions of last year's nuVoices for a nuGeneration. This is its world premiere.
Award-winning actor and director Peter Smeal is directing the show and took some time away from his busy rehearsal schedule to speak with us about what you can expect from Narrow Daylight.
The show begins its two-week run June 24. Click here are tickets and show times.
Tell us a little bit about this play and its characters?
The play centers on Susan Davis, a woman suffering the recent loss of her husband and, more recently, her son Nathan. In her grief, she has shut herself up in her home – away from her best friend and neighbor, Gloria, away from a world in which she no longer believes she has a place, away from the sun itself. At her lowest point, just as she prepares to abandon the final vestiges of her old life, a stranger appears at her door; Lena, a young girl claiming to be her dead son's wife. The play is about survival and how we do it. It's about love and how we find it. And it's about family and how one is made.
You're best known for your comedy. What is it like working in something that is primarily a drama?
The play actually contains a great deal of humor. Drama and comedy are not diametric opposites. They're only categorized that way because powerful emotions are confusing and frightening and we deal with that by dividing them to diminish them. The reality is that they manifest in a continuum; each one all knit up into the fabric of the other. Anyone who has ever laughed through their tears understands this. And anyway, the old adage about comedians being the best tragedians has some truth to it. I can't remember where I read it but someone very smart pointed it out in a book I promise I read some time ago … that the best comedians were the ones who needed laughter the most.
There are a lot of big themes in this production and the play has a lot to say. What do you think audiences are going to be most taken by when they finally get to see it?
I'm not sure I would describe them as "big themes." Given the circumstances of Nathan's death, you could shoehorn some larger global issues into the story. But ultimately the ideas at the heart of the play are the simplest and most human in the world: mothers and children, connection, loss, redemption. And, what I think audiences will take away will be how elegantly and humanely the playwright has treated these.
This play was selected as one of the winners of the NuVoices Festival. Have you had a chance to speak with the playwright Sevan Kaloustian Greene about his vision or have you had total creative freedom?
The primary goal of the festival is to foster new works and new creators. So Sevan was at the center of the process for the reading and an integral and welcome participant in the rehearsals for the staging. Our goal has always been to honor his work and assist in developing it further. That having been said, I don't think any one person ever has/should have 'total creative freedom.' Theatre is a collaborative art form by its nature and we all leave our fingerprints on it. So in that sense it is ultimately very much Actor's Theatre of Charlotte production of Sevan's play.
Why do you think people should come out and see this play?
Firstly, it is a world premiere of a very exciting play taking place in your own backyard. Supporting new work is the best way to keep theatre in your town alive and vital. Secondly, you will laugh like a fool and weep like a child. Thirdly, you will see yourself on the stage. Yourself and, very likely, someone you love.