Getting Into the Trading Card Boom? Some Charlotte Resources
COVID has fueled an explosion in the sports collectibles industry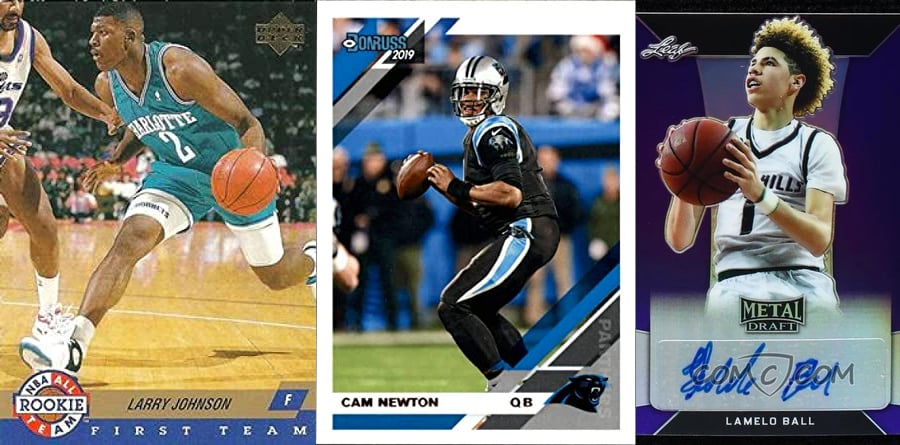 COVID has created some unexpected results, among them a boom in the sports card market. Many collectors returned to the hobby while stuck in their homes last year, but other factors include Kobe Bryant's death in January 2020, the Michael Jordan docuseries The Last Dance, and exciting league newcomers like Zion Williamson.
The highest-profile sale: a LeBron James rookie card at a 2020 auction for $1.8 million. In football, a Patrick Mahomes rookie card set an NFL record this week with a $861,000 professional auction sale. But most of the action happens online: eBay, Facebook Marketplace, and other social media platforms.
The biggest sellers are "professionally graded" cards. Collectors send their items to graders who, as in Antiques Roadshow, determine condition and value. (It runs anywhere from $15 to hundreds of dollars.) The right cards can fetch huge prices: Dallas Mavericks owner and entrepreneur Mark Cuban says trading cards are an important part of his investment portfolio. Business guru Gary Vaynerchuk added fuel to the conversation in a tweet this week:
On eBay, some the numbers for Charlotte-based athletes as of Thursday:
* A graded (9) LaMelo Card in the 2020 Panini Black Prizm Draft Picks series for $100,000.
* Multiple graded rookie cards for Carolina Panther Christian McCaffrey hover around $5,000; a few that aren't graded are still in the four-figure range.
* A Muggsy Bogues rookie card released by Fleer in 1988 has 17 bids and is already over $300.
But most of us are just starting with a few boxes of old Fleer and Topps cards as we dip our toes into the market. We've compiled some local resources for purchase or grading.

Trading Card Stores
Charlotte Sports Collectibles
5341 Ballantyne Commons Pkwy., Ste. 550
This Ballantyne store has both graded and ungraded cards. Owners welcome people who want their collections valued. They also have a highly rated eBay store with memorabilia on sale.

AAA Collectibles, Inc
100 W. John St., Matthews
This Matthews store, an authorized dealer of Topps, Panini, and Upper Deck, carries vintage cards, recent singles, and "new wax boxes and cases" for bulk purchase.
Queen City Sportscards
This online business sells boxes and cases only. Baseball, football, and basketball are the main sports represented, but they also have WWE cards for sale.
Grand Slam Cards and Comics
952 Mt Gallant Rd, Rock Hill
This spot has sports cards, as well as gaming cards like Pokemon and Magic: The Gathering. Like other stores, they also have an eBay presence.

Sports Card Grading
While there aren't any local companies grading, there are a few options for pro services: Professional Sports Authenticators (PSA), Beckett Grading Services (BGS) and Sportscard Guaranty (SGC).

Prices depend on the declared value of your card, so if you think you'll get only 20 bucks, it might not be worth your time. There are plenty of price guides out there to determine your worth independently, but visiting one of the shops above or just browsing on eBay likely gives you a better idea.
What are some of your most valuable collectibles? Let us know!