Getting to know Niki
A look inside the Bechtler's new exhibit, Niki de St. Phalle: Creation of a New Mythology.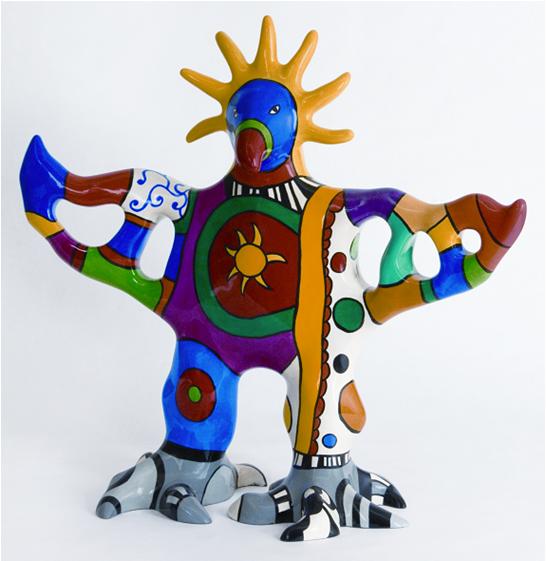 Much like the Bechtler's recent
School of Paris
, a successful museum exhibit uses the scope and variety of its works to give visitors a firm impression of an artistic era, or even region.
Artist-specific exhibits, like the Bechtler's latest show,
Niki de Saint Phalle: Creation of a new Mythology
, are a very different experience. In many ways, though, they're even more rewarding to wander through, because rather than collecting images from a genre, you're getting to know an artist personally and intimately through their artistic development. A body of work can offer insights into mythical, distant artists that are far more nuanced than any "true life" autobiography could provide.
It's this close, personal attachment to the artist herself that makes Creation of a New Mythology the Bechtler's latest success—you hardly take a dozen steps through the brilliantly bright and colorful exhibit that you're not inside Saint Phalle's head, navigating the same inspirations and discontent she worked with throughout her career.
Of course, to experience the full weight of such a lifetime, we have to insist that you start from beginning. You may have read that The Green, between Tryon and College Streets, is hosting six colorful sculptures by Saint Phalle, nearly all of which stand over eight feet tall. It might be tempting to skip the interior exhibition and plop yourself in front of the free artworks (kids can crawl into La Cabeza and Cat) with a slice of Fuel pizza. We can assure you, though, that your experience of the larger-than-life outdoor exhibit will be enhanced tenfold with a trip through the Bechtler's 4th floor Gallery, where Creation of a New Mythology will be on display until October 3rd.
For one thing, the surprising aesthetic of some of Niki's earliest works turn out to be foundational when developing your image of St. Phalle as an artist and thinker. Most of us associate her work with the joyous, colorful style of "The Firebird," and thus, "The Bride," a monstrous, painted bronze figure covered in small toys and draped in white tulle, seems out of character—and unsettling.
But with a glimpse of this work and others from this stage in her career, Saint Phalle takes on a human dimension that's not accessible from The Green. Her insecurities as a young woman about child-rearing (another early bronze piece, Coeur mauve, is covered with toy babies), marriage, and womanhood in general (Saint Phalle was a former model for Vogue and other fashion magazines) are impossible to brush away, and make her a more tangible presence in the gallery. Her work loses its dreamy affect, and becomes the life's work of a real person, who drew her inspiration from her experience of world around her. Suddenly, you're not wandering through her art, but inside her head.
And it's from this vantage point that we watch both her and her art evolve.
We see different influences from across the decades impact her work, as in the 1986 La peste ("The Plague"), where a large, spider-like mass, contained in a border of skulls and faces, crawls across three panels, embodying the HIV/AIDS virus that was emerging into the public eye in the 1980s.
We watch as she absorbs and effuses images from Mesopotamian, Meso-American, Native American, and Egyptian cultures, which were crucial to her artistic vision from early lithographs that feature her prevalent "nana" figure, to her series of foot-high totems from the early 2000s, to the immense, gold sculpture-chair in the shape of Horus (enticing for lounging….but don't). As you wander through the works, your impression of this modern Renaissance woman fills out, and you'll leave feeling as though Saint Phalle herself is walking out of the exhibit with you.
Which means, of course, that you'll be able to bring her with you when you stroll through the sculpture garden.