Gift for the Guys: Give A Caricature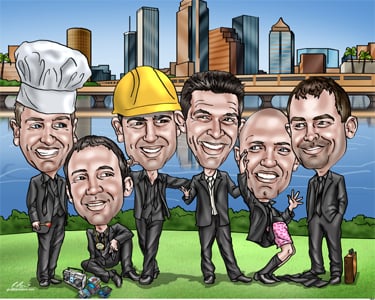 Looking to forgo the traditional groomsmen gifts of cufflinks, flasks, or money clips? I think I found something fun for the fellas that will help share in your wedding day—a custom caricature by GiveACaricature.com.
They are affordable. They are hilarious. (Send them some ideas or just send them pics of your bridal party and let them create something fun.) They are definitely unique and definitely NOT predictable.
Just send photos of each of your groomsmen and some details about your wedding or the friends that you are including—shared interests, personality traits, etc. and let them know how many prints you'll need. Within five days you'll have a preview emailed to you and your groom and once you've approved the caricature, your gifts can be ready to ship within three days. Order a digital print for $109, an unframed print for $99 or have it framed for $139.
Here's a few I find entertaining. Check their Web site, giveacaricature.com for more.