Gifts for the Super Bowl Party Host
Stop by Paper Skyscraper in Dilworth to pick up a little something for Sunday's football festivities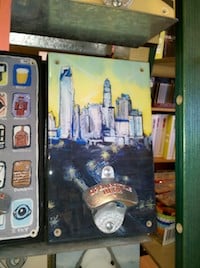 Don't stumble into a hospitality faux pas this Sunday by showing up to your Super Bowl party empty handed. Even if your host tells you not to bring a thing, it's a good idea to pick up a little something.
Paper Skyscraper on East Boulevard in Dilworth has been helping people out with those little somethings for 25 years. Store Manager Tony Hill has seen trends come and go during his nine years at the shop. People have an interest now in stocking their home bars with specialty supplies, Hill says. And on the less-practical side, the mustache craze that's showing up everywhere from baby clothes to YouTube videos has infiltrated the store's shelves.
"We have people call and ask if we have stick-on mustaches," Hill says.
Whether your Sunday setting calls for a light-hearted gift or one that's more sophisticated, Paper Skyscraper is the place to shop. Below are 10 suggestions to get you started.
1. Daper 'Staches Drink Markers; $4.95. Make a mockery of marking your drinks for less than $5.
2. Assorted bag clips in the shape of sunglasses, monkeys, and barnyard animals; $4.95-$8.95. Warning: If you buy a pig-shaped chip clip, he oinks every time you open the bag. No secret snacking with that guy.
3. Maker's Mark Bourbon Flavored Gourmet Sauce; $9.95. Eating food with gourmet bourbon sauce is almost as good as drinking the real thing.
4. Govino: Go Anywhere Wine Glass; $12.95 for a set of four. You know the hostess doesn't want to bring out her best stemware for Sunday's game. She'll appreciate these plastic, stemless wineglasses as an alternative.
5. Bananagrams; $15.95. If the real game gets boring, you'll be entertained all night with this Scrabble-like word game. Also a nice gesture for parties with children.
6. Moscow Mule Mugs; $15.95. These copper mugs come with a recipe and brief history of the classic cocktail.
7. Vintage & Vine Slate Board; $19.95. This slate board with rope handles comes with a piece of chalk to describe what you're serving. Your host will never guess you got something this nice for less than $20.
8. Charlotte Beer by Daniel Anthony Hartis; $19.95. The Queen City's microbrewery culture is growing fast, and this book is a great primer for those looking to learn.
9. Happy Bottle Opener; $24.95. These stylish, wall-hanging bottle openers come in numerous designs. But for a Charlotte local, this one with the Uptown skyline is a must.
10. Smart Ass trivia game; $24.95. Extend the night's revelry past the fourth quarter with a party game or two.
Paper Skyscraper
330 East Boulevard Charlotte, NC 28203 704-333-7130 paperskyscraper.com