Girl Tribe Pop-Up Returns to Charlotte Bigger Than Ever
The weekend-long shopping affair features Little King Art macrame planter workshops, The Dumpling Lady, craft cocktails, and HSM fitness classes, among other exciting extras.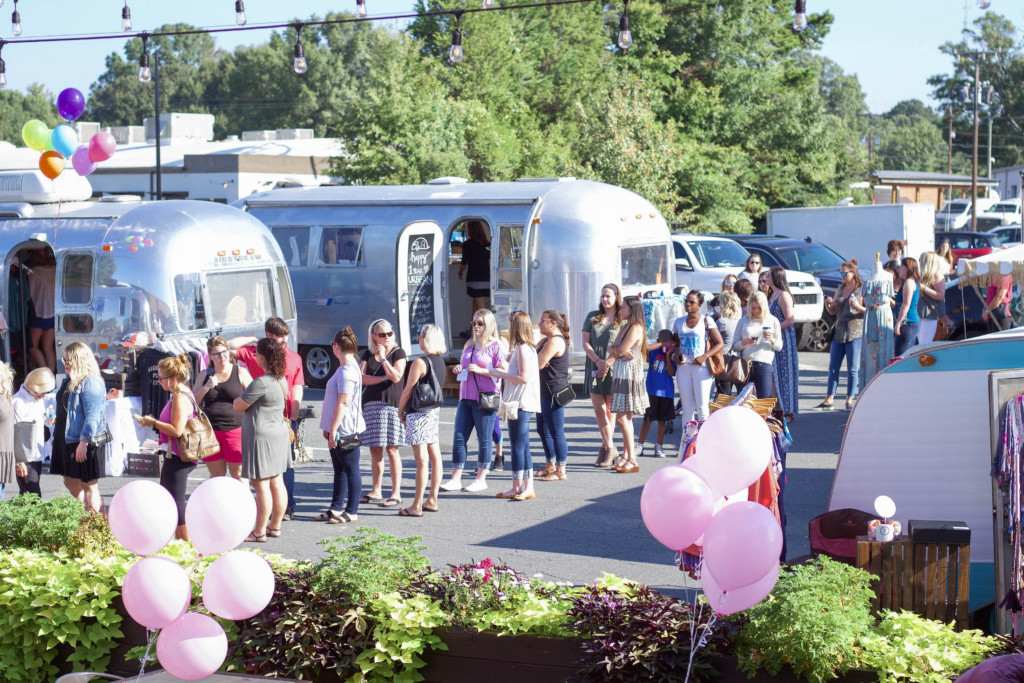 Who runs the world? Girl Tribe Co., maybe.
The t-shirt company recently realized its dreams with a brick-and-mortar in South End, and it's still climbing the ladder to world (or North Carolina) domination. Before the store on Camden Road, Girl Tribe Co. had been hosting pop-up shopping events a couple times a year in Charlotte and even won our Best of the Best Award in 2017. They then expanded the pop-ups to appear in Greenville and Raleigh in addition to the Charlotte offerings. As expected, the events have garnered more attention each year, resulting in this year's pop-up event being the largest one to date.
It's so big, in fact, that it needs a full weekend to accommodate all the action.
Beginning with a $25-per-ticket preview night on Friday, April 20, from 6 to 9 p.m., this year's Girl Tribe Pop-Up will feature 105 women-owned businesses from the area for attendees to shop. Last year's Charlotte event had 92 vendors. Before that, there were about 60 vendors. The difference? Previously, the pop-ups were held at Sugar Creek Brewing, but this year, it will be at a 22,000-square-foot event space at 2116 Hawkins Street, Suite 100. The new venue also means better parking options such as a parking deck next-door, which is welcome news for those who have had trouble finding spots in previous years.
There will be Charlotte-women-owned fashion boutique, jewelry, paper goods, and beauty vendors on-site, and the weekend of fun will also include macrame DIY workshops by Little King Art and fitness classes by Hilliard Studio Method along with other workshop events. The venue has a loft area, which is where the DIY classes and HSM workouts will take place, with the shopping accessible all the while in the main area. The DIY classes available for sign-up are as follows: Anders Ruff sign workshop ($40), denim jacket painting ($25), hanging macrame planter ($30), and large macrame wall art ($45). All tickets and times for the workshops and fitness classes can be seen and purchased here.
Though Friday is a paid preview night with discounts, free swag, cocktails, and an exclusive shopping experience, if you prefer to get in for free, Saturday's and Sunday's general admission hours are from noon to 5 p.m.
The HSM fitness classes will be on Saturday and Sunday mornings. If you purchase the Saturday fitness class from 8:30 to 9:30 a.m. for $25, you'll also receive access to the VIP shopping hours that morning until general admission opens at noon. Otherwise, VIP tickets are $10 for Saturday morning only (10 a.m. to noon) and include a free reusable Girl Tribe bag, a #GirlTribePopUp bracelet, and discounts and specials from the vendors. The HSM fitness class on Sunday morning will be from 10:30 to 11:30 a.m. and does not include VIP shopping, so the ticket for that class is only $15.
If you choose to partake in a sweat session, you might be pretty hungry afterward. Luckily, The Dumpling Lady, Fresh Med, and Greek Eats food trucks will be serving up bites to ease the hunger pangs. And for those who happen to be extra thirsty on the weekends, local libations will be supplied by Liberate Your Palate with Muddy River Distillery and Doc Porter's Distillery, along with brews from Sugar Creek Brewing. None of your food and drink purchases are included with ticket prices, but all the vendors accept card purchases, so no worries about cash-only situations.
Also, because Girl Tribe Pop-Up is run by women, there are two thoughtful additions: a nursing center and stroller check-ins.
If this event is anything it's hyped up to be, it's going to be quite the shopping and entrepreneurial extravaganza. Be sure to buy your tickets for the fitness classes and workshops as soon as you can so your spot doesn't get filled. There's room for 40 people in each fitness class.
In the meantime, Girl Tribe will be scouting out national destinations for additional pop-ups in 2018… We told you these women were on a mission.