Girl Tribe's Sarah Baucom on Women Entrepreneurs, Inspiring CLT Places, and Next Steps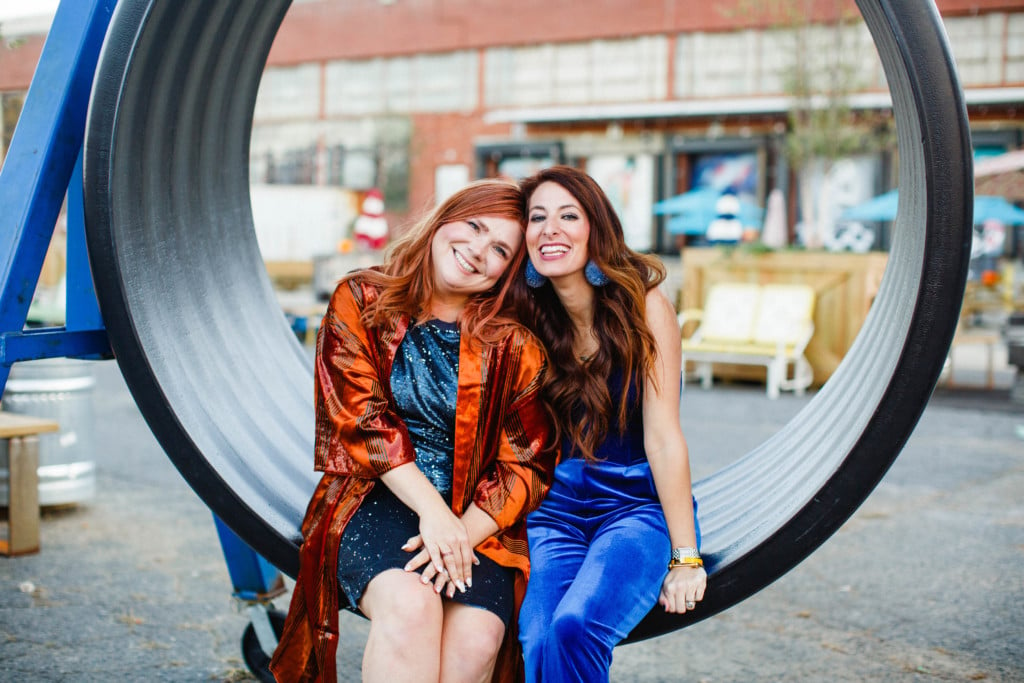 Girl Tribe Co., if nothing else, has lived up to its name.
Accumulating support from 11,198-and-counting Facebook group members (all local women with side-hustles or their own businesses ), the company has evolved into more than just an e-commerce store offering trendy graphic t-shirts. Since starting the brand online in 2014, founders Carrie Barker and Sarah Baucom always knew they wanted a physical storefront, and last month, they realized that dream. Opening a South End space on Camden Road for the holidays, the local duo received an outpouring of support from their tribe… and then some.
The store was supposed to close by the end of 2017, but Baucom and Barker have recently announced that their lease is extending until the spring of 2018. While I can't say I'm entirely surprised, I can say that this venture has proven that finding and building your "tribe" can be endlessly rewarding. Case in point: so much positive response that Girl Tribe's storefront gets another go-'round.
Baucom tells me they blew any projection out of the water, attributing success to the "incredible South End community" and the company's clientele. The storefront will certainly be open until April, according to Baucom, but they will be doing month-to-month leasing, so there's the opportunity to stay longer. As far as the products go, she says the beauty and apothecary line will continue to expand as well as gifts and jewelry.
CNBC states, "The Golden Age for women entrepreneurs has finally begun," and Charlotte's Girl Tribe couldn't be a better example. Personally, as a member of the Pink Social Girl Tribe Facebook group for more than two years now, I've witnessed the growth. I've witnessed the support. And most of all, I've been a part of this incredible community of Charlotte-area females who are empowered enough to strike out on their own. (I'm a self-employed freelance writer.) Baucom and Barker have done more than just create a Facebook group—they've pioneered a powerful force of women entrepreneurs in Charlotte, all tuning in to help one another when needed. The "community over competition" mentality is the heartbeat of this group of women, and it's proven to be a smart way to view business.
For more insight into Girl Tribe's recent retail venture (and, honestly, to get to know the founders better), I spoke with Sarah Baucom. Here is our exchange.
Charlotte magazine: When you started Girl Tribe (then Pink Social), was the goal ever to have a brick-and-mortar?
Sarah Baucom: Yes, we definitely have always dreamed of a true storefront that would tell the story of the brand and become a meeting place for woman positivity.
CM: What has the journey been like getting to this point?
SB: It's constant work every day. We work really hard at listening to our customer and consumer behavior alike. The lessons we learned in our first year alone could fill a book — and we are so grateful for each of them. We are so grateful to the Charlotte community for believing in our message and believing in us.
CM: What are some of the most important lessons you've learned?
SB: Some of those key lessons included getting our money right, learning about intellectual property, and how much work goes into launching a product from scratch with limited resources. Oh, and: "Not every idea is a great idea, but keep talking them through."
CM: I've been a member of the Girl Tribe Facebook group since I moved to Charlotte and can genuinely say it's been a big help for me professionally and personally. How has leading this group helped you evolve as members of the Charlotte community? What has been the best part of the group for you?
SB: Thank you! We love the group and are so proud of the countless connections that have been made. I think the group has allowed us to start an open conversation that feels relevant to the times and to the women involved. Every member of the group believes in moving women forward professionally and socially — so it genuinely feels that the Girl Tribe group has changed the way our community shops, feels and connects. We love how genuine the group is and how it has grown organically, which I think speaks to the times we live in and the need for true community.
CM: The Girl Tribe group consists of Charlotte-area women entrepreneurs. What is one piece of advice you would give to fellow females trying to pursue their passions?
SB: We have always lead by gut and by solid advice from our own girl tribe! My advice: do your research, get your money and projections right, believe in yourself and your unique vision, and find your tribe — they are truly the unsung heroes of any small business.
CM: Why do you think Charlotte is a good place for female entrepreneurs right now?
SB: Charlotte is truly a melting pot filled with people moving from other locations. These new faces love Charlotte and are helping to build a voice for Charlotte. This sentiment creates an openness and an excitement around supporting local businesses.
CM: Who do you admire?
SB: We admire SO many women! I feel like every day I am saying how much love and admiration I feel for so many in our community and beyond. But we always love Erin McDermott who runs her business with so much grace and Dina Carey from Milkful who has built her very successful business from scratch and is letting nothing get in her way.
CM: OK, a couple fun ones. Coffee or tea?
SB: We are an iced-coffee-only office.
CM: What places in Charlotte inspire you?
SB: Because I am a native, I love old-school places and seeing old signage still up. I also love seeing new murals by Jen Hill, community gardens, and beautiful interiors like Broken Spoke.
CM: What can we expect next from Girl Tribe?
SB: We will launch our spring line in the next few weeks — which we are really excited about! We are continuing to add rad women-owned brands to the store as well as expand Girl Tribe Pop Up to other markets as well as strengthen and continue to carefully curate our Charlotte events.