Golf Getaway: The Cradle in Pinehurst, N.C.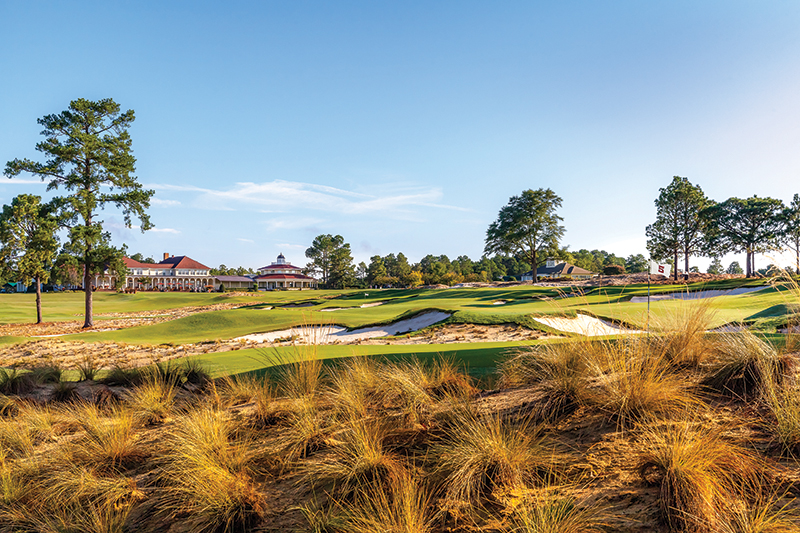 THE MORNING my husband Jon drove us the two hours east to Pinehurst Resort, I watched instructional YouTube videos: Things to avoid when hitting chip shots. Tips on low-effort, high-impact swings. How and when to hit a hybrid. We were heading to one of the most coveted golf resorts in the world, and I hadn't played in months—and, really, I had never played consistently, not ever.
We arrived just after noon and checked in to the resort's main property, The Carolina Hotel. Its deep greens and shining wood make you yearn to be out on the course from the moment you set foot in the lobby—even if, like me, you're a pretty terrible golfer.
After a quick lunch, we called the resort shuttle to take us from the hotel over to the main clubhouse, clubs in hand, where we would play Pinehurst's newest course. The Cradle, which opened in October, is a nine-hole par three course only a low iron away from the tee of Pinehurst's legendary No. 2—a little sister to the course, one that emulates some of No. 2's best features. We stepped off the shuttle a few minutes later, and our clubs were carted away to await us after we checked in at the pro shop. They were already strapped to a golf cart by the time we made our way down to them, and off we went to the driving range for a quick warmup.
YouTube videos in mind, I took my first swings of 2018. I wasn't any better than I was last year, but I wasn't worse, and that felt like a win.
Still, I was queasy with the fear that Jon and I would be paired with two incredible golfers who would see my lack of talent as a drag on their much-anticipated outing. We approached the starter's house, and a man named Jack welcomed us with a smile. He offered us canvas and leather carrying bags and scorecards, told us where to park our cart, and pointed us in the direction of the first tee, where we could tee off when we were ready.
We were a twosome, but I quickly realized even a champion-level pairing couldn't have stressed me out. With its signature pines and dunes that bristle against the winds, The Cradle is a beautiful course. Its short fairways draw families, new golfers, and the time-sensitive, and I felt comfortable enough to laugh at a shank. It takes only about an hour to play, and you're welcome to play again and again, as much as you want in a day. Adirondack chairs throughout the course make waiting feel like part of the experience, and as we sat in them before one tee, we took a moment to appreciate the beauty around us: the grand white clubhouse, the towering trees, the sound of iron hitting a golf ball.
At 789 yards, the whole course is as long as the first two holes on legendary No. 2. Yet the greens echo No. 2's difficulty, unexpectedly fast and unforgivingly undulated. All of this combines for an energy you don't often find on the quiet of regulation courses. As we putted in on the ninth hole, we looked at the first tee, looked at each other with beaming smiles, and were ready to tee off again. A few minutes later, we did just that.
---
PINEHURST
1 Carolina Vista Dr., Pinehurst, N.C.
Distance
Two hours east on 27
Course and Cost
The Cradle, 789 yards
Pinehurst's short course is $50 to play, with repeat rounds included. Kids 17 and under play free with an adult.
Call 855-235-8507 or visit pinehurst.com to book.