Good-bye, 77
A frustrated resident of northern Charlotte speaks out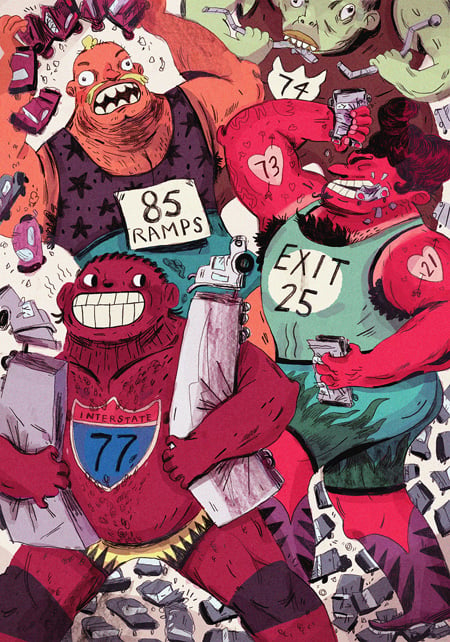 EVER HEARD OF A little traffic nightmare called a "diverging diamond interchange"? It's a flow pattern for highway overpasses that requires a person to counter every rational instinct in her bones and—briefly—drive on the left side of the road.
"I have a word for it, but you're not going to print it," says Jim Dolan, general manager at Bruegger's Bagels in Cornelius. He saw his business, like so many others, nose-dive after construction began on the diverging diamond at Exit 28 on Interstate 77. The roadwork created massive backups on Catawba Avenue in Cornelius last summer, when one lane in each direction was shut down.
And now that the diamond is finished, some people are still baffled by it.
"I think it's insane that you're directing traffic on the wrong side of the road and that's supposed to help," says IcyWakes Surf Shop co-owner Shannon Smith. "I don't get it."
Apparently, she's not alone. Some people are now driving on the right side of the road there, which is actually the wrong side of the road. Confused yet?
No matter. The North Carolina Department of Transportation has embraced the idea—it stuck those diverging diamonds in Concord, too.
Ray Evernham, who won three NASCAR championships as a crew chief for Jeff Gordon and knows a thing or two about getting from point A to point B, is not a fan of the diamond. He has to drive over Exit 28 daily. "The people behind that engineering group … should be named Moe, Larry, and Curly," he says.
But you have to admit, it's so typical of 77. Never mind the daily parking lot that is the morning and evening commute. A fender bender at any hour means a two-mile backup. A raindrop falls and it's three miles.
Try getting off at Exit 25 and making a left onto Statesville Road. You have to take two right turns, go through four traffic lights—including the same light twice!—and drive in a full circle to take what was, a few years ago, a simple left turn.
And it's about to get worse. Construction is set to begin this year to widen the interstate and put in express toll lanes for the moneyed few who don't mind paying $20 a day round-trip from Mooresville to Charlotte—as some estimate the cost might be.
So there will be lane closures and more trouble for businesses. And when the toll lanes are finished, don't you think residents from Huntersville to Mooresville will come to the realization that the only way to live a life outside of that commute is to move elsewhere? Even Evernham says he might consider moving.
"The road is a nightmare anyway, so any … construction at this point is not going to do anything but just clog it up even more," says Julia Austin, a member of the Lake Norman Chamber of Commerce and owner of Fifi's Fine Resale in Cornelius.
Austin saw her business decline during the construction of the diverging diamond, but she thinks the new pattern has ultimately helped traffic a bit.
Me? I give up. I'm done with 77. I've had enough.
Good-bye, Sangam Indian Cuisine. I'm sure going to miss that buffet. Good-bye, Fork! and Restaurant X. Those blackened-fish tacos at Flatiron in Davidson—I hate to say good-bye to you, but I will.
Good-bye to The Fresh Market in Cornelius; I'm so glad you built another store on Prosperity Church Road so I don't have to ditch you forever. Good-bye, Total Wine and Corkscrew. Good-bye, Birkdale Village. Yep, I'm finished with you, too.
I have a hunch I won't be the only one.