Good Food Chef to Open Steamed Bun & Ramen Spot in Tompkins Hall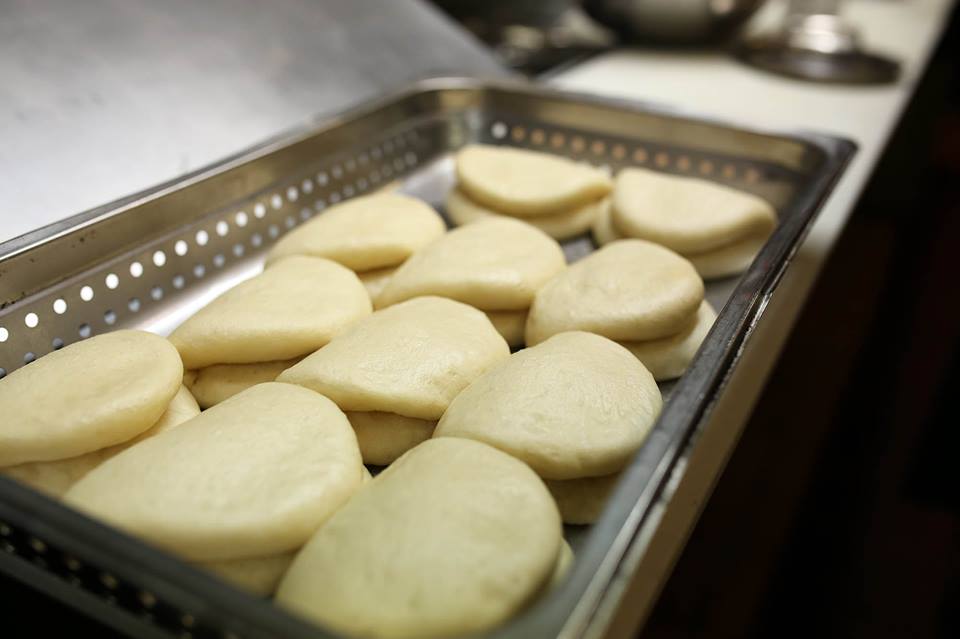 Larry Schreiber, executive chef of Good Food on Montford, has signed on to open a steamed bun and ramen spot at Tompkins Hall. Named Bao + Broth, the restaurant will be underneath the Moffett Restaurant Group umbrella, owned by chef Bruce Moffett, which includes Barrington's, Stagioni, Good Food on Montford, and N.C. Red, which will open this fall in the former Penguin space. Schreiber will be the majority investor in Bao + Broth.
Tompkins Hall is a massive old mill and factory building off of Parkwood Avenue, near a stop on the new LYNX Blue Line extension. The property will have office and retail space, as well as a large food hall.
"We were thinking about a concept to put in there, and I figured at Good Food we sell tons of steamed buns," Schreiber says. "People love 'em. It's a known product. Why not capitalize on that?"
The menu so far has about five steamed buns and a few ramen broths, including vegetarian options. Schreiber's vegetarian ramen broth is made with mushrooms and caramelized onions, which lend a more authentic unctuous texture to the broth. Sides will include togarashi (a hot pepper) fries, rice bowls, and vegetables, but the chef wouldn't go into more detail on the menu items.
"I'm sure I'm going to change my mind a hundred times before we open," he laughs.
Diners will likely be able to sit along a ramen bar or take their food into the community seating in the hall—whether they're ordering bao buns or an entrée from one of the other stalls, which seem to be well-curated so far.
"We are confident that they will deliver a unique, delicious concept while expanding their culinary footprint in Charlotte," Jay Levell, a Partner at White Point Partners, the group behind Tompkins Hall, said of Schreiber and Moffett in a statement.
Several other restaurants have been confirmed in the space, including a rotisserie chicken concept from the team behind Aix en Provence and a new location of Undercurrent Coffee. Fonta Flora Brewing will be an anchor tenant.
Schreiber says his respect for Asian cuisine was inspired by the Japanese film Tampopo, which follows the transformation of a ramen shop. The film was recommended to him by a line cook during an externship at New York's Aquagrill.
When Tompkins Hall nears its opening, Schreiber will step away from Good Food on Montford.