Good Libations
Quintessentially southern wedding cocktails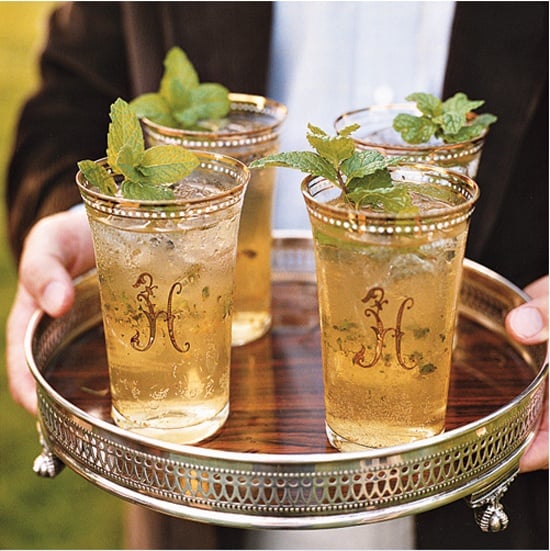 Southern soirees evoke a sense of relaxation and hospitality unlike any other locale. From front porch sitting to fireflies scattered across a night sky, the only thing that beats the thought of a southern night is being there to experience it. Signature cocktails come in all shapes and forms, but when it comes to your wedding night, why not toast the occasion with a Southern-born libation. With ingredients like freshly brewed sweet tea and sprigs of fresh mint, no doubt all your friends and family will drink to that!
1. The Mint Julep
2 oz. bourbon
1/2 oz. simple syrup
Fresh mint
Powdered sugar
Fill glass 1/3 full with mint leaves, add simple syrup and muddle. Remove mint leaves. Then fill glass with crushed ice to the halfway mark, add bourbon and a dash of simple syrup. Top with a bit more crushed ice and sprinkle with powdered sugar. Garnish with mint sprig.
2. The Scarlet O'Hara
2 oz. Southern Comfort
Dash of lime juice
Cranberry juice
Lime wedge
Pour Southern Comfort and dash of lime juice into ice-filled glass. Fill remainder of glass with cranberry juice. Then garnish with lime wedge.
3. The Yellow Hammer
1/2 oz. vodka
1 oz. Malibu rum
1/4 oz. dark rum
5 1/4 oz. pineapple juice
1 3/4 oz. orange juice
Combine all ingredients over ice, stir and serve.
4. The Charleston
1 oz. vodka
1/2 oz. Madeira
2 oz. unsweetened brewed iced tea
2 oz. lemonade
*Mint simple syrup
Fresh mint
Seedless green grapes
Shake vodka, Madeira, tea, lemonade and a few dashes of simple syrup with ice. Pour into tall glass filled with crushed ice. Garnish with mint sprigs and grapes. *For mint simple syrup: in small saucepan, bring 1 cup of water and 1 cup of sugar to boiling point. Stir frequently until sugar dissolves completely. Add 1 tablespoon of bruised mint leaves. Let cool and then strain.
5. The Sweet Tea Sour
2 oz. Four Roses bourbon
*1 oz. sweet tea syrup
1 oz. lemon juice
1/2 oz. egg white
Combine all ingredients, shake with ice in cocktail shaker. Pour into tall glass and serve. *For sweet tea syrup: Place two large tea bags in 3 pints of boiling water for exactly 30 minutes. Remove tea and add 1 quart sugar while water is still hot. Stir until sugar is dissolved and allow it to cool completely.