Goodbye to a Hooters
And hello to whatever's next. Why we don't shed a tear when some old buildings come tumbling down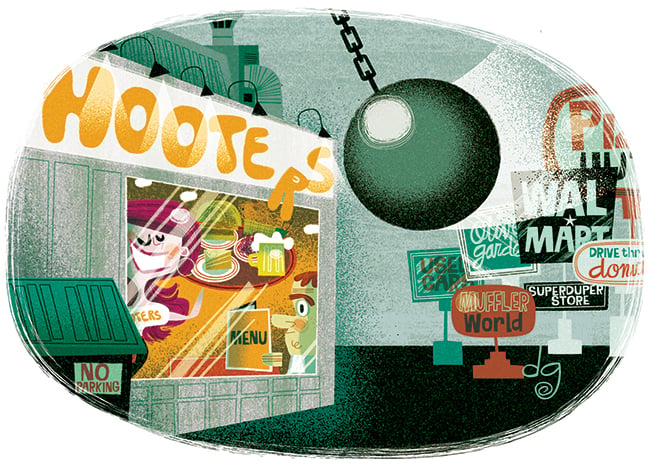 There was a building here in Charlotte, near the corner of South Boulevard and Tyvola Road, that was shuttered for years. I don't remember ever seeing a sign out front. But I could tell it used to be a Hooters. It had a tin roof. The exterior walls were plywood, painted gray. There was something about the shape. Delightfully tacky, yet unrenovated.
I have a history with Hooters. In high school, a friend and I went to one and ordered wings, and we bragged about it to all of our friends. This was northeast Ohio in the mid-1990s, so our limited options consisted of the Hooters, an Olive Garden, and an Outback Steak-house. Compared to the other two, going to Hooters was edgy. My cousin would go on to work there as a cook. He dated one of the waitresses. At the time, as a high school boy, I thought he had the greatest job in the world.
I moved to Charlotte eight years ago, and I can't count the number of times I drove past that empty Hooters on South Boulevard. This summer, demolition crews flattened it.
This is what we do in Charlotte. We tear down old buildings. The bulk of what we now know as Charlotte didn't really exist before the 1960s. The average date of construction for all single-family houses built in Mecklenburg County is May 15, 1979. Our architecture is now at the age where it should be nearing a midlife crisis.
Hence, the old Hooters. The building had been there since 1978, predating the founding of the franchise in 1983. It came at a time when Charlotte was taking off, and fast growth can often lead to things like Hooters. The building always reminded me of an idea drawn up by people who've never even been here—created from a cookie-cutter blueprint that was made by some disgruntled former Pizza Hut architect at the corporate office, then approved by a board of old men who glanced at the plans for a few moments before voting yes. It looked like it was thrown together to exist in some sort of Florida swamp—the kind of place where you'd order a dozen wings, then run over an alligator on the drive home. Some people might miss it. I don't.
It's one of our city's unofficial slogans: Charlotte tears down its history. But sometimes, I think, we say it too much. Sometimes, we look at old buildings as things that should be saved, as if, had we been more history-minded, every neighborhood could be like Plaza Midwood or NoDa. But most of what's being torn down is just outdated. The old Charlotte Convention Center is gone. So is the Charlotte Coliseum off Tyvola Road—the building that hosted 364 consecutive sellouts for the Hornets from the late 1980s to the late 1990s. Charlottetowne Mall, which was an eyesore, was town down, and now it's the Metropolitan, which has a fancy Italian restaurant with views of Little Sugar Creek Greenway. It's harder to miss something when something nicer replaces it.
It's been years since I've been inside a Hooters. I never got caught up in the campiness of it all (except when I was a teenaged boy). I'm not a fan of the wings. I like them much better at Moosehead Grill on Montford Drive, a bar and grill that has angled windows and a peaked roof—unmistakable signs that the building was once, in fact, a Pizza Hut. Turns out, at a wings joint, I'll take hot sauce over history any day.