Goodwill Industries of the Southern Piedmont Introduces New Store Concepts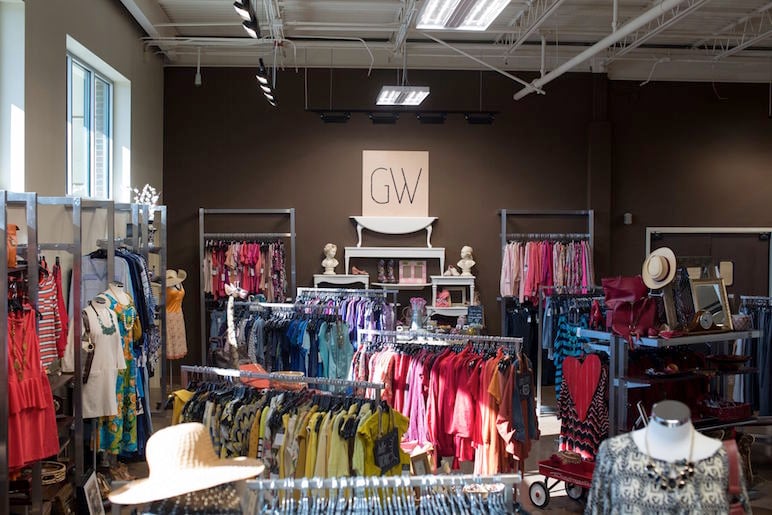 In late 2015, Goodwill Industries of the Southern Piedmont hosted a pop-up concept store, called GW, at the EpiCentre. Selling women's and men's apparel, shoes and accessories, the one-week-only shop showcased designer fashions at Goodwill prices. After exceeding sales goals during that week, GW now has opened a permanent home in the Leon Levine Opportunity Center at the Goodwill Opportunity Campus (5301 Wilkinson Blvd.) this week.
In addition to GW, Goodwill has also rebranded and relocated its outlet store. Formerly known as the Freedom Drive Outlet, Second Editions: A Goodwill Outlet Store now resides permanently next door to GW in the Opportunity Center. Prices at GW average from $3.99 to $24.99. At Second Editions, clothing is sold at $1.39 per pound, and all other merchandise is 50% off the original ticketed price.
Shoppers can expect a boutique feel at GW with clothing organized by color and style. Designers such as Ralph Lauren, Tory Burch, and Michael Kors can be found in the store. Second Editions has a more traditional Goodwill store layout with sections for books, housewares, clothes, and shoes.
Combined, GW and Second Editions will employ 35 team members.
"(Our) team members come from all walks of life," says Tonya Nations, vice president of store operations at Goodwill Industries of the Southern Piedmont. "We do have clients who come to Goodwill seeking employment that find opportunities in our retail stores, including GW and Second Editions."
Each week, 230 people use Goodwill's employment and basic needs resources. These resources include career training, job placement, further education, and youth services. In 2015, Goodwill Industries of the Southern Piedmont provided employment services to 12,000 individuals and placed 1,500 job seekers in local jobs.
Money from purchases at both the GW specialty store and the Second Editions outlet store will go toward Goodwill's mission of job training and employment services. These services are provided free of charge to individuals in need of assistance.
Regular hours for GW and Second Editions will be 9 a.m. until 9 p.m. Monday through Saturday, and on Sundays from 10 a.m. until 7 p.m.