Goodwill Pop-Up Shop Brings Retail to Uptown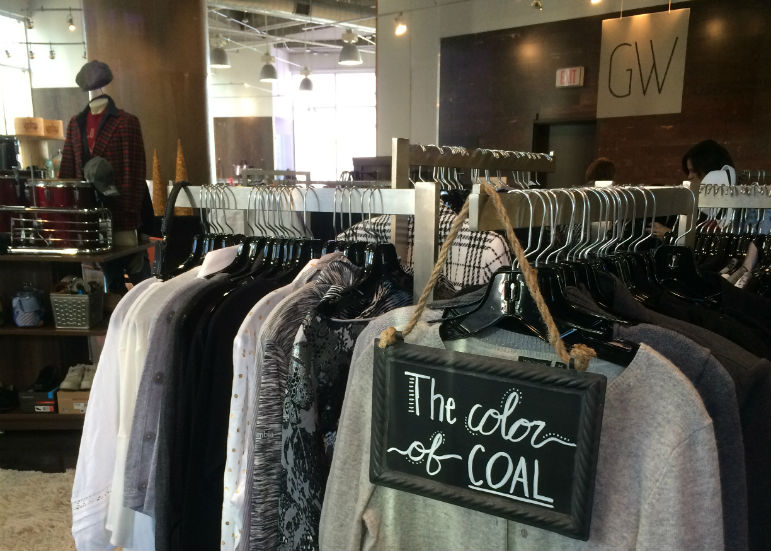 FROM NOW until Sunday, Dec. 6, Goodwill Industries of the Southern Piedmont has partnered with Charlotte Center City Partners to open a pop-up retail concept store on the second level of the EpiCentre in uptown. The store, called GW, will feature apparel, jewelry, shoes, accessories, and even a Christmas sweater section (tacky or stylish, take your pick) just in time for the holidays.
GW is a new concept and will feature designer items from the likes of Tory Burch, Michael Kors, Kate Spade, Prada, Coach, and more at affordable Goodwill prices. GW's merchandise is customized specifically for this store, and while primarily focused on women's fashions, the store does offer an assortment of men's clothing, shoes, and accessories.
According to Center City Partners, there are over 70 retail shops located in uptown, stretching from Gateway Village to the Metropolitan in Midtown. These shops range from art gallery gift shops to boutiques. Attracting more retailers into uptown is a focus of Center City Partners. The GW pop-up concept is a way to utilize available space to bring shopping options to the city.
"GW is something of which to take notice, as we know there are currently very few retail options in uptown Charlotte," says Barbara Maida-Stolle, executive vice president of business enterprises at Goodwill Industries of the Southern Piedmont. "This concept store allows Goodwill to test the market uptown, as this could be something that we bring permanently to uptown Charlotte in the future, as well as to our new Goodwill Opportunity Campus in west Charlotte when it opens in mid-2016."
GW hopes to create a fun shopping experience for all customers. The store features a candy bar (free for guests), a gaming zone with video games from their electronics store, The GRID: Powered by Goodwill, and a "Hipster Santa" photo station complete with props. While creating a fun experience, the focus of the store is still the Goodwill mission. Proceeds from purchases at GW will be used to fund job training and employment services to help individuals in the community overcome barriers to employment such as lack of skills, experience or education, and criminal backgrounds. In 2014, Goodwill Industries of the Southern Piedmont provided services to more than 13,000 individuals and placed nearly 1,100 individuals in jobs.
The GW hours are today from 11 a.m. through 7 p.m. Thursday through Saturday from 10 a.m. until 10 p.m. and Sunday from 11 a.m. until 5 p.m.