Goodyear Arts Finds 3-Year Home at Camp North End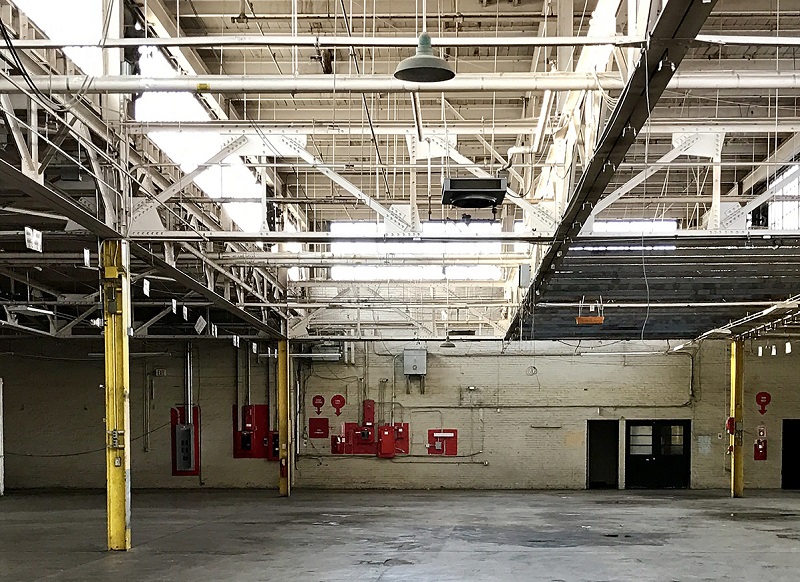 AFTER OCCUPYING two uptown buildings headed for demolition, a change for Goodyear Arts: a long-term home. The arts residency/events program is headed to Camp North End in June. With more than 20,000 square feet of space, a separate 2,000 square foot gallery, and an "outdoor sculpture lawn," Goodyear Arts firmly plants itself inside the the 75-acre site. The group signed a rent-free 3-year lease with ATCO Properties & Managament, which owns Camp North End.
Goodyear Arts started as "Skyline Artists In Residence" in 2015, occupying an old Goodyear building in uptown that was later demolished for a new development from GYA founding sponsor Crescent Communities. It then moved into its current spot last year, at 516 N. College St., a former nightclub comedy club, which changed hands between Levine Properties and LMC, a division of Lennar during the past year. In its second iteration, Goodyear Arts added open gallery hours, alumni artist spaces, and altered its residency schedule to give artists an additional month for creating new work. Since the beginning, the project has been led by Amy Bagwell, Amy Herman, and Graham Carew. (And the project was one of our 2015 Charlotteans of the Year.)
Damon Hemmerdinger, co-president of ATCO Properties & Management, talked to the magazine about how Goodyear Arts fits into the overall vision of their project. "We're trying to enliven a part of town–the buildings, not the neighborhood–that had been closed off to the public since the 1920s. We're going to bring an energy and activity to these buildings, and we think including Goodyear Arts is the preeminent move we can make to reach the arts community in Charlotte."
The Camp North End site has a rich history, with one component first developed in 1924 as a Model T factory. During World War II, more development came as the U.S. Army needed a quartermaster depot, and after that, a place for assembling Hercules and Nike missiles for the Cold War. A release states that the site currently "encompasses the industrial building at 1701 North Graham Street together with Hercules Industrial Park, located at 1801 Statesville Avenue, 901 Woodward Street, and 921 Woodward Street, as well as the 34-acre former distribution center of Rite Aid Corporation at 1776 Statesville Avenue."
In its new space, Goodyear Arts continues its charge in providing time, space, money, and community for local artists with shows, events, a gallery space, and of course, studios for residents. Paid residencies were previously underwritten by a Knight Foundation grant. Now, Goodyear Arts hopes to acquire grant funding for new residencies and programming.
To upfit its new space, Goodyear Arts is hosting a fundraising event, an immersive "high school prom" experience in which the punch is rumored to be spiked and detention is possible for prom-goers who cause problems for the event's "chaperones." The prom arrives on May 6 at the current Goodyear Arts home at 516 N College St.