Goodyear Arts Hosts Final 2018 Artists-in-Residence Showcase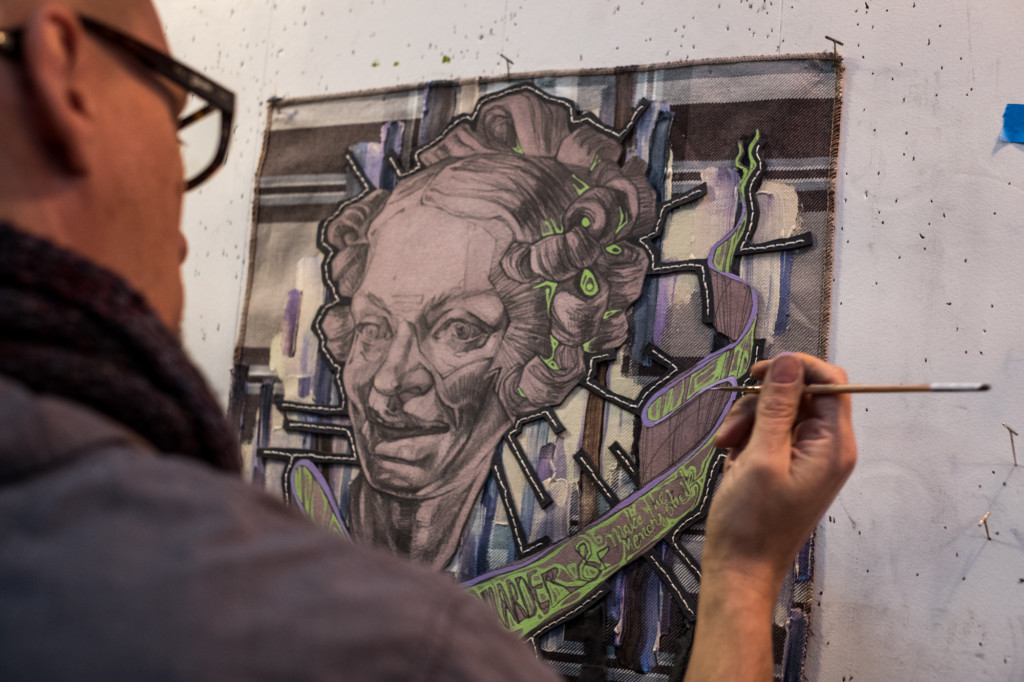 ON FRIDAY, Goodyear Arts hosts its last artists-in-residence showcase of the year at Camp North End. This round features Justin Evans, Barbara Schreiber, and Jason Watson, The diverse group of artists will offer poems, paintings on paper, mixed-media drawings, and more. As well, November research resident Chad Cartwright shows new photographs and collages.
Below, GYA gives us a preview of its Nov. 30 event and what these artists have been working on. The event is free, as usual, and runs 6 p.m. to 9 p.m. Evans performs his new poems at 7:15 p.m. and 8:15 p.m.
More of Watson's work in his GYA studio. Locally, Watson has also exhibited at Mint Museum and at the McColl Center as a resident in 2013.
---
Schreiber's latest work blends text and smaller paintings. Her work also regularly appears at uptown's New Gallery.
---
Cartwright at work. The artist has hosted multiple collaging workshops at C3 Lab this year.
---
Evans works on poetry in his GYA studio. Evans has worked with theatre group XOXO and was one-half of the team behind sound-collage podcast Mystery Meat.
---
Other 2018 residents include Debora Koo, Nathaniel Lancaster, Elisa Sanchez, HNin Nie, J. Stacy Utley, and Liliya Zalevskaya. Previous research residents are Sarah Terry Argabite, Rebecca Henderson, Nelly Kate Anderson.