Gorgeous Gardens in or Near Charlotte to Visit This Summer
Because bright blooms put everyone in a good mood.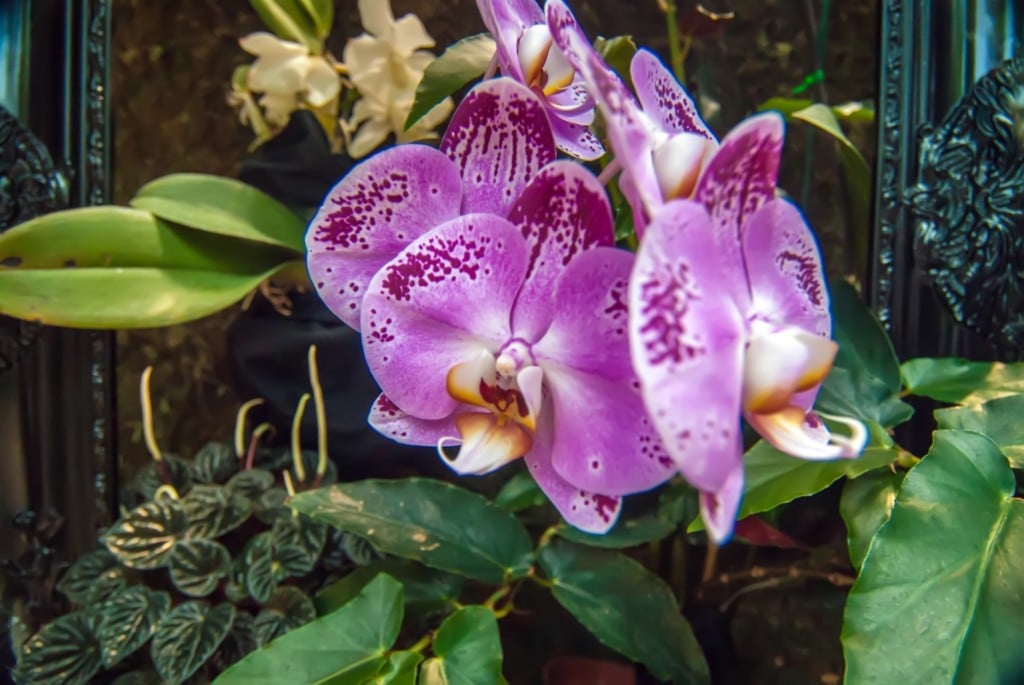 Looking for a new kind of summer activity? Drinking on patios is fun, but it's not exactly kid-friendly. For some PG entertainment that doesn't require a screen, look no further than Mother Nature's backyard. The state of North Carolina is flourishing with flora and fauna, and the former is certainly a sight to behold in the summertime. Bask in the natural beauty of our surrounding areas—there are gorgeous gardens near Charlotte just waiting for you to stroll through. Who knows; maybe you'll get some great ideas for your own outdoor oasis.
Gardens in Charlotte and N.C. to Explore This Summer
Ready to awaken your green thumb and treat your eyes to some of nature's finest work? These gardens two hours or less from Charlotte are a great place to start—and the best part of all… most of them are free!
Location: Belmont
Distance from Charlotte: 25 minutes
Cost: $12.95 for adults, $11.95 for senior citizens, $6.95 for kids 2-12, free for members and kids under two
On 380 sprawling acres of woodlands, rolling meadows, and waterfront property, DSBG offers a lot to visitors. Through the summer, the garden is open daily from 9 a.m. to 5 p.m., and DSBG hosts special Sip & Stroll events every Thursday from 5 to 9 p.m. until August 30 (special pricing might apply). Bring your friends and family and let the kids wander the enchanting grounds. Various spaces hidden within the gardens will help kids' imaginations run free, and adults can enjoy a night out, too.
Location: Pinehurst
Distance from Charlotte: Just over 2 hours
Cost: Free
These multiple gardens at Sandhills Community College invite adults and children alike to explore. There's the Hackley Wood Garden, Desmond Native Trail Garden, Ebersole Holly Garden, Atkins Hillside Garden, Succulent Garden, Sir Walter Raleigh Garden, Children's Garden, and the Margaret Ambrose Japanese Garden, among others. If all that sounded overwhelming, worry not: Just start your garden adventure at the G. Victor and Margaret Ball Garden Visitors Center, open from 8 a.m. to 5 p.m. daily, where you'll get a little orientation. The Sandhills Horticultural Gardens are open to the public daily from dawn until sunset.
Location: NoDa
Distance from Charlotte: 6 minutes
Cost: Free
Don't feel like leaving city limits? We get that. For a local adventure, delight the senses to the small but dreamy McGill Rose Garden. With charming nooks tucked away in this one-and-one-third-acre public garden, you'll feel the allure of this spot's "hidden gem" qualities. Plus, it's a piece of Charlotte history—the garden was started in the 1950s on a fuel and ice company's property. It has recently been designated an All-American Rose Selections Public Garden, touting 1,000 roses and 230 varieties. The McGill Rose Garden is open to the public Tuesdays through Fridays from 10 a.m. to 4 p.m. and until 3 p.m on Saturdays.
Location: Asheville
Distance from Charlotte: 2 hours and 19 minutes
Cost: Parking fee of $14
It's free to get into the 65 acres of gardens at N.C. Arboretum—and you're bound to see some inspiring sights. The Southern Appalachian location of the Arboretum guarantees diverse wildlife and plant populations, including one of the most finest, most unique bonsai collections in the nation. Some gardens to stroll through include the Quilt Garden, Plants of Promise Garden, the Heritage Garden, and, of course, the world-renowned Bonsai Exhibition Garden. To start your garden stroll right, get all the directions at the information desk at the Baker Exhibit Center. The property is open from 8 a.m. to 9 p.m. this summer, but the Bonsai Exhibition Garden closes at 5 p.m.
Location: Asheville
Distance from Charlotte: 2 hours and 15 minutes
Cost: $67 for adults, free for kids ages 10-16
While you're in Asheville, why not hit two garden properties? Just factor in that, in order to see the Biltmore's gardens and grounds, you have to purchase the full day pass, which also includes admission to Chihuly at Biltmore, a self-guided visit of the Biltmore House, a free tasting at the winery, and other perks. Exploring the estate and gardens in totality will probably take about six to eight hours, so plan accordingly to get the most bang for your buck.
Location: University
Distance from Charlotte: 22 minutes
Cost: Free
You have two options for visiting our local UNC campus's gardens. There's the McMillan Greenhouse, which houses everything from the Orchid Room to the Desert Room to the Dinosaur Room and Rainforest Conservatory—it's open Mondays through Saturdays from 9 a.m. to 4 p.m. or Sundays from 1 p.m. to 4 p.m. There are also the outdoor gardens: the Susie Harwood Garden, which uses a mix of native and non-native plants to inspire your at-home garden, and the all-native Van Landingham Glen. In the summertime, the Susie Harwood Garden's butterfly garden, water garden, Asian garden, and the hardy tropical flowers garden are all stunners.