Got Gantt?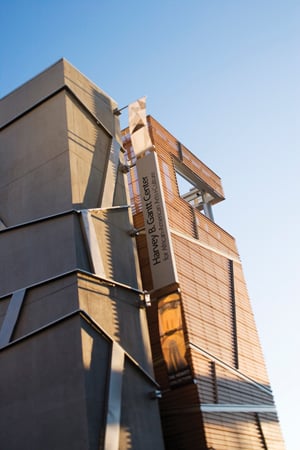 Intersections, Juan Logan's granite public art piece at the entrance, maps Charlotte, with Trade and Tryon and the names of historic African American communities — "Cherry," "Biddleville," "Brooklyn." All the lines slice and cross — as do the routes of life.
The designers put the elevator and stairs toward the center, in an inverted "U," to clear an underground tunnel. The shape, visible on the south wall, makes a symbolic connection. The Myers Street School, Charlotte's first grade school for black children, once stood nearby. It was called the "Jacob's Ladder School" for its large staircase, also in the shape of an inverted "U." The name recalled "Climbing Jacob's Ladder," a spiritual reflecting African American aspirations for freedom and opportunity.
Responding to the challenging site and the building's role in celebrating African American culture, the designers used patterns derived from African textiles and African American quilts to break up the huge south-facing wall.
David Wilson's ten-by-fifty-foot glass mural, Divergent Threads, Lucent Memories, stands at the corner of College and Stonewall streets, a portal to uptown. Influenced by African masks and cubism, his semi-abstract figures in warm earth tones echo history, families, and music — a guitar, horn, and keyboard.
The Harvey B. Gantt Center for African American Art + Culture, in a new building uptown designed in a strikingly modern style, began with a challenge. In 1998, NationsBank, a predecessor of Bank of America, purchased for an undisclosed amount the Hewitt Collection, fifty-two paintings, prints, and drawings by twenty African American artists. The art was a gift for what was then called the Afro-American Cultural Center. (Later, Vivian Hewitt would donate twenty-two more pieces from her private collection.) It would be handed over if the Afro-Am could fashion a suitable space for it, with climate control and security. The $18.8 million facility, funded by the city and county as well as private donations and part of the Wells Fargo cultural campus on South Tryon, is the response.
Third Floor
Two galleries on the third floor will house changing exhibits. The newest exhibit is "David C. Driskell: Artist and Scholar." It features sixty prints by the retired college professor who, in addition to being the foremost authority on African American art, also painted and collected.
At the other end of the floor is Juan Logan's "Leisure Space." With this series, Logan attempts to illuminate waterfront resorts that African Americans helped build. His wonderful paintings also can be enjoyed for their bold, abstract forms, jewel colors, and luscious surfaces.
Second Floor
The Hewitt Collection resides on the second floor. Currently on display is a twenty-six-piece slice that features Elizabeth Catlett, Henry Ossawa Tanner, and Jacob Lawrence. Two works by two cousins are especially good. Charlotte native Romare Bearden's small collage Morning Ritual has his motifs: a tree, a bucket, a broom, and a woman drying herself with a colorful towel. Woman Washing Clothes, a painting by Charles Alston, also of Charlotte, is a powerful rhyming of forms.
First Floor
Upon entering the building from Tryon Street, you're directed immediately up an escalator to the second floor galleries. But to leave the facility, you have to go through the excellent gift shop. It has caps, T-shirts, glasses, pens, and the like. There are also books and DVDs on African American art and history, miniature hats of the kind black ladies wear to church, posters, and a diminutive Barack Obama—"An Action Figure We Can Believe In."
A Bit of History
Although the building is new, the Gantt Center has been around since 1974. Here's a little bit of background:
In 1974, during a rise in black studies programs nationally, faculty members Dr. Mary Harper (pictured) and Dr. Bertha Maxwell Roddey founded the Afro-American Cultural and Service Center at UNC-Charlotte. For years, its home was the former Little Rock AME Zion Church on North Myers Street, designed by noted Charlotte architect J. M. McMichael.
Now located in Second Ward, the center connects to a significant bit of history. In this area was Brooklyn, a historic African American neighborhood of homes, churches, and businesses obliterated by urban renewal in the 1960s.
The Freelon Group Inc., the Durham firm headed by architect Phil Freelon, which designed the center, has made a specialty of African American cultural facilities. It was one of three firms chosen to design the new National Museum of African American History and Culture in Washington, D.C.
Bob Bertges, the Wells Fargo executive overseeing the cultural campus, saw the Gantt Center site as an opportunity and a challenge. The location is prominent, at South Tryon and Stonewall streets. But it is only forty-five feet wide and 400 feet long. Moreover, it was on top of two underground tunnels built to carry trucks and cars to parking beneath the forty-story Duke Energy Center across Tryon Street.
Harvey Gantt — the first black student at Clemson University, former Charlotte mayor, two-time Democratic Senate candidate against Jesse Helms, community leader, and architect — has yet another special distinction. He's universally and affectionately known, simply, as "Harvey."
Harvey B. Gantt Center for African American Arts + Culture
551 S. Tryon St., 704-547-3700, ganttcenter.org
Admission: $8 (adults), $5 (under age 12, seniors, servicemen and -women)
Hours: Tue-Sat 10 a.m. to 5 p.m., Sun 1-5 p.m.