Grace in the Holy City: An Essay on Charleston
Few cities have suffered a year like the one Charleston suffered in 2015. Perhaps no other city, though, has more spirit to turn all that darkness into hope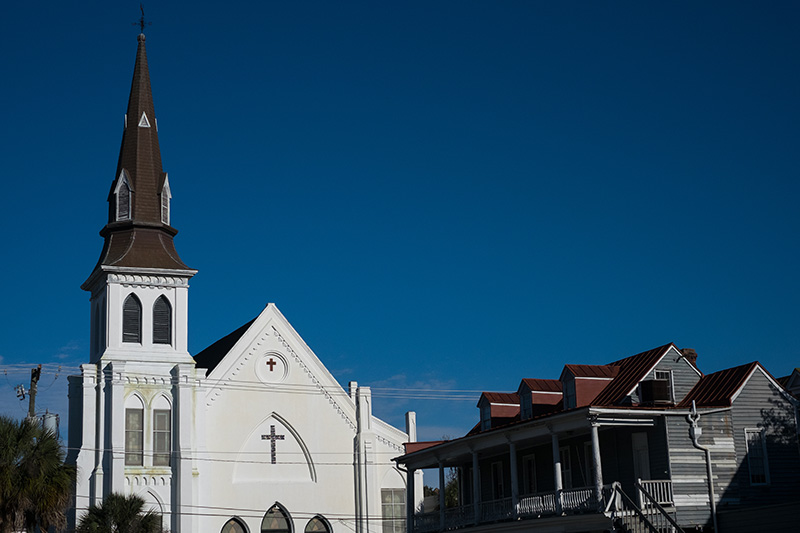 THEY NEEDED a chaplain.
At a church.
None of what was happening that night in June made sense—not the flashing lights, not the TV cameras appearing from the shadows, and not neighbors looking in fear at other neighbors.
It was a still and humid Wednesday evening. As the clocks ticked toward 10 p.m., coroners converged on one of the nation's most historic houses of worship. SWAT officers arranged their gear and prepared for a shoot-out that would never happen. Doctors and nurses at a nearby hospital, all guarded by security officers, waited in vain for a life they could save.
Before the end of the night, bomb squads would search along the wood-paneled walls of the church's side rooms as the national media descended on Charleston, South Carolina. It was 84 degrees and sticky. There was so much sweaty work to do.
Meanwhile, within 25 minutes of the first phone call from inside the Emanuel African Methodist Episcopal Church, first responders and 911 dispatchers were putting out appeals for chaplains.
Rich Robinson had just pulled off his uniform at home and had one leg in his pajamas. His cell phone lit up with the same two words everyone else in America was seeing:
"Active shooter."
A good day for Robinson, the deputy senior chaplain of the Coastal Crisis Chaplaincy, is performing a wedding for a police sergeant or a baptism for a firefighter's kid. He likes to think of all of the first responders as one big congregation.
After working in law enforcement from 1996 to 2002, Robinson left for the ministry. He served in three churches as a youth pastor or pastor before taking the full-time chaplain position in 2013. In this job, he gets called by about 40 different first responding agencies in the Charleston area. Now it seemed as if they were all calling at once.
Robinson jumped back into his clothes and drove with his phone to his ear. On the other end was the EMS director with an unusual request: "Send everyone you've got."
The request made it clear that the need for comfort and grace was as dire as the need for cops and guns.
The Emanuel A.M.E. pastor, South Carolina state senator Clementa Pinckney, was dead, along with eight other people—all of whom had shown up for a Wednesday night prayer meeting. All, if investigators are correct, were the victims of a massacre based solely on the color of their skin.
If that had been the only tragedy of 2015, its horror would have been enough to shake most cities to their foundations. As it was, Charleston, the unofficial capital of South Carolina's Lowcountry coastal region, was in the middle of the kind of year you never see in Chamber of Commerce brochures. In 2015, that city three hours down the highway from Charlotte would bury a preacher, jail a peacekeeper, and drown in an historic flood. To many people watching from the outside, it looked like the year a place called the Holy City might finally lose its faith.
***
THE COMMUNITY-WIDE heartbreak started on April 4. Feidin Santana had held his cell phone upright and tracked along a chain-link fence, unaware he was making the world a witness to what would soon be called murder.
On the other side of the fence, across a small patch of grass, Walter Scott, 50, lumbered away from North Charleston police officer Michael Slager. By the time the first shot cracked in the camera's microphone, Scott was escaping at a gallop. If it weren't for the horror of it, viewers might have thought Scott looked graceful as he fled.
After that came shot after shot, eight in all, before Scott stumbled across the grass in uneven steps and finally fell to his knees.
Slager would later say he was afraid the running Scott would pull a weapon, but that defense would not free the officer from a murder charge, nor would it change the fact that it all happened on the northern edges of a city on its way to a year of calamity.
The suspected killer at Emanuel A.M.E. is said to have come from Eastover, South Carolina, a place less than two hours by car along Interstate 26. Another course between the two towns is the meandering, north-to-south path of the Wateree River. From the Eastover area, the river crawls toward Lake Marion, spills into Lake Moultrie, and by and by becomes the Cooper River, the same that spills into Charleston Harbor.
In October, an historic storm opened over South Carolina, and that same north-south path that brought a killer to Charleston brought devastating floods to the Lowcountry region. Nearby Mount Pleasant saw more than two feet of rainwater fall from the sky.
By the time the rain began, a grand jury had indicted Slager for the murder of Scott. The community had buried the nine victims from Emanuel A.M.E. and jailed their suspected killer. Now the skies were turning on it, too.
Through a lens so narrow as 2015's, crowded with confounding and terrible news at every turn, it could easily appear as though Charleston had finally outrun its reputation as one of America's best cities. One could believe Charleston was ready to take its place with St. Louis, Baltimore, and Chicago—beleaguered American cities that have grown weary under the weight of tragedy and misfortune.
To believe that is to ignore history and a people of uncommon mettle.
In Charleston, Americans faced one of their worst Revolutionary War defeats against the British in 1780. Seventeen months later, the same major general who oversaw the Charleston defeat, Benjamin Lincoln, was the man who formally accepted the British surrender to end the war in Virginia.
In 1838, a massive fire damaged or destroyed a thousand downtown buildings, a quarter of the city's center. A disaster that could have ended the city instead resulted in a cultural and architectural rebirth.
The first shots of the Civil War came from the Confederacy at nearby Fort Sumter. They began a conflict that would end in Confederate defeat and see Charleston burn once more. Again, the city's people rebuilt.
In 1886, a 7.0 magnitude earthquake killed at least 60 people and damaged 2,000 buildings. It remains among the worst earthquakes ever to shake the eastern half of the United States.
In 1989, Hurricane Hugo raged through the Caribbean, weakened over Puerto Rico, and then erupted into a monster as it barreled toward Charleston. Hugo blasted the South Carolina coast, damaging or destroying nearly 30,000 homes.
After each of those and many other tragedies, anyone could have fairly wondered what Charleston had ever done to deserve such wrath. Anyone could have wondered the same thing in 2015.
The answer, perhaps, lies not in the fact that Charleston suffered and survived, but in the fact that each time Charleston has looked hell in the face, the city has gotten stronger. It not only occupies a unique spot in America. It also occupies a unique spot in the South, one where a certain chaplain learned a new way of talking.
***
CHAPLAIN ROBINSON'S path to the ministry didn't begin in Charleston. He grew up in New Jersey, where, he says, "people don't talk to each other." When he moved to the South Carolina coast, he had to adapt to a culture in which people say hello on the streets—and actually listen when other people respond.
"That's the essence of Charleston," he says. "You don't begin a conversation with business. You begin a conversation with a connection and finding a common ground."
Robinson thinks of that essence as the unyielding bedrock that holds the city up when it threatens to collapse under the weight of the real world. City leaders, police, chaplains, preachers, business people, and everyday folks already know each other in peace, so there is no need for introductions when trouble comes.
Perhaps that's why it's a place where Anthony Bourdain brings CNN's "Parts Unknown" to showcase food and culture he's not found anywhere else in the world. It's where famed chef Sean Brock creates culinary art that people talk about from coast to coast. It's where the city's clown prince is none other than actor Bill Murray, a man as likely to run laps at the minor league baseball field as he is to photo-bomb a couple posing for engagement pictures on the city's historic streets.
There is some reassurance when celebrities continue to flock to the city. There is hope in every award for "Best City" Charleston receives in the travel magazines. There is peace in certain prayers, such as the ones in "Palmetto Rose," songwriter Jason Isbell's paean to Charleston. The song's working-class heroes offer a simple invocation: "Lord, let me die in the Iodine State." It's an ages-old nickname for South Carolina, but the meaning is clear: If you're from Charleston, no matter how hard things get, you'd be happy to die here.
***
THERE REMAINS a part of Charleston that people rarely read about in glossy magazines. It's something no celebrity, no chef, and no songwriter could ever offer.
Charleston is a city of unequaled grace.
When a white police officer killed an unarmed black man on video, the city didn't burn itself down. It instead quickly set in motion justice's often slow-moving machine. A murder charge against the officer came within four days, and a jury will decide how the story ends. The trial is expected to begin on October 31.
After a suspected killer drove into the parking lot of Emanuel A.M.E. church with a Confederate flag license plate, there were no race riots or further killings. The people of Charleston marched with their hands together. When protestors shouted in front of Emanuel A.M.E., Charleston responded with hymns sung even louder. In a matter of weeks, battered by protests and bad publicity around the globe, even the glacially-paced state legislature saw fit to remove the Confederate flag from the statehouse grounds.
As it tried to excise some of its most malignant wounds, Charleston wasn't shriveling. It was living so loudly that everyone could hear.
"I've been to a lot of revivals as a minister where people preach you into a revival," Robinson says, "but [the people of Charleston] lived us into a revival that is still happening. That was the biggest revival I ever saw."
***
ROBINSON SAT in his office, forced to get some work done on the same afternoon the suspected Emanuel A.M.E. killer appeared for his bond hearing. Robinson let the Internet stream of the court proceedings play on his computer.
On the screen, the daughter of a 70-year-old woman who had been shot dead told the suspected murderer, "I forgive you. … You took something very precious away from me. I will never talk to her ever again. I will never be able to hold her again. But I forgive you."
One after one, the victims' families forgave the man they believed killed the people they loved.
"When I heard those words, if I'd been standing, I would've fallen. It would have buckled my knees," Robinson says. "Their knee-jerk reaction was grace rather than fighting back."
He had felt it since the moment he stood by the victims' families that awful night, something he called a palpable presence, something he believes without question was his God at work.
"I've never felt anything like that in all my years of ministry," he says. "When we heard that, it was like a clarion call for us to just rise and show the grace that's within all of us."
Indeed, in 2015 Charleston had days when it needed every chaplain it could find. Today, however, it perseveres as the Holy City, a place that gives far more than it ever needs. No matter what hell rides south on the rivers' whitewater, no matter what pain finds the shore-bound tide, no matter what suffering falls in gray sheets from storm clouds, Charleston abides. It sifts through the heartache, distills the misery, and leaves itself with a community spirit few other cities can match.
Nine days after that terrible night in June of that terrible year in Charleston, when it came time to eulogize that pastor who fell murdered on his own floor, the President of the United States stood at the pulpit. He spoke of many things, but mostly, he spoke of how Charleston responded to such evil. He called it "a thoughtful introspection and self-examination that we so rarely see in public life."
Then the leader of the free world sang "Amazing Grace" over a city and people that embodied every word of it.
Brad Willis is a writer in Greenville, South Carolina. His other work can be found at BradWillis.net.
---
This article appears in the March 2016 issue of Charlotte Magazine
Did you like what you read here? Subscribe to Charlotte Magazine »
---