Gray Classic Weekend, Science on the Rocks, Christmas in July and More, July 14 to July 17
With a Christmas in July party, another brewery birthday and more this weekend, you'll have no shortage of things to do and places to be.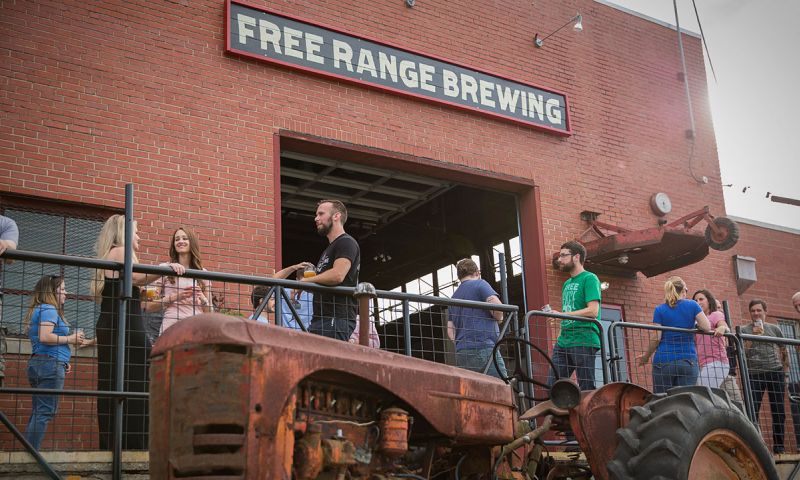 Escape the heat this weekend with a "Chill Out" evening at the Bechtler, a pirate-themed Science on the Rocks at Discovery Place, a Christmas in July at Blackfinn and more. See y'all out there!
Thursday, July 14
Overtime – The Professional Happy Hour
C Squared Events hosts the summer edition of this "premier happy hour event." Featuring, door prizes, raffles, wine, networking and cocktails, you'll want to wear your power suit and bring your business cards. This free evening of networking is from 5:30 until 9 at Chima, 139 S. Tryon St. RSVP here.
Friday, July 15
Gray Classic Weekend
The annual weekend fundraiser supporting The 100 Black Men of Greater Charlotte is this weekend, and it features an array of events, including tonight's welcome reception, a golf tournament, brunches and more. Event times, locations and prices vary. Go here for the full schedule of events and list of prices.
Science on the Rocks: Pirate of the Queen City
Aye, aye, captain! Tonight's adults-only museum night is not for the landlubbers. Pull together your finest pirate garb for tonight's pirate-themed Science on the Rocks, featuring a rum runner obstacle course, catapult Beer Pong and more. Tickets cost $10 in advance or $12 at the door for this evening that goes from 5 until 9 at 301 N. Tryon St. Buy tickets here and save $2 worth of booty.
Christmas in July
Prepare to get festive tonight as Blackfinn celebrates Christmas in July. Bring a toy to donate to TurnAround Toys from 6 p.m. until 8 p.m., and you'll get a free flatbread for your next visit. Bring a toy and stick around from 8 p.m. until 2 a.m., and you'll get free entry to the bar at 210 E. Trade St. You'll want free entry tonight, a Blackfinn hosts this merry evening with holiday-inspired cocktails, Christmas cookies, pictures with Santa and more. Don't forget to wear your Christmas costume! RSVP here.
Bechtler By Night
Every Third Friday of the month, the Bechtler Museum of Modern Art opens its doors from 5 p.m. until 9 p.m. for this free evening of art and celebration. July's feature is "Chill Out," which invites you to escape the summer heat with Ggallery games and scavenger hunts, a watercolor art activity, Bechtler BINGO, appetizers from the Modern Café and a spiked lemonade featured cocktail. The evening at 420 S. Tryon St. has no admission fee.
Saturday, July 16
Free Range Brewing First Anniversary Party
This NoDa brewery turns one year old today, and you're invited to the party. Aside from the brews on tap, this party features food and from Tiger Yakitori, Orrman's Cheese Shop, Your Moms Donuts and Bleu Barn Bistro and live music from Forlorn Strangers. There is no admission fee to this party from 1 p.m. until 11 p.m. at 2320 N. Davidson St.
RiRa Rockabilly Brewfest
RiRa's bringing in beer sampling from eight Charlotte breweries along with live music from Little Leslie and the Bloodshots and the Parodi Kings. The party is at 208 N. Tryon St., and it lasts from 2 p.m. until 6 p.m. Tickets cost $25. Buy them here.
Las Americas
First Ward Park transforms into a multicultural mecca today with live music, food, performances and more from cultures across the Americas. There is no admission to this cultural fest from 2 p.m. until 7 p.m. at 301 E. Seventh St.
Sunday, July 17
Hoshicon
The three-day annual festival celebrating Japanese culture, anime, video games, and Southeast Asian pop culture ends today with a variety of events and special guests. Events begin Friday and last throughout the weekend, but they all take place at the Westin, 601 S. College St. For more information on schedules, ticket prices and more, go here.
Verify dates, times, prices, and other info at the web addresses listed for each event.
Be sure to bookmark www.charlottemagazine.com/Blogs/Dusk-Till-Dawn to stay plugged into Charlotte's nightlife and social scene. Click here to sign up to receive the weekly Dusk Till Dawn e-newsletter.
Want your event featured in Dusk Till Dawn? Follow me on Twitter @Jared_misner and let me know about your event, or send me an email at dusktilldawnblog@gmail.com.
Send Jared an email at DuskTillDawnblog@gmail.com, or send him a tweet @Jared_Misner.

Also by Jared Misner:

→This Weekend's Social Events
→Bowling For Books, First Friday Fort Mill, Electric Luau Party, Soulmatic Carolina Music Fest and More, Aug. 6 to Aug. 9
→The Moon Walk, Candy Fest, Silly String Party, Booze Cruise and More, July 30 to Aug. 2
→Christmas in July, More Christmas in July, National Dance Day, National Tequila Day and More, July 23 to July 26